Josh Lucas to Star Opposite Uma Thurman in Broadway's THE PARISIAN WOMAN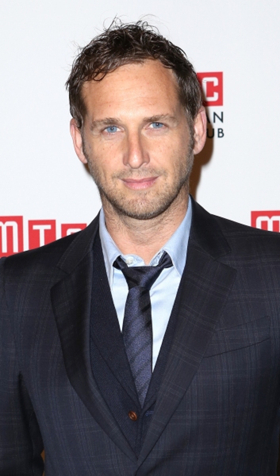 Josh Lucas (Sweet Home Alabama, American Psycho, "The Mysteries of Laura,"The Glass Menagerie's 2005 Broadway revival) will join Academy Award nominee Uma Thurman on Broadway this fall in THE PARISIAN WOMAN, the electrifying new power play by "House of Cards" creator Beau Willimon (Farragut North, Ides of March), directed by Tony Award winner Pam MacKinnon (Who's Afraid of Virginia Woolf?, Clybourne Park).
Opening night for the limited engagement is set for Thursday, November 30, 2017 at a theater to be announced. Additional casting, design team, and preview dates will be announced at a later date.
Beau Willimon sets The Parisian Woman in Washington, D.C., where powerful friends are the only kind worth having, especially after the 2016 election. At the center is Chloe (Uma Thurman), a socialite armed with charm and wit, coming to terms with politics, her past, her marriage and an uncertain future. Dark humor and drama collide at this pivotal moment in Chloe's life, and in our nation's, when the truth isn't obvious and stakes couldn't be higher.
Willimon's inspiration for The Parisian Woman came from French dramatist Henri Becque's controversial play, La Parisienne which debuted in Paris in 1885.
The Parisian Woman was commissioned by The Flea Theater in New York City (Jim Simpson, Founder, Niegel Smith, Artistic Director, Carol Ostrow, Producing Director). It was originally produced by South Coast Repertory.
It is produced on Broadway by Marc Routh, Richard Frankel, Tom Viertel, Steven Baruch, and Steve Traxler.
Josh Lucas received his first breaks playing a young George Armstrong Custer in the Steven Spielberg produced Class of '61 and in Frank Marshall's film Alive. In 1997 he was cast as Judas in Terrence McNally's controversial Manhattan Theater Club production Corpus Christi. The play led to supporting roles in the films You Can Count On Me and American Psycho, followed by standout performances in the Oscar winning A Beautiful Mind and the box office hit Sweet Home Alabama. Lucas' other film credits include: Ang Lee's Hulk, David Gordon Green's Undertow,Secondhand Lions, Poseidon, Glory Road, Wonderland, The Lincoln Lawyer, Daydream Nation, Big Sur, Peacock, Clint Eastwood's J. Edgar as Charles Lindbergh, Red Dog (won Australia's best actor award (the I.F. Award)), John Magary's Independent Spirit Award nominated The Mend, Boy Choir, Little Accidents, Youth In Oregon, and Netflix's The Most Hated Woman In America.
Lucas next made his Broadway debut in Tennessee Williams' The Glass Menagerieand his other theater credits include the award winning off-Broadway productionSpalding Gray: Stories Left Untold and Faultlines. His first producing project Death in Love, released in 2009. Josh also recently starred for 2 seasons on NBC's series "The Mysteries Of Laura" opposite Debra Messing.
Most recently Josh completed production on Mark Felt: The Man Who Brought Down The White House, produced by Ridley Scott and Tom Hanks and directed by Peter Landesman. The film tells the extraordinary unknown true story of the Watergate crises and the head of the FBI, aka "Deep Throat", played by Liam Neeson. Josh plays the role of FBI Agent Charlie Bates. Sony Pictures Classics will release the film this fall. Josh also recently completed production in Baltimore on John Hyam'sAll Square, and in Copenhagen on the independent film Guardian Angel, opposite Pilou Asbæk.
Photo Credit: Walter McBride / WM Photos
Related Articles
More Hot Stories For You
Patti LuPone Wants to Narrate Mary Trump's New Book For Randy Rainbow to Lip-Sync
Could we be getting a new Randy Rainbow/Patti LuPone collaboration? We sure hope so!...

QUIZ: Attend the Winter's Ball to Find Out Which Hamilton Star Will Be Your Date!
We're going back to 1780 for A Winter's Ball (you know, where the Schuyler Sisters are the envy of all?) for our latest Hamilton quiz!...

VIDEO: On This Day, July 9- Lin-Manuel Miranda, Phillipa Soo, Ariana DeBose, and Leslie Odom, Jr. Say Goodbye to HAMILTON
On this day in 2016, original Hamilton cast members, Leslie Odom Jr., Phillipa Soo, and Ariana DeBose along with the musical's star and composer, Lin-...

VIDEO: Listen to Act 1 of HAMILTON, Acted Out by The Muppets
Voice actor and comedian Ricky Downes III has recorded all of Act I of Hamilton... in the voices of all The Muppets!...

Governor Cuomo is 'Concerned' About Prolonged Shutdown of the Arts in New York City
Governor Andrew Cuomo said on Monday that he is 'concerned' about the prolonged shutdown of the arts and culture industries in New York City....

Ben Platt Talks Broadway Return, MERRILY, DEAR EVAN HANSEN Film and More
In a new interview with Deadline, Tony Award-winner Ben Platt has revealed updates on a few of his many upcoming projects, including his 'hankering' t...