John Barrowman Will Return for DOCTOR WHO Holiday Special
One of the most iconic characters in the Whoniverse.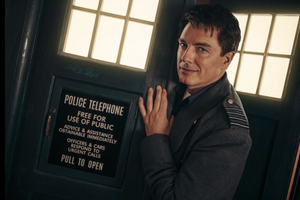 One of the most iconic characters in the Whoniverse is returning for the upcoming holiday special of Doctor Who, as John Barrowman MBE puts on his famous coat once more and reprises his role as Captain Jack Harkness.
The cheeky Captain left viewers reeling in the season 12 episode, "Fugitive of the Judoon," when he made a brief surprise appearance with a stark warning for Yaz, Ryan and Graham to pass on to the Doctor before disappearing.
In the upcoming special titled "Revolution of the Daleks," Captain Jack will be on hand to help the fam as they discover a disturbing plan forming involving one of the Doctor's most feared and dangerous enemies, the Daleks. With the Thirteenth Doctor locked away in a space prison, will Captain Jack be able to help save planet Earth?
On returning for the special, Barrowman revealed: "Putting on Jack's coat and setting foot back on the set of DOCTOR WHO was just like going back home. It's always thrilling to play Captain Jack. He's a character very close to my heart who changed my life, and to know the fans love him as much as I do makes his return even sweeter. I hope everyone enjoys Jack's heroic adventure with Thirteen."
Chris Chibnall, Executive Producer, said: "A DOCTOR WHO holiday special means treats galore, and there's no bigger treat than the return of John Barrowman to Doctor Who, for an epic and emotional feature-length episode. If anyone can blast away the sheer rubbishness of 2020, it's Captain Jack. Daleks beware!"
Matt Strevens, Executive Producer BBC Studios, added: "After a tantalisingly brief appearance in "Fugitive of the Judoon," it's a total joy and thrill to welcome back John as Captain Jack. One of the most iconic characters in DOCTOR WHO lore, his presence ignites this holiday special from the start."
"Revolution of the Daleks" will air this holiday season on BBC AMERICA.
John Barrowman landed his first professional role starring as Billy Crocker opposite Elaine Paige in the Cole Porter musical Anything Goes. Since then, John's career as a leading man in musical theatre has seen him star in many West End shows, including Matador, Miss Saigon, The Phantom Of The Opera, and Sunset Boulevard. John made his Broadway debut in the role of Joe Gillis in Sunset Boulevard.
He then returned to Broadway starring in Stephen Sondheim's Putting it Together with Carole Burnett. Sam Mendes' UK premiere of The Fix at The Donmar Warehouse garnered John an Olivier Award nomination as Best Actor in a Musical.
He appeared on the West End as Albin/Zaza in the Menier Chocolate Factory's award-winning production of La Cage Aux Folles, performing to full houses for nine weeks in 2009. This role won John the 2010 What's On Stage award for Best Take-over in a Role. In HM The Queen's Birthday Honours 2014, John was appointed a Member of the Order of the British Empire (MBE) for services to entertainment and to charity.
Featured at the Theatre Shop
T-Shirts, Mugs, Phone Cases & More
Related Articles