Click Here for More Articles on NEW YORK CITY
James Monroe Iglehart, Julia Murney and More Set for Next I ONLY HAVE LIES FOR YOU at the Beechman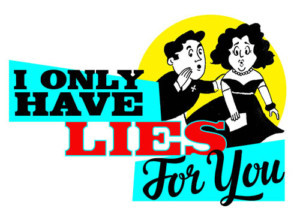 Amy Wolk and Nikki M. James present "I Only Have Lies For You," a new live gameshow that pits Broadway panelists against each other in a lying contest. Two teams of three will go head-to-head telling stories, some of which may not be true - it is up to the other team to guess, Truth or Lie.
Featuring musical direction by Nate Buccieri, panelists will defend their stories by all means possible, including song and dance.
Hosted by MAC Award winner Amy Wolk, "I Only Have Lies For You" is presented monthly at the Laurie Beechman Theatre in New York City, and is being recorded as a podcast.
On Sunday, November 19, 2017 at 9:30 pm, the next two teams will compete in the 5th installment of the show! Scheduled to participate are James Monroe Iglehart (Tony Winner for Aladdin, currently appearing in Hamilton), Julia Murney (Wicked, The Wild Party), George Salazar (The Lightning Thief, Godspell, Be More Chilll), Kirsten Wyatt (A Christmas Story, Grease, Elf), and Kevin Duda (Beautiful, The Book of Mormon).
The event is being produced by MAC and Bistro Ward winner Amy Wolk, and Tony Award winner Nikki M. James, currently the Assistant Director of the new Broadway production of Once on This Island.
Tickets are $15 per person, with a $20 food/drink minimum, and are available at web.ovationtix.com/trs/pr/973906. Questions may be directed to ionlyhaveliesforyou@gmail.com.
Featured BroadwayWorld Events
Check out these concerts...
Related Articles
More Hot Stories For You
NYTW Gala To Celebrate 25th Anniversary Of RENT Featuring Original Cast Members Anthony Rapp, Adam Pascal, Idina Menzel, and More!
Today marks the 25th Anniversary of RENT's first performance at New York Theatre Workshop. The NYTW has announced that its 2021 Annual Gala will celeb...

Final Lineup Announced For SAVE BIRDLAND: A Celebration Of Music, History, And Community
The fundraising campaign for Birdland Jazz Club will conclude on January 24th with a free streaming concert titled Save Birdland: A Celebration of Mus...

VIDEO: Broadway Jumps on the BRIDGERTON Musical Bandwagon
The new Netflix series Bridgerton has been gaining popularity since its premiere in December of 2020. Part of that popularity comes from the clever mi...

VIDEO: Chita Rivera, Bebe Neuwirth, and More Perform 'All That Jazz' During SAVE BIRDLAND Fundraiser
Notables from President Bill Clinton and Whoopi Goldberg to musicians Wynton Marsalis and Sting joined together on Sunday, Jan 24th to "Save Birdland"...

VIDEO: On This Day, January 24- Happy Birthday, Daveed Diggs!
For his performance in Hamilton, Daveed won the 2016 Tony Award for Best Featured Actor in a Musical, as well as a 2016 Grammy Award for the cast albu...

RENT Original Cast and Crew Members Reflect on the Show's Premiere and Losing Jonathan Larson, 25 Years Ago Today
On January 25, 1996, Rent premiered at the New York Theatre Workshop. Earlier that morning, the show's writer and creator, Jonathan Larson, died of an...