J Chen Project Presents SEASONS OF SOUNDS AND MOVEMENT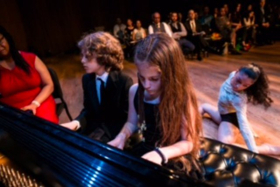 J CHEN PROJECT is thrilled to announce the premiere of an experimental live performance, Seasons of Sounds and Movement, part of the second annual Dancing Keys program commissioned by Natalia Huang Piano Studio.
This new work choreographed by Artistic Director Jessica Chen in collaboration with composer Chris DeAngelis is a 20-minute experimental dance performance with live, original piano and string quartet score featuring 8 piano students, ages 7-13, from Natalia Huang Piano Studio. Seasons of Sounds and Movement embodies different elements of the four seasons-it's complexity, history, beauty, and impact, to bring professional and aspiring young artists together to develop and perform work.
J CHEN PROJECT is a modern dance company, founded in 2008, that presents its innovative, culturally-based dance works throughout New York City. Led by Asian-American Artistic Director and choreographer Jessica Chen, the Company explores identity politics, cultural traditions, and modern globalization through multidisciplinary, experimental performance works for dance viewers.
Natalia Huang, a pianist and graduate of the Manhattan School of Music, founded Natalia Huang Piano Studio in 2003. The Studio currently has over 200 students enrolled in its New York City, Connecticut, and Los Angeles locations.
Chris DeAngelis holds a B.A. in Music from UMass and has been commissioned by universities, film, and television, nationally and internationally.
For more information about J CHEN PROJECT, please visit our website: www.jchenproject.com. If you would like to schedule an interview with Artistic Director Jessica Chen, please email Jessica at jchenproject@gmail.com.