Isabelle Huppert and Kwame Kwei-Armah Share World Theatre Day Messages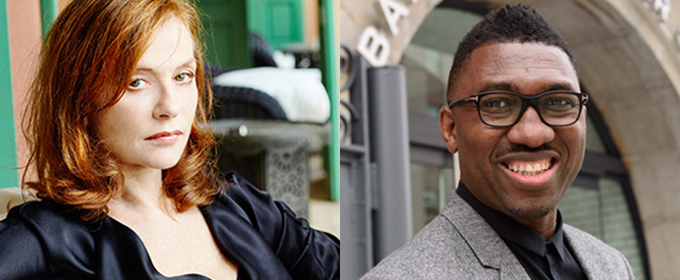 The Global Theater Initiative (GTI), a partnership between Theatre Communications Group (TCG) and the Laboratory for Performance and Politics (The Lab) at Georgetown University, invites all theatres, individual artists, institutions, and audiences to celebrate the 55th annual World Theatre Day today, March 27, 2017.
In GTI's role as the home of the U.S. Center of the International Theatre Institute (ITI-U.S.), TCG and The Lab encourage all theatre people to celebrate the power of theatre to strengthen cultural exchange and mutual understanding across borders. Each year, a renowned theatre artist of world stature is invited by the International Theatre Institute Worldwide in Shanghai to craft an international message to mark the global occasion. This year the message has been written by French theatre and movie actress, Isabelle Huppert. The message has been translated into multiple languages to reach tens of thousands in the international theatre community.
Additionally, GTI is proud to announce the U.S. World Theatre Day message from Kwame Kwei-Armah, playwright, director, and artistic director of Baltimore Center Stage. Past U.S. World Theatre Day messages have been given by Ping Chong, Jeffrey Wright, Lynn Nottage, and Diane Rodriguez.
"Both Isabelle Huppert and Kwame Kwei-Armah have forged careers that cross both artistic and national borders," said Teresa Eyring, executive director of TCG. "Their messages are particularly resonant during this troubling time of rising xenophobia. They inspire us to participate in World Theatre Day and to imagine a more compassionate, interconnected world."
Kwei-Armah will read his World Theatre Day message at Dreams Deferred, a one-night-only GTI event hosted at Georgetown University on World Theatre Day. The event will explore the resonance of A Raisin in the Sun in three different cultural contexts - South Africa, Sweden, and the United States - as well as the larger cross-current themes of racial equality and justice, the legacies of author Lorraine Hansberry, the Civil Rights Movement, and Apartheid. The evening will include scenes from A Raisin in the Sun and other pieces artistically inspired by the monumental legacy of Hansberry's play, as well as a discussion with Swedish director Josette Bushell-Mingo and International Artists and experts moderated by Prof. Soyica Colbert. Read more about the event here.
"Isabelle Huppert is probably one of today's strongest French actresses. She relentlessly is working for film and theatre and amazes critics and audiences alike. Sometimes an actress or actor is only cast in roles that need one kind of character. This is not the case with Isabelle Huppert," says Tobias Biancone, director general of the International Theatre Institute (ITI). "She literally incorporates a multitude of different characters: humorous, serious, evil, crazy, and so on. The multifaceted characters she has played on stage and on the silver screen may be one of the reasons that stage directors like Bob Wilson, Peter Zadek, and Krzysztof Warlikowski are attracted to work with her."
Learn more about World Theatre Day and GTI's international programming here.
Isabelle Huppert is an internationally acclaimEd French theatre and movie actress who has appeared in more than 100 films, plays, and teleVision Productions since her debut in 1971. Huppert is the most nominated actress for the Molière Award, with 7 nominations. She made her London stage debut in the title role of the play Mary Stuart in 1996, and her New York stage debut in a 2005 production of 4.48 Psychosis. She is the most nominated actress for the César Award, with 16 nominations. She twice won the César Award for Best Actress, for La Ceremonie (1995) and for Elle (2016). Huppert was made Chevalier of the Ordre national du Mérite in 1994 and was promoted to Officier in 2005. She was made a Chevalier of the Legion of Honour in 1999 and was promoted to Officer in 2009. In 2016, Huppert garnered international acclaim for her work in Elle, for which she won a Golden Globe Award, an Independent Spirit Award and a nomination for the Academy Award for Best Actress. She also won Best Actress awards from the National Society of Film Critics, New York Film Critics Circle and the Los Angeles Film Critics Association, for both Elle and Things to Come.
Kwame Kwei-Armah is the Artistic Director of Baltimore Center Stage where he has directed Marley, One Night in Miami, Amadeus, Dance of the holy ghosts, The Mountaintop, An Enemy of the People, The Whipping Man, and Things of Dry Hours. For The Public Theater in New York, he directed Twelfth Night, Comedy of Errors, Much Ado About Nothing, and Detroit '67 (World Premiere). Other credits include: The Liquid Plain Signature Theatre(New York)/Oregon Shakespeare Festival (World Premiere), and Porgy and Bess at/with the Baltimore Symphony Orchestra One Night in Miami at London's Donmar Warehouse and One Love at Birmingham Repertory Theatre. Kwame was Artistic Director for the Festival of Black arts and Culture, Senegal, 2010. He conceived and directed the opening ceremony at Senghor National stadium. Among his works as playwright are Marley, Beneatha's place, (Baltimore Center stage) Elmina's Kitchen, Fix Up, Statement of Regret (National Theatre) Let There Be Love, Seize the Day, Tricycle Theatre. He is an associate Director of The Donmar Warehouse, has served on the boards of The National Theatre, The Tricycle Theatre, and TCG. Kwame was the Chancellor of the University of the Arts London (2010-15), and 2012 was awarded an OBE for services to drama. In 2012, '13, and '14, Kwame was named Best Director in City Paper's Best of Baltimore, and in 2015 was nominated for the prestigious Stage Directors and Choreographers 's Zelda Fichandler Award for Best Regional Artistic Director. In 2016 he was awarded the Urban Visionary award alongside House representative Elijah Cummings by the Center for Urban Families for his work in the Baltimore community.
The first World Theatre Day international message was written by Jean Cocteau in 1962. Succeeding honorees include Arthur Miller (1963), Ellen Stewart (1975), Vaclav Havel (1994), Ariane Mnouchkine (2005), Sultan bin Mohammad Al Qasimi (2007), Augusto Boal (2009), Dame Judi Dench (2010), Jessica A. Kaahwa (2011), John Malkovich (2012), Dario Fo (2013), Brett Bailey (2014), and Krzysztof Warlikowski (2015).
The Global Theater Initiative (GTI) was launched in February 2016 by Theatre Communications Group and the Laboratory for Global Performance and Politics (the Lab), based in Washington, DC at Georgetown University. By combining the unique reach of TCG's international programming with the Lab's distinctive experience in humanizing global politics through the power of performance, GTI strengthens, nurtures, and promotes global citizenship and international collaboration in the U.S. professional and educational theatre field. It also honors and intersects with the work so many theatre colleagues have invested in cross-cultural exchange and understanding. Through the alignment of programming and resources, the GTI partners serve as a hub of global exchange with three core areas of focus: connecting practitioners with resources, knowledge, and partnerships to strengthen their work; promoting cultural collaboration as essential for international peace and mutual understanding; and innovating new strategies to maximize the global theatre field's opportunities and impact. GTI also serves as the collaborative leadership of the U.S. Center of the International Theatre Institute (ITI/U.S.).
International Theatre Institute (ITI) was formed in 1948, when the United Nations Educational, Scientific and Cultural Organization (UNESCO) joined with world-renowned theatre experts to form an international non-governmental organization in the field of the performing arts. The mission of ITI is to "promote international exchange of knowledge and practice in theatre arts in order to consolidate peace and friendship between peoples, to deepen mutual understanding and to increase creative cooperation between all people in the theatre arts." Today, ITI consists of approximately 90 Centers worldwide. An ITI Center is made up of professionals active in the theatre life of a country and representative of all branches of the performing arts. For more information, visit www.iti-worldwide.org.
The Laboratory for Global Performance and Politics (The Lab) harnesses the power of performance to humanize global politics. They create and present innovative high quality work from around the world that is at the intersection of politics and performance. The Lab's signature approach raises voices rarely heard in Washington DC through compelling, authentic narratives, and engages policymakers, as well as artists, students, and wider audiences in forums that cast critical issues in a new light. The Lab uses technology and live encounters to create a global community of artists, activists and policy makers, fostering new understandings and innovative collaborations. They are committed to relationship building beyond the lifespan of individual projects. They create substantive dynamic partnerships with individuals and with a diverse range of cultural and policy organizations. They are passionate about helping to train the next generation of innovators to use their artistry and voices to shape new understandings and to humanize others in pursuit of a better, more just world. Visit globallab.georgetown.edu.
For over 50 years, Theatre Communications Group (TCG), the national organization for theatre, has existed to strengthen, nurture and promote the professional not-for-profit theatre. TCG's constituency has grown from a handful of groundbreaking theatres to nearly 700 member theatres and affiliate organizations and more than 12,000 individuals nationwide. TCG offers its members networking and knowledge-building opportunities through conferences, events, research and communications; awards grants, approximately $2 million per year, to theatre companies and individual artists; advocates on the federal level; and serves as the U.S. Center of the International Theatre Institute, connecting its constituents to the global theatre community. TCG is North America's largest independent publisher of dramatic literature, with 14 Pulitzer Prizes for Best Play on the TCG booklist. It also publishes the award-winning American Theatre magazine and ARTSEARCH, the essential source for a career in the arts. In all of its endeavors, TCG seeks to increase the organizational efficiency of its member theatres, cultivate and celebrate the artistic talent and achievements of the field and promote a larger public understanding of, and appreciation for, the theatre. Go to www.tcg.org for more.