Interview: Lucas 'Rico' Corrubia Talks Career in Broadway's Audio World, Stars from Michael Crawford to Liza Minnelli, Health Troubles & His Journey Back to Work

For the last 30 years Lucas "Rico" Corrubia has been a greatly respected and beloved member of Broadway's audio world - designing, mixing, managing, touring, selling, producing, and more... He's traveled the world with stars including Michael Crawford, Bernadette Peters, Frank Sinatra, Liza Minnelli, Engelbert Humperdinck, Christina Aguilera, The B-52's, Ms. Lauryn Hill, Jessie McCartney, Donnie & Marie and more. He's also worked on stage productions, ranging from THE MUSIC OF Andrew Lloyd Webber and JOSEPH & THE AMAZING TECHNICOLOR DREAMCOAT to DANCE OF THE VAMPIRES, MISS SAIGON, TOMMY, 42ND STREET, AIN'T MISBEHAVIN' BRING IN DA NOISE BRING IN DA FUNK, FOOTLOOSE & More.
A long supporter of numerous charitable functions from BROADWAY BARKS to ROCKERS ON BROADWAY, he was honored by the latter organization late last year with their 'Ambassador of Rock' Award.
Currently, Lucas is mostly staying at his home in Atlantic City recovering from severe complications he received from open heart surgery in January 2016. He suffered extensive injuries to his hands and feet, spent a total of 4 1/2 months in the cardiac ICU at Brigham and Women's hospital & various rehabs and has been unable to return work. He is anxiously waiting to work with new hand and finger prosthetics while continuing to get stronger every day...all this while keeping an amazingly positive attitude and having his wife Rebecca by his side.
The Broadway world and all of his amazingly supportive friends can't wait to have him back.
Q: First, congrats on the recent award from ROCKERS ON BROADWAY, a wonderful event that we've been covering since their inception.
A: Thank you! I love Donnie Kehr, and they gave me the Ambassador of Rock award because of my work on Tommy and other plays of that sort... it was a very sweet-it was a great night. He was amazing that night and the whole thing was lovely...the support from everyone was just wonderful.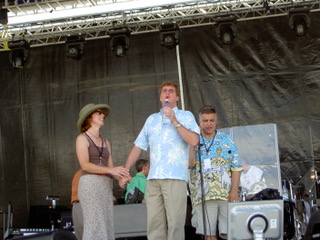 Q: So, you've worked with dozens of stars perfecting their sound design on stages big and small. What is that process like?
A: Well if you look at someone like Michael Crawford, he trusted me to do everything. He's such a perfectionist when it comes to sound, but he knows that I was 'there with him', I just knew everything he would want and do. I love saying that this is the hardest sound job I've ever had, and it's part of the art as far as I'm concerned - it really is.
Q: What are some of the challenges?
A: Oh, well, let's see-holding that note at the end of "The Music of the Night" and being able to trail it with just enough reverb and having him hold it so long was just...amazing, just to get that down. And I knew no one could ever follow in my shoes because I just practiced and practiced. To tell you the truth, his voice is so pure, I didn't need effects. Reverb is wonderful and he holds the note - "Gethsemane," that one, you know, where everything stops-that's a wonderful moment. And boy, now you're having me go through my twenty-some odd years with him. And it was just-it was lovely. We did world tours for years and it was just a wonderful experience. Because no matter what...the next day was just another day to do it, which was great. And then I became a perfectionist. When you work for somebody like Michael, you become just in the moment, and want everything to be perfect.
Q: I'm sure every night has its differences and every venue has its challenges.
A: I have to say this, that if you've seen my resume, I've done-well, I could go to Van Halen, I could go to Christina Aguilera or-just anyone because of working for him. There were some tours where we'd go from a small opera house in Scotland to an arena in London, back to a small theater in Liverpool...it was ridiculous, every day. Every day we woke up, it was a different sound environment. It was a great challenge, there's no way I can explain that to anybody, you just have to go through it. Of course other sound people, they know. It was quite a challenge to create the comfort-his living room on stage. But really, it was a great thing to do, the last 20 years.
I'd love us to go out and do it again.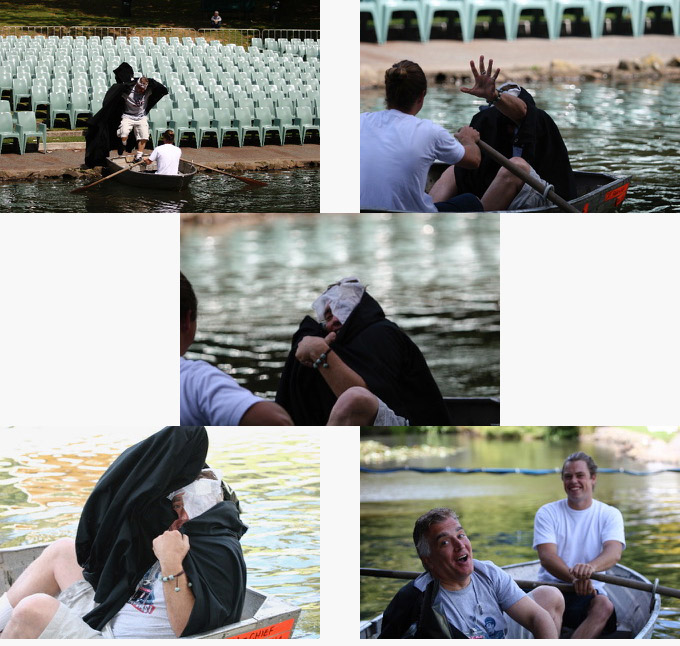 Q: Yes, please do! Will you be able to do it with your prosthetics?
A: Let me just say...I'm just so pleased and blessed that the people that I'm working with re: my hands, are giving me the newest prosthetics, I call them the iFingers. My doctor in Philly, Dr. Chang, saved as much as he could, which I love right now...he's the best...I'm typing with my two little pinkies, they're a inch apiece!
Q: And you've been recouping in Atlantic City?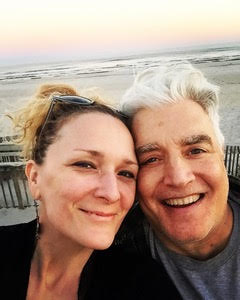 Yes, my friends really kept me alive, they were beautiful this last year, especially my wife. Without her, I would never have made it. I have this house down on the Jersey Shore, I live in Atlantic City which is-now, you know still trying to come back & reinvent itself...my house is great and I'm recuperating here. It's nice to be by the ocean, of course.
I was blessed that my wife Rebecca, who was working at the time as a stagehand doing props at NBC, took off for ten months. She'd stay with me every day and she would whisper in my ear "We have stuff to do, we have stuff to do together."
What's funny is right before I went on stage at the Rockers event to accept the award, I had just finished the surgeries on my feet, so I was in soo much pain-Donnie Kehr whispered in my ear "Hey, we got stuff to do together" and I was like "Wow, how did you know Rebecca whispered that in my ear every day?" when I was in the ICU with a thousand tubes and medicines coming out of me and I was just sitting there in delirium going "Yes, yes, we'll do it, we'll do it, I'm not going anywhere, don't worry." I'm happy to be here, Rob.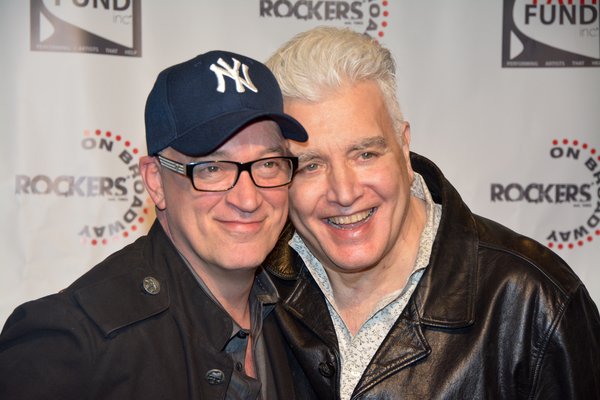 Q: I'm sure keeping up that positive attitude is helping on a daily basis...
A: Oh yes. It really, really is. And right now, I'm saying to my friends - I'm back. Which as Michael would say is frightening! I'm the old Rico. I'm back and I just don't understand why my body really isn't yet. It's going to take awhile longer to get back to being totally me. But I'm glad that the mind is still there.
Q: Let's go back for a minute, how did you first get interested in sound design?
A: I didn't start in sound, I went to school for film at NYU Film, I moved around to different schools doing film study. At University of Vermont and at NYU I started doing theater even though I was doing film studies mostly at NYU but I started doing more theatrical pieces with dance companies there and things like that. I got a job in Washington DC at a small South American theater group. This was back in the late 70s, and boy, the pay was-you can imagine-they had a federal grant so you imagine my pay. It was tough living in DC on that pay...then all of a sudden all my friends from college flocked to Atlantic City, NJ which made me think... "wow, why?" ...Because of casino gambling, all the showrooms and the theaters, they were telling me what they were making in a week and I said "That sounds great!"
I basically just packed up the U-Haul with all my stuff and they said they were going to get me a job as a sound engineer... I thought, 'that would be interesting'. Basically it was "on the job training", but with that "on the job training", I became Frank Sinatra's sound engineer [laughs]. In 1982 when he played Atlantic City at the Golden Nugget, he was the Golden Nugget, that's why this place was flourishing. Everybody that was working in a community theater or whatever, who was smart moved here. Because you got the latest equipment, the latest gear-and we were allergic to starvation working at Black Box Theaters. So, we went to the casinos. You do still have to have the natural ear for sound and I had some dear friends back then who taught me about gear and before you knew it, I was doing Sinatra. And that's how I got to Broadway- from there. Otts Munderloh from New York listened to my mix because they wanted me to do Pump Boys and Dinettes, remember that? [laughs]
Q: Absolutely.
A: You're a little younger than me [laughs]. So, I went on the road with the original Dodgers doing Pump Boys and Dinettes, and I kept coming back to work in the casinos and going on the road for Pump Boys and Dinettes. Right after Pump Boys I went on the road exclusively with Liza Minnelli and she was wonderful in the mid-'80s. I adore Liza and she was so amazing. It was great to work with her and we did amazing things... She wanted to top her mom's record at Carnegie Hall. So in '87 we did a recording, a special concert called Liza at Carnegie with the New York Philharmonic and we played, I think, for 8 weeks, and that was brilliant.
And then from there I did Big River. And then somewhere around 1989, I saw the sound design, by Martin Levan, for Phantom of the Opera, and to be honest with you, it was ground-breaking. It was so different and so organic because doing theatrical sound was just-it was really hard. It's much harder to have a mic sitting on someone's head than holding it in your hand in front of your mouth.
When Sinatra started getting older, he would hold the mic further and further from his mouth. And he would say "It's not my problem, that's your problem" [groans] So, of course we brought in great engineers, from Shure, to design newer mics in the late '80s so he could hold it down at his waist, and you'd still get good pickup.
Steve Kennedy was mixing and doing Phantom of the Opera then and I was sitting and watching him. And all of a sudden I get a phone call in 1989. I was going to do Cher's tour but then Steve Kennedy calls me and says I'm doing this concert, The Music of Andrew Lloyd Webber and we're up in Vancouver... at that time it was with Sarah Brightman. And he says " you mix orchestral concerts, do you want to try to do this?" It was a big orchestra and it was The Music of Andrew Lloyd Webber so that's how I started doing that. We did it for a year and that was wonderful.
Steve is top of the heap for designers and we've obviously remained dear friends. We did Tommy together too. In 1991, I was told I had to fly out to meet Michael Crawford in LA for the summer shed tour. We met at a church in Hollywood and we talked. He was rehearsing with Paul Bogaev and we met and that summer we started.
The first concert we did together was outside of San Francisco, a concert pavilion, which is mostly a rock venue but we were all astounded. We did like three days-and he has never played in places like that, he comes from theater and all of a sudden, the first night we look out there and there were literally people climbing over the fences. It was like going to a rock concert-there were 10,000 people there!
Q: Yeah.
A: We were playing a couple of nights there and when I went to his dressing room, he said "Can you tell me how many people are here?" I said "Don't worry about them!" I mean it was quite wonderful because it was really-we were both nervous but that really trail blazed our relationship. The whole Music of Andrew Lloyd Webber was great and I did that for the next several years until Tommy, beginning of '89 through the end of '92, that's how long I did it. We just kept going out on tour, Michael and I kept working together.
And then all of a sudden, what happened was, we're doing The Music of Andrew Lloyd Webber and we were just about to leave to go overseas. I had no idea, but Pete Townsend from The Who and Des McAnuff were together and they came to see The Music of Andrew Lloyd Webber. And right after that we were packing up to go overseas for 6-7 months to do a world tour. I got asked to come backstage, and I go "Wow, was there something wrong with the sound tonight?" and he says "Michael Needs to see you in the dressing room." So, I go in the dressing room and Michael says "Listen, there's someone who wants to meet you." And it was Pete Townsend! And "Wow, hi" and he goes "You must do Tommy because I love what you did-you made it theatrical but then you made it sound big and not hurt and you must do my show." I mean - wow!
They were doing workshops in La Jolla while I was doing the world tour with Michael, then when I got home I moved on to Tommy which was a great experience. During Tommy, Michael went out on his own to do an arena tour, and also Sarah did too. I was the concert guy, I was the arena guy and I loved mixing that music in arenas. it was a great experience with Pete Townsend and we're still friends and keep in touch. I owe a lot to Michael.
Q: And, you've gotten involved with events of all sizes, including Broadway Barks?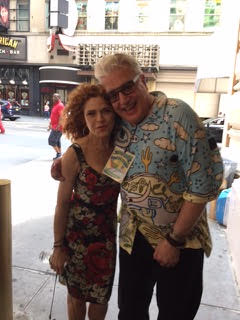 A: Yeah, so I do Broadway Barks. Last year (2016) was the first year I missed Broadway Barks and I was upset I couldn't be there because I was still healing from the amputations... I'll always do it for Bernadette and Patti...Bernadette sent me a video of her and Gloria Estefan and some other people saying "We miss you, Rico!" It was so cute. I promised them I'd be back next year. So, I was there this year and it was really great to see everyone and be back at Broadway Barks!!!
Q: What's the rehab timeline for the surgery and all that?
A: After the heart surgery, I was in the ICU for 2 months in Boston then I moved down to University of Pennsylvania for a couple months...now over a year later I am still seeing Penn. Doctors for my hands and feet-I love them so much because these doctors saved my right foot. I'm now sized 6.5, teeny feet with no toes but I can walk!! I can-it's so bizarre because I don't remember toes but-they had to amputate last October. They told me that they were going to amputate probably below the knee on the right leg and that made me cry. That was a deal-breaker. But he Dr. D'Angelantonio III saved it, it took a long time for the right foot to heal but it's all good now. Thank God that it's healed. I'm very thankful.
I'm really happy. We're talking now about prosthetics. I'll have a-I've been saying bionic but I'll have the iHand on the right hand. And the left hand is going to have these-they're made in Seattle-these digits that hook on to what I have left. I probably won't have a pointer for a little while until they figure out what to do. But actually as I close my hand, it'll close like your fingers.
I think I'm blessed because I have my left palm. I'm lefty-and I have my whole palm so I can feel... When I see other people, now that I'm in the amputee community, that do these amazing things like run, ballet, - just everything. It's amazing, what people do when they are challenged with their personal reality. So, I'm going to mix again because I have no other choice but to breathe and live my passion.
You know-it's heavy, this is heavy. I have a great spirit about it but you gotta know that I'm humbled by it. I never thought or knew this could happen. But once it happens, your mind goes into okay, how do I get around this to do what I really love doing. Because life is a beautiful gift and you want to do things. I don't want to sit here for the rest of my life and feel sorry for myself, at all. That's not an option. Blah blah blah-sorry, I'm talking to you like you were my shrink.
Q: [laughs]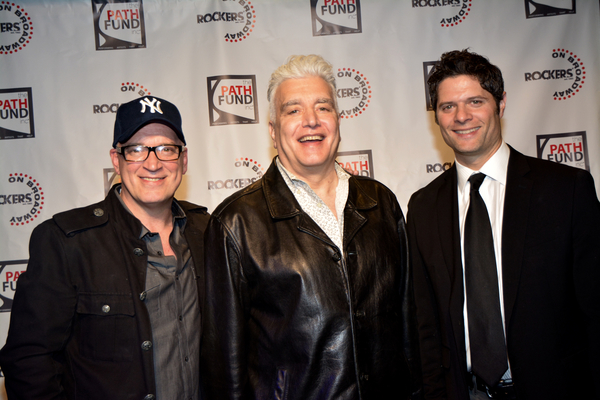 A: The beauty of being honored by Rockers was that I didn't realize how many people I'd touched in my famous and infamous life as "Rico" on Broadway! Seeing all those faces, like Ed Strong from the Dodgers and Laurel his wife who I adore and a lot of other Broadway people - it was just wonderful. The Phantom himself called me when he got back from the UK and that made me feel so good, you know? He said if I didn't die we would tour again Ha!!!.
Q: One of the best things about the Broadway community is the way we come together for our own...
A: When I got up there I said "With my new heart, I am extending my love to everyone who sent positivity to me during my entire ordeal and this healing and learning process"...it was amazing, how it all came together. I'm humbled by it and I just love everyone so much. ...And not in a cheesy way, I just think it's beautiful. You know, I mean-it's true. Hate takes too much energy. And this was beautiful, it's just so nice that people came together and people told me that, that "Gee Lucas, you had to do this to bring us all together [laughs]."
I need to express my deepest gratitude to everyone that donated money to my Go Fund Me page last year...you all literally kept me alive and positive!!! You allowed my wife Rebecca to take off from work and stay with me from when I was critical in Boston, through all the hand and foot surgeries and all the healing...your love and generosity kept us positive and literally kept us a float. I can't thank you enough...We love you all...and will pay it forward.
And also a big Thank you everyone at VER who held my Job for me... I'm excited to get back to work...and back to my life. Thank you.