Ian McKellen Apologizes For Insensitive Remarks About Abuse Allegations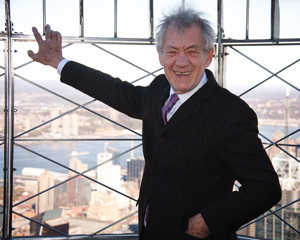 According to Vanity Fair, Ian McKellen recently made some offensive remarks regarding abuse allegations.
The actor recorded an episode of podcast #QueerAF, where journalist Evan Davis asked him what he made of the allegations against Kevin Spacey and Bryan Singer - two people McKellen had previously worked with.
The response McKellen gave prompted backlash from many.
"With the couple of names you mentioned, of people I've worked with, most of them were in the closet-hence all their problems as people, and their relationship with other people," he said. "If they had been able to be open about themselves and their desires, they wouldn't have started abusing people in the way they're being accused."
You can listen to the original podcast episode in which McKellen made the remarks here.
Following the backlash he received, McKellen posted a statement on Twitter, apologizing for the remarks.
"My intention was to encourage the LGBT audience I was addressing to be proud and open about their sexuality," he wrote. "In doing so, my point was clumsily expressed. I would never, ever trivialise or condone abuse of any kind. I deeply regret my careless remarks and apologise unreservedly for any distress I caused."
Read the full statement below:
McKellen is recognised worldwide as Magneto in the X-Men films and Gandalf in Tolkien's Middle Earth films. He won his first Oscar nomination as Best Actor, as the gay film director James Whale, in Bill Condon's 1998 classic "Gods and Monsters". Since he has starred in The Da Vinci Code", "Mr Holmes", "Beauty and the Beast", with "CATS" yet to come.
In Shakespeare he has triumphed as Richard II, Macbeth (with Judi Dench), Coriolanus, Iago, Richard III (also on film) and most recently as King Lear. He was in the first of Martin Sherman's sensational "Bent" and premieres of plays by Arnold Wesker, Peter Shaffer, Michael Frayn, Alan Ayckbourn and Mark Ravenhill. Of late he has been Widow Twankey in the Old Vic's "Aladdin" pantomime and toured "Waiting for Godot" and "No Man's Land" with Patrick Stewart. As Salieri in "Amadeus" he won the Tony Award in 1981.