IN SCENA! ITALIAN THEATER FESTIVAL NY Wraps 6th Season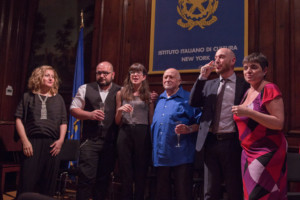 The 6th Edition of In Scena! Italian Theater Festival NY presented by Kairos Italy Theater and KIT Italia, had its most successful Festival to date showcasing a record 12 shows, brought over from Italy to NYC. The 15-day, 5-borough Festival, founded by KIT Artistic Director Laura Caparrotti and KIT Italia Artistic Director Donatella Codonesu, boasted many sold out shows and events. This year's Fest celebrated women with 7 female authors represented as well as 6 female directors
Festival highlights included:
--A daylong streaming conference on theater's changing relationships - with critics, artists and audiences, in Italy and the U.S., that featured many theatre professionals joining in on the 3-panel discussion.
--Free Verse Meets In Scena! A cultural exchange between In Scena! Italian artists and emerging writers from the South Bronx, Queens and Staten Island.
--Publications of Versetto Libero, a photographic book telling the story of Free Verse Meets In Scena 2014-2017 as well as the Mario Fratti Award winning plays through 2017, all published by Kairos Italy Theater and soon available on Amazon.
The Festival's closing ceremony, on May 21st, honored Chiara Boscaro & Marco Di Stefano as the recipients of the Mario Fratti Award for excellence in Italian playwriting for their work, The City Rises (La citta' che sale). The evening included the reading of the play, translated by Carlotta Brentan and directed by Jenny Tibbels. The legendary Fratti was on hand to bestow the award on the winners.
Ms. Caparrotti's final remarks spoke to a more diverse audience this year and her hope that "Italian theater" would now simply be considered, "theater." She also expressed her joy that the Free Admission policy the Festival is able to maintain allows all audiences to attend regardless of location or social status.
It was also announced, by Donatella Codonesu, that KIT Italia in association with Kairos Italy Theater, will be presenting an inaugural "mirror" Festival called OnStage! in Rome, Italy, dedicated to American Theater. The Festival will take place January 21-27, 2019 and will feature five U.S. productions. For more info: www.onstagefestival.it.
The seventh edition of In Scena! will take place in May of 2019. Submissions will be accepting starting on July 1, 2018.
Facebook: https://www.facebook.com/InScenaItalianTheaterFestivalNY/
Twitter: @inscenany Instagram: @inscenany
In Scena! is presented by Kairos Italy Theater and KIT Italia in partnership with Casa Italiana Zerilli-Marimo', Bernie Wohl at Goddard Riverside, BAAD!, The Italian Cultural Institute of NY and in collaboration with Free Verse, Materials for the Arts, LIT, Umanism, IPP, Parity Productions, Gustiamo, Brindiamo Guide and Cherry Lane Theatre.
Related Articles
More Hot Stories For You