Here Comes Patti! LuPone Will Take DON'T MONKEY WITH BROADWAY on Tour in 2018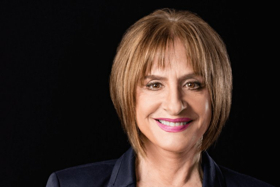 Broadway legend Patti LuPone might be coming to a city near you! Following the final performance of War Paint (December 30, 2017) the Two-time Tony Award and Grammy Award winner will hit the road with her new show, Don't Monkey With Broadway.
Her 2018 tour stops will include: Ruby Diamond Concert Hall, Florida State University, Tallahassee, Florida (April 5); Bergen Performing Arts Center, Englewood, New Jersey (April 14); DeBartolo Performing Arts Center, University of Notre Dame, Notre Dame, Indiana (April 20); Macomb Center, Macomb Community College, Clinton, New Jersey (April 22); Proctor's Theatre, Schenectady, New York (April 27); and Eastman School of Music, Rochester, New York (April 29).
Click here to purchase her new double-disc live album, Don't Monkey With Broadway.
LuPone is an internationally praised singer and actress who is best known for her work in stage musicals. She is a two-time GRAMMY® Award winner and a two-time Tony Award winner, and she also was an American Theater Hall of Fame inductee in 2006. LuPone began her professional career with The Acting Company in 1972 and made her Broadway debut in Three Sisters in 1973. She won the Tony Award for Best Actress in a Musical for her role as Eva Perón in the 1979 original Broadway production of Evita and also won a Tony Award for her role as Mama Rose in the 2008 revival of Gypsy. LuPone won two Grammy Awards for the 2008 recording (Best Classical Album and Best Opera Recording) of the Los Angeles Opera production of Rise and Fall of the City of Mahagonny. Far Away Places will boast Broadway classics, '30s and '40s cabaret, and contemporary pop songs by Kurt Weill, Edith Piaf, Willie Nelson, The Bee Gees, Stephen Sondheim, Cole Porter, and more.