Click Here for More Articles on NEW YORK CITY
George London Foundation to Welcome Paul Appleby & Sarah Mesko in Recital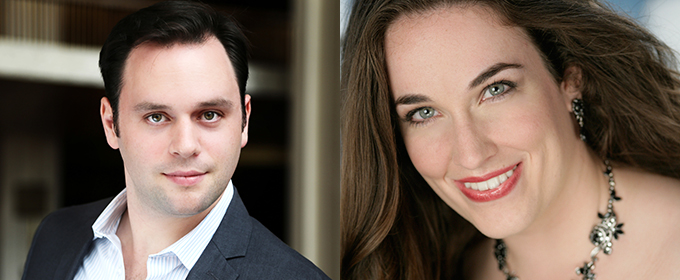 Tenor Paul Appleby, the 2011 George London Award winner who, it was recently announced, will be in the cast of the world premiere of John Adams's Girls of the Golden West with San Francisco Opera next season, teams up with mezzo-soprano and 2015 George London Award winner Sarah Mesko and pianist Ken Noda for the season's second event in the George London Foundation Recital Series at The Morgan Library & Museum on Sunday, March 5, 2017, at 4:00 pm.
Last April, the George London Foundation for Singers concluded the 20th year of its celebrated Recital Series with a gala featuring some of opera's most prominent American and Canadian stars. The foundation has been honoring, supporting, and presenting the finest young opera singers in the U.S. and Canada since 1971, and the annual series presents pairs of outstanding singers, many of whom were winners of a George London Award, the prize of the foundation's annual vocal competition.
On March 5, Sarah Mesko will perform a set she has titled "Stars and Night," featuring songs by Wolf, Fauré, Brahms, Barber, and Richard Hundley (see below for full program listing), as well as Brahms's Two Viola Songs (with a guest violist to be announced) and "Ah! Je vais mourir ... Adieu, fière cité" from Berlioz's Les Troyens. Paul Appleby will sing Poulenc's song cycle Tel jour, telle nuit, Britten's song cycle On This Island, and "Vainement, ma bien-aimée" from Lalo's Le Roi d'Ys. The singers will end the program with the Act II duet from Berlioz's Béatrice et Bénédict, "L'amour est un flambeau."
Paul Appleby appeared in the fall 2016 Metropolitan Opera production of Mozart's Don Giovanni, eliciting praise from The New York Times: "Paul Appleby made the hapless role of Don Ottavio a thing of tenorial beauty." And when he made his debut in January with the Dutch National Opera in the role of Belmonte in their production of Die Entführung aus dem Serail, the French publication Place de l'Opera said that he "as Belmonte...sounded young and lyrical and sang with the agility that you hope to hear in Mozart."
When Sarah Mesko sang during the 2015 George London competition's semi-finals, Opera News noted that "the judges weren't scribbling at all; they were just listening." She performed in the U.S. in the Metropolitan Opera's "Rising Stars" concert tour, eliciting praise from the Washington Post: "Mesko also sports a lovely and flexible instrument, tossing off Rossini's 'Una voce poco fa' ... without any strain and enlivening several ensembles with impish personality." She also recent debuted at the Glimmerglass Festival in Vivaldi's Catone in Utica to acclaim.
The George London Foundation's 2016-17 season also included the 46th annual George London Foundation Awards Competition, at which on February 17 five singers - AaRon Blake, tenor; Michelle Bradley, soprano; Errin Duane Brooks, tenor (the George London-Kirsten Flagstad Award for a potential Wagnerian singer); Will Liverman, baritone; and Lara Secord-Haid, soprano (the George London Award for a Canadian singer) - were proclaimed the winners of the 2017 George London Awards.
The season concludes with the third event in the recital series: a program by Amber Wagner, soprano, and Reginald Smith, Jr., baritone. Ms. Wagner, who sings the role of Senta in this spring's Metropolitan Opera production of The Flying Dutchman, won her George London Award in 2010, and Mr. Smith won his in 2015. Sunday, April 2, 2017, at 4:00 pm
The goal of the London Foundation, the support and nurturing of young singers, was an abiding interest of the great American bass-baritone George London, who devoted a great part of the time and energy of his later years to this purpose. "Remembering his difficult road to success, George wanted to devise a way to make the road a little easier for future generations of singers," said George London Foundation President Nora London. Initially created under the auspices of the National Opera Institute, the George London Awards program has been administered since 1990 directly by the Foundation as a living legacy to George London's own exceptional talent and generosity. As The New York Times noted recently, "this prestigious competition...can rightfully claim to act as a springboard for major careers in opera." Visit www.georgelondon.org.
Paul Appleby (2011 George London Award), tenor, had a 2015-16 season highlighted by his San Francisco Opera debut, singing Tamino in The Magic Flute, about which the San Francisco Examiner said, "Tenor Paul Appleby was impressive ... as the love-struck prince Tamino, warmly conveying his ardor for the princess Pamina with beautiful lyricism and a moving dramatic performance." He also performed solo recitals at London's Wigmore Hall and at Carnegie Hall's Zankel Hall, eliciting praise for the latter from The New York Times: "As Mr. Appleby showed throughout this impressive recital, ... he is that special singer who puts words first in performing songs."
Admired for his interpretive depth, vocal strength, and range of expressivity, rising star tenor Paul Appleby is one of the sought-after voices of his generation. A versatile artist, he is equally in demand on the world's leading concert, recital, and opera stages.
Following a summer season that featured Paul Appleby at Glyndebourne in the title role of a new production by Laurent Pelly of Béatrice et Bénédict, the tenor's 2016-17 opera diary includes a debut at the Festival d'Aix-en-Provence in a new production of The Rake's Progress conducted by Daniel Harding and directed by Simon McBurney. His concert calendar brings the artist together with Manfred Honeck and the Pittsburgh Symphony for Haydn's The Creation, with David Zinman and the Bamberger Symphoniker for Elgar's The Dream of Gerontius, and with Jeffrey Kahane and the Los Angeles Chamber Orchestra for Beethoven's Ninth Symphony.
Profoundly committed to the art of song, the tenor made his Wigmore Hall recital debut last season accompanied by Malcolm Martineau and toured North America with pianist Ken Noda under the auspices of Carnegie Hall, Boston's Celebrity Series, Friends of Chamber Music of Miami, and the University of Notre Dame. With Steven Blier and the New York Festival of Song, he surveyed the exquisite lyricism of Franz Schubert and The Beatles. paulapplebytenor.com
Sarah Mesko (2015 George London Award) - Praised by The Washington Post for her "consistently beautiful sound," American mezzo-soprano Sarah Mesko is rapidly gaining attention for her "rich mezzo soprano" voice and musicality. In the 2016-2017 season, Sarah Mesko makes her Metropolitan Opera debut as the Second Lady in The Magic Flute. She will also be heard in recitals with the Dallas Opera at the Dallas Museum of Art and at the University of Arkansas and Henderson State University in Arkansas. She will also sing Mozart's Requiem with the Mercury Orchestra in Houston.
Sarah Mesko began the 2015-16 season in her role debut as Carmen at Washington National Opera in the Domingo-Cafritz Emerging Artists performance. She joined the Metropolitan Opera for their Rising Stars concert tour across the United States and also covered Malcolm in La donna del lago on the mainstage. In concert, she appeared with the Columbus Symphony in Alexander Nevsky and with the Mercury Orchestra in Beethoven's Ninth Symphony. Recently, Ms. Mesko was seen at Washington National Opera as the Second Lady in Die Zauberflöte and made her debut at Houston Grand Opera as Mrs. Segstrom in A Little Night Music. In concert, she appeared with Ars Lyrica, the Bach Society of Houston, and Mercury Baroque in Houston. A native of Hot Springs, Arkansas, Ms. Mesko holds a master of music degree in vocal performance from Rice University and a bachelor of music degree in vocal and flute performance from the University of Arkansas. www.sarahmesko.com
---
PROGRAM:
The George London Foundation Recital Series presents
PAUL APPLEBY, Tenor
Sarah Mesko, Mezzo-soprano
Ken Noda, Piano
Sunday, March 5, 2017, at 4:00 pm
Gilder Lehrman Hall at The Morgan Library & Museum
225 Madison Avenue at 36th Street, New York City
Tickets: $50
Call (212) 956-2809, e-mail info@georgelondon.org
www.georgelondon.org | www.themorgan.org
"Stars and Night":
WOLF "Der Mond hat eine schwere Klag' erhoben" from Italienisches Liederbuch
FAURÉ "Clair de lune" from Opus 46
BRAHMS "Die Mainacht" from Vier Gesänge
R. HUNDLEY "The Giver of Stars" from Songs of Wonderment and Love
BARBER "Sure on this shining night" from Four Songs
Sarah Mesko & Ken Noda
POULENC Tel jour, telle nuit
Paul Appleby & Ken Noda
BRAHMS Two Viola Songs
Sarah Mesko & Ken Noda (and guest artist to be announced)
BRITTEN On This Island
Paul Appleby & Ken Noda
BERLIOZ "Ah! Je vais mourir ... Adieu, fière cité" from Les Troyens
Sarah Mesko & Ken Noda
LALO "Vainement, ma bien-aimée" from Le Roi d'Ys
Paul Appleby & Ken Noda
BERLIOZ "L'amour est un flambeau" from Béatrice et Bénédict
Sarah Mesko, Paul Appleby, and Ken Noda
Pictured: Paul Appleby, photo by FranceS Marshall, and Sarah Mesko, photo by Kristin Hobermann.
Related Articles
More Hot Stories For You
The Drama Book Shop, Now Co-Owned by Lin-Manuel Miranda, Will Reopen in March
 It was announced today that The Drama Book Shop will reopen its doors in March 2020 at its new Times Square home at 266 West 39th Street (between 7th... (read more)

HADESTOWN Becomes First Musical Of 2018-2019 Season To Recoup Investment
Hadestown, the Tony Award-winning Best New Musical has become the first musical of the 2018-2019 Broadway season to recoup its initial investment of $... (read more)

Voting Now Open For The 2019 BroadwayWorld New Jersey Awards, Presented by TodayTix!
Voting is NOW OPEN for the 2019 BroadwayWorld New Jersey Awards, brought to you by TodayTix! The nominees are set, and now you can vote to make sure y... (read more)

TOOTSIE To Play Final Broadway Performance in January
It was announced today that the Tony-nominated musical TOOTSIE will play its final performance at at the Marquis Theatre on Sunday, January 5, 2020.... (read more)

Betsy Wolfe and Matt Bogart Will Star in Developmental Reading of Original New Musical INDIGO
Sing Out, Louise! Productions will hold a developmental reading of Indigo, an original new musical featuring music & lyrics by MAC Award winning compo... (read more)

LES MISERABLES Changes Dates of Broadcast in U.S. Cinemas
Les Misérables a?" The Staged Concert will be shown in cinemas across North America on Sunday December 8 & Wednesday, December 11 from the Gielgud The... (read more)