VB Reads: Feast And Fiction - A Play Reading Series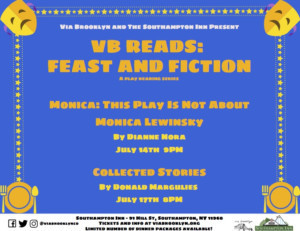 Via Brooklyn and The Southampton Inn are proud to present the first ever VB Reads: Feast and Fiction, a play reading series. VB Reads will present Monica: This Play Is Not About Monica Lewinsky by Dianne Nora on Saturday, July 14th at 9pm and Collected Stories by Donald Margulies on Tuesday, July 17th at 8pm. This two-night event will be hosted by The Southampton Inn at their in-house restaurant, Claude's at 91 Hill Street, Southampton, NY 11968. The event will feature a special prix fixe menu option, titled The Full Feast, as well as a drink and dessert option, titled Sips and Sweets, to be served as you enjoy the staged reading. For additional information about ticketing and reservations please visit www.viabrooklyn.org.
Monica: This Play Is Not About Monica Lewinsky will feature: Kathleen Choe, Mark Guerette, Cori Hundt, Cory Censoprano, Rafe Terrizzi, and Ian Harkins
Collected Stories will feature: Cheri Wicks, Jessica Giannone, and Hannah Tova Wolff
VB Reads: Feast and Fiction Present:
Monica: This Play is Not About Monica Lewinsky
Saturday, July 14th at 9:00pm
and
Collected Stories
Tuesday, July 17th at 8:00pm
Tickets and Dinner Packages at Varying Prices. Information about ticketing and reservations can be found at www.viabrooklyn.org. Tickets will also be sold at the door on the night of the event.
The Southampton Inn - 91 Hill Street, Southampton, NY 11968 - Directions can be found at: https://www.southamptoninn.com/contact
Monica: This Play Is Not About Monica Lewinsky - Through a series of scenes between Monica Lewinsky and different imagined lovers, this play asks what the cost of intimacy is, how we reckon with our past selves, and what we talk about when we talk about Other Women. Jumping in time between 1990 and 2017, we meet Monica at pivotal moments in her life: struggling to commit to couples' therapy; realizing she's about to meet a lover's family for the first time; in the middle of a one night stand far away from home; in the moments after she's lost her virginity; trying to comfort a partner who's lost a parent; and watching Donald Trump become elected President. While many of Monica's lovers appear only once in the play, every other scene focuses on the relationship between Monica and Sam, a recent divorcee who wants to build a new life with her. Rather than offer a definitive Lewinsky biography or focus on the scandal that brought her worldwide notoriety, this play offers a contradictory portrait of a contradictory woman, and allows us a chance to ponder, personally and nationally, just when it all went wrong.
Collected Stories - "The conflict between the established artist and the adulatory fan who becomes a protégé, disciple, colleague and friend-and finally threatening rival-is one of those great topics...It resurfaces in Donald Margulies's provocative [...] play, COLLECTED STORIES, which confronts the prominent short-story writer Ruth Steiner with her student turned confidante turned competitor Lisa Morrison. What is new here is that the women are teacher and student both in academia and in life, that they come from different social milieus, and that for her first novel, Lisa has also cannibalized Ruth's experiences, to wit her youthful, shattering affair with the poet Delmore Schwartz. As always, Margulies is literate, intellectually stimulating, and able to create characters of both dramatic and human interest. And he sustains this interest through six scenes covering six years that only briefly leave Ruth's cozily messy, book-infested Greenwich Village apartment. Here two worlds clash in age-old, ecumenical dueling, led up to by great mutual emotional investment, and all the more bitter for it" - NY Mag
Dianne Nora (Monica: This Play Is Not About Monica Lewinsky) - Dianne Nora is a playwright, theatre scholar, and comedy writer who lives and works in Chicago, Brooklyn, and Dublin, Ireland. Her full-length plays include Julie (25F), Western Country, In Rooms Such As These, Everybody's Legs, Wasps (semi-finalist for the O'Neill National Playwrights Conference 2014), Ye That Dwell In Dust, and Prodigal. She recently assisted her mentor Tracy Letts on the world premiere of his play The Minutes, a finalist for the 2018 Pulitzer Prize in Drama. She is co-writing a parody of the Bible with Scott Dikkers, founding editor of The Onion. BA: NYU; MPhil: Trinity College Dublin; MFA: Columbia University School of the Arts.
Donald Margulies (Collected Stories) - Donald Margulies received the 2000 Pulitzer Prize for Drama for Dinner With Friends (Variety Arts Theatre, (New York). His plays have been performed at major theatres across the United States and around the world. Theatre Communications Group has published five volumes of his work. Mr. Margulies has received grants from the National Endowment for the Arts, The New York Foundation for the Arts, and the John Simon Guggenheim Memorial Foundation. He was the recipient of the 2000 Sidney Kingsley Award for Outstanding Achievement in the Theatre. In 2005 he was honored with and Award in Literature given by the American Academy of Arts and Letters and the National Foundation for Jewish Culture's Literary Arts Award. Mr. Margulies is an alumnus of New Dramatists and serves on the council of The Dramatists Guild of America.
The Southampton Inn: Located in the heart of historic Southampton Village surrounded by several acres of manicured lawns and gardens, the Southampton Inn is a welcome respite from bustling city life. Combining casual Hamptons style with European comfort, the Southampton Inn has been a local landmark for three generations. The largest Inn in Southampton, we have 90 charming guest rooms with luxuries such as Tempur-Pedic mattresses, mini refrigerators and complimentary Wi-Fi. Enjoy seasonal dining at Southampton Inn's restaurant! Plan intimate or grand events with the help of our knowledgeable and creative event planners, relax with a book or a Nook in our library with its classical music and roaring fireplace. Come the springtime, we offer an outdoor heated pool, all-weather tennis court, lawn games, and bicycles.Within walking distance are a variety of enchanting restaurants, celebrated boutiques, unique galleries, and cultural opportunities. Guests at our Hamptons East End hotel enjoy wine tasting, garden tours, food events, and recreational pursuits. World famous Cooper's Beach is 1 mile away and breathtakingly beautiful.
Via Brooklyn: Via Brooklyn is a team of four hugely talented and humble Brooklyn-based actors (moonlighting as a DJ, a tutor, a freelance writer, and a chocolatier). We develop theatrical productions, coupled with interactive programming, to engage audiences around the world. Our mission is to foster enthusiasm, contemplation, and community by blurring the traditional lines between stage, canvas, camera, music, page, viticulture, dressage, and everything in between. We believe the synergy of artistic media can create pretentious...no innovative, no wait, I've got it!...visionary live theatre experiences.
Related Articles
More Hot Stories For You