FIDDLER To Be Celebrated in Audible Production AFTER ANATEVKA at the Minetta Lane Theatre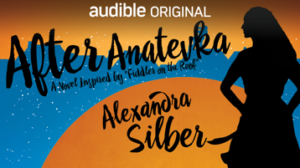 After Anatevka, an Audible Production at the Minetta Lane Theatre, will celebrate Alexandra Silber's novel about the characters in the musical Fiddler on the Roof.
Audible Inc., the world's largest producer and provider of downloadable audiobooks and other spoken-word entertainment is pleased to announce its production of After Anatevka, a literary and musical evening celebrating Alexandra Silber's sweeping historic novel and its upcoming release on Audible. Picking up where beloved musical Fiddler on the Roof left off (based on the original stories by Sholem Aleichem), After Anatevka centers on Tevye's daughter Hodel and the adversities she faces in her extraordinary attempt to reunite with her politically-imprisoned fiancé at a Siberian work camp. A love story set against a backdrop of some of the greatest violence in European history, After Anatevaka is a stunning conclusion to a tale that has gripped audiences around the globe for decades.
Featuring new songs written by Broadway composers inspired by excerpts from the novel, the evening will be filled with the magic and power of storytelling. All attendees will be part of a live recording of this performance for release on Audible. Ms. Silber will be reading as well as singing, and will be joined by special guests Pulitzer and three time Tony Award winner Sheldon Harnick, Patrick Page, Santino Fontana, Jessica Fontana, Ellie Fishman, Ben Moss, and Samantha Massell. Moss will also serve as the night's Musical Director. For more information, please visit www.audible.com/afteranatevka
Hear from Alexandra Silber below:
Monday, August 13 at 7pm WHERE: The Minetta Lane Theatre, 18 Minetta Lane, NYC
Tickets are priced at $30 and are available online via Ticketmaster.com, by phone at 800-982 2787, or at the Minetta Lane Theatre Box Office (18 Minetta Lane.) Fees apply to online and phone purchases, but no fees are charged for tickets bought at the Box Office.
For more information, visit www.audible.com/afteranatevka.