Exquisite Corpse Company Presents: A RIBBON ABOUT A BOMB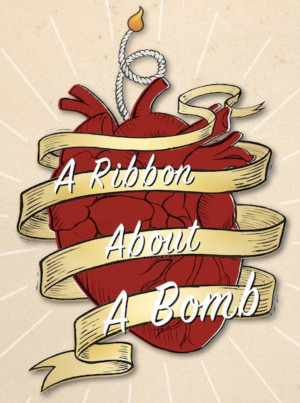 This summer, Exquisite Corpse Company invites you to a wedding...or a funeral...in the surreal world of A Ribbon About a Bomb. Wander with Frida Kahlo, Remedios Varo, and Leonora Carrington through the abandoned halls of a mansion on Governors Island. The show centers on, as the artists often queried in life, the duality of humanity, womanhood, and art. The captivating, sometimes terrifying, work of these three women intertwine, as each attempts to shape their own reality in the face of systematic oppression and entrenched social hierarchies.
Directed by Tess Howsam and written by a diverse team of ten playwrights, the play will feature and original score by KG Garligton and will be performed within original art installations. The show's premiere installation, Corseted Community is an artistic collaboration lead by Tess Howsam and Mila Villasana. It showcases women artist forms America and Mexico. The project functions as a bridge of artistic disciplines and cultural boundaries, embodying women's roles in a tempestuous, fragmented world. Corseted Community will be open to the public regularly, as well as incorporated in the performance. The show will also highlight an exciting partnership with Nineteenth Amendment, whose designers will be creating costumes specifically for the show, inspired by the production's source material.
written by Karina Billini, Blake Bishton, Phillip Christian, Georgina Escobar, Emily Krause, Elizagrace Madrone, Alexandra Paola, Alexis Roblan, Carmen Rivera, Alisa Zhulina directed by Tess Howsam installations by Andrea Caldarise, Lee Collins, Sara Gosses, Tess Howsam, Mila Villasana technical direction Lee Collins lighting design Sara Gosses sound design Carsen Joenk costume design Matsy Stinson fashion partner Nineteenth Ammendment dramaturgy Carsen Joenk original music KG Garlington poster design Mila Villasana featuring Stephanie Hepner, Mindy Leanse, Andrea Lopez, Blaire O'Leary, Sara Ornelas, Robyn Unger
A Ribbon About a Bomb runs August 18th - October 1st. Performances are on Fridays (3 PM); Saturdays/Sundays (2 & 4 PM). Governors Island, Colonels Row, House 407B.
For more info: https://www.exquisitecorpsecompany.com/aribbonaboutabomb
For tickets: https://www.artful.ly/store/events/12982
ABOUT EXQUISITE CORPSE COMPANY:
Exquisite Corpse Company is a Brooklyn based, integrated performance art collective. ECC's latest production follows last summer's The Enchanted Realm of Rene Magritte. The company's work has previously appeared on Governors Island & The Pearl NOLA (Secession 2015), (the Colorado Springs Fine Arts Center (Untitled #3), HERE (WareArt Festival), Galapagos Arts Space (WareArt: Subterra), Arts@Renaissance (Odd.A.See), and in the NY International Fringe Festival & Encore Series (Below). ECC is committed to creating original multi-disciplinary work through large-scale collaboration. The company aims to give voice to the stories of women and the LGBTQ community.
Related Articles
More Hot Stories For You
HAMILTON Will Hold A Fan Performance on October 31 With All Tickets Available For $10 Via Lottery
For the second year in a row, Hamilton will host a special fan performance on Thursday, October 31 at the Richard Rodgers Theatre on Broadway, with al... (read more)

Breaking: Ethan Slater, Gavin Lee & More Will Reunite to Film SPONGEBOB for Nickelodeon
Following a critically lauded run on Broadway, members of the original award-winning Broadway company of The SpongeBob Musical: Live On Stage! will re... (read more)

BWW Photo Exclusive: Adam Pascal Stars In THE MUSIC MAN At 5-Star Theatricals
Tony nominee Adam Pascal stars as Professor Harold Hill in the first show of the 5-Star Theattricals 2019-2020 season, THE MUSIC MAN.... (read more)

MOULIN ROUGE To Head To The West End in 2021
The blockbuster Broadway hit, Moulin Rouge, will be heading to the West End in 2021!... (read more)

Tony Nominee Jenn Colella Will Depart COME FROM AWAY in November
BroadwayWorld has just learned that Jenn Colella, original cast member of Come From Away, will depart the musical next month. Colella was Tony-nominat... (read more)

Exclusive: Get A First Look At Teal Wicks, Bobby Conte Thornton, And More In LAST DAYS OF SUMMER
BroadwayWorld has a first look at the new musical LAST DAYS OF SUMMER, presented by George Street Playhouse and directed by Jeff Calhoun (NEWSIES, GRE... (read more)