PBS Now Streaming BERNSTEIN ON BROADWAY ft. Annaleigh Ashford, Aaron Tveit & More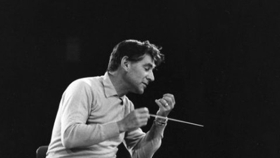 In case you missed PBS's LIVE FROM LINCOLN CENTER - BERNSTEIN ON BROADWAY this New Year's Eve, you can now stream the entire broadcast here! In the show, stars from Broadway, including Annaleigh Ashford, Laura Osnes, Chris Jackson and Aaron Tveit joined the Philharmonic in tribute to the legendary composer.
New York Philharmonic New Year's Eve: LIVE FROM LINCOLN CENTER continued an annual tradition on PBS by ringing in 2018 with a special NEW YORK PHILHARMONIC NEW YEAR'S EVE concert This year the New York Philharmonic celebrates the 100th birthday of the late Leonard Bernstein, its fabled Musical Director from 1958 to 1969. From the dynamic rhythms of West Side Story to the brashness of sailors on leave in On the Town, Bernstein's music for Broadway charted new stylistic and emotional territory.
Led by Bramwell Tovey, with special guests Annaleigh Ashford, Christopher Jackson, Laura Osnes and Aaron Tveit, this loving tribute promises to become a classical music moment to remember.
Image courtesy of PBS