Did You Know... Our Favorite Fun Facts About the 2018 Tony Nominees!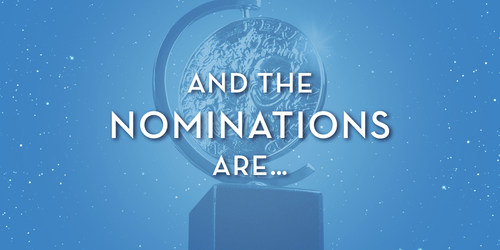 Over the course of each Broadway season, unexpected and unique storylines inevitably pop up. This morning, with the announcement of the 2018 Tony Award nominations, a number of new narratives have come to life.
From the most nominated play in history to an unusual number of acting nominees in a category to plays invading traditionally musical categories, there was a lot to digest from this morning's announcements. Check out some of the most interesting factual nuggets below, and if you think of any that we miss, tweet us @BroadwayWorld and we will share our favorites.
CLICK HERE to check out a full list of this year's nominees, and HERE for reactions from the lucky few!
The American Theatre Wing's 72nd Annual Tony Awards, hosted by Sara Bareiles and Josh Groban, will air live from Radio City Music Hall on the CBS Television Network on Sunday, June 10, 2018 (8:00-11:00 PM, ET/delayed PT). The Tony Awards are presented by The Broadway League and the American Theatre Wing.
---
This year, seven shows received 10 nominations or more. That is believed to be the most shows ever with double-digit nominations in a single year.
MEAN GIRLS: 12
SPONGEBOB SQUAREPANTS: 12
ANGELS IN AMERICA: 11
THE BAND'S VISIT: 11
CAROUSEL: 11
HARRY POTTER AND THE CURSED CHILD, PARTS ONE AND TWO: 10
MY FAIR LADY: 10
---
According to the New York Times' Michael Paulson: 30 shows were eligible for nominations this year, the smallest in more than a decade.
---
With 11 nominations, ANGELS IN AMERICA is now the most nominated play in the history of the Tony Awards. Its total surpasses 2007's THE COAST OF UTOPIA and the 2010 revival of FENCES, which both had 10 apiece.
---
For the first time in the history of the award, six women have been nominated in the Best Leading Actress in a Musical category. In recent years, having six performers nominated in a category has been unusual, but it happened for the first time in 1956 when Julie Harris won for THE LARK. It last occurred in 2015 when Richard McCabe (THE AUDIENCE) beat five other nominees.
In 1958, there were actually seven nominees in the Best Actor in a Play category. Ralph Bellmy (Sunrise at Campobello) beat Richard Burton (Time Remembered), Hugh Griffith (LOOK HOMEWARD, ANGEL), Laurence Olivier (The Entertainer), Anthony Perkins (LOOK HOMEWARD, ANGEL), Peter Ustinov (ROMANOFF AND JULIET), and Emlyn Williams (A BOY GROWING UP).
Then, the 1975 Tony Awards included two acting categories that nominated six performers. THE WIZ stars Ted Ross and Dee Dee Bridgewater each beat out five competitors in the Featured Actor and Actress in a Musical categories, respectively.
---
In 2018, the revival of ANGELS IN AMERICA, which features original music by Adrian Sutton, was nominated for the Best Original Score award. However, having a play honored in this category is not an uncommon occurrence, especially since 2010.
2018: ANGELS IN AMERICA- music by Adrian Sutton
2012: PETER AND THE STARCATCHER- music by Wayne Barker, lyrics by Rick Elice
2010: FENCES- music by Branford Marsalis
2010: ENRON- music by Adam Cork, lyrics by Lucy Prebble
Keep in mind that the official title of the category does specific "Music and/or Lyrics Written for the Theatre." Many critics praised the soundtrack for HARRY POTTER AND THE CURSED CHILD by Imogen Heap, but it was determined that not enough of the music was written specifically for the play to be eligible.
---
Like Sutton and ANGELS IN AMERICA above, this year we saw a play nominated in another traditional musical category. Steven Hoggett earned his second Tony nomination for choreographing a play, this time for his work on HARRY POTTER AND THE CURSED CHILD. This is the sixth time that choreography in a straight-play has been nominated.
2018: HARRY POTTER AND THE CURSED CHILD- Steven Hoggett
2015: THE CURIOUS INCIDENT OF THE DOG IN THE NIGHT-TIME- Scott Graham and Steven Hoggett
1992: DANCING AT LUGHNASA- Terry John Bates
1989: LARGELY NEW YORK- Bill Irwin and Kimi Okada
1973: MUCH ADO ABOUT NOTHING- Donald Saddler
1956: RED ROSES FOR ME- Anna Sokolow
---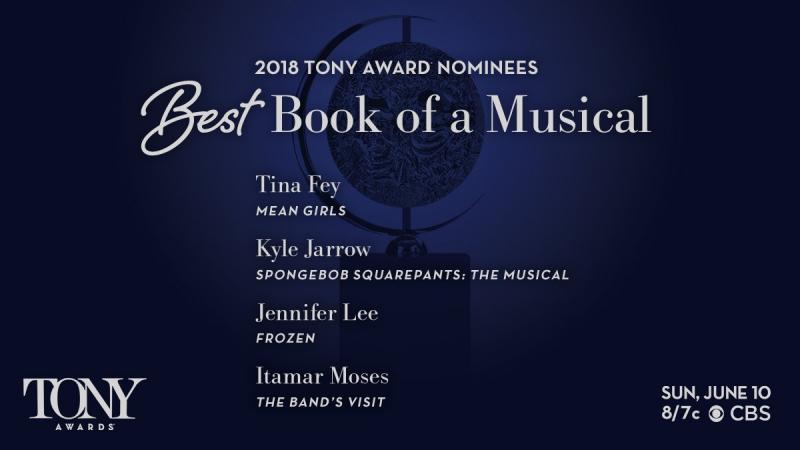 All four of this season's nominated book writers are making their Broadway debuts. Both Tina Fey and Jennifer Lee were nominated for adapting their screenplays for MEAN GIRLS and FROZEN for the Broadway stage. Itamar Moses, who received a Drama Desk nomination in 2012 for COMPLETENESS, wrote the book for THE BAND'S VISIT.
Kyle Jarrow wrote the book for Obie Award winner A VERY MERRY UNAUTHORIZED CHILDREN'S SCIENTOLOGY PAGEANT and for the Lucille Lortel Outstanding Musical nominee THE WILDNESS, before working on the book for SPONGEBOB SQUAREPANTS, pulling together the songs of more than a dozen composers.
---
There are officially 17 people or groups nominated for crafting the score for SPONGEBOB SQUAREPANTS. Unsurprisingly, that's the most ever in the Best Original Score category. The previous record was held by THE LION KING in 1998, which boasted a seven-person writing team. There are also three previous shows that featured scores by six people.
Only one, WORKING, contained a complete score written for the stage. Similarly, all of the songs in SPONGEBOB were written specifically for the musical, except for the cartoon's theme song, which is sung at the curtain call.
1998: THE LION KING: Elton John, Lebo M., Mark Mancina, Time Rice, Jay Rifkin, Julie Taymor, and Hans Zimmer
1999: FOOTLOOSE: Eric Carmen, Sammy Hagar, Kenny Loggins, Dean Pitchford, Tom Snow, and Jim Steinman
1979: EUBIE!: Eublie Blake, Johnny Brandon, Jim Europe, F. E. Miller, Andy Razafe, and Noble Sissle
1978: WORKING: Susan Birkenhead, Craig Carnelia, Micki Grant, Mary Rodgers, Stephen Schwartz, and James Taylor
---
For the second year in a row, two women have been nominated for Best Play. However, this marks only the fourth time that the category has included more than one work authored by a woman. Those four years are:
2018: THE CHILDREN by Lucy Kirkwood and FARINELLI AND THE KIND by Claire van Kampen
2017: INDECENT by Paula Vogel and SWEAT by Lynn Nottage
2002: METAMORPHOSES by Mary Zimmerman and TOPDOG/UNDERDOG by Suzan-Lori Parks
1960: A RAISIN IN THE SUN by Lorraine Hansberry and TOYS IN THE ATTIC by Lillian Hellman
None of these previous six plays won. However, as The Interval pointed out, if either Kirkwood or van Kampen win, "it will be only the fourth time a solo-authored play by a woman has won."
---
Sticking with our friends at The Interval, their contributor Sarah Rebell points out how the odds are stacked against female writers, despite a solid number of nominations this season.
Since 2000, only 4 women have won @TheTonyAwards Best Score: Lisa Lambert, @cyndilauper, @KronLisa, & Jeanine Tesori. That's 4 out of 31 winners or 13%.
There's a 3 in 5 chance that at least 1 woman will win Best Score this year, which would raise the percentage to at least 15%.

- Sarah Rebell (@SarahRebell) May 1, 2018
Since 2000, only 2 women have won @TheTonyAwards Best Book of a Musical: @KronLisa and Rachel Sheinkin. That's 2 out of 18 winners, or 11%.
This year, there is 50/50 chance that a woman will win Best Book, which would raise the percentage from 11% to 16%.

- Sarah Rebell (@SarahRebell) May 1, 2018
---
With the nominations of FROZEN and MEAN GIRLS, over the past 21 Broadway seasons (since THE LION KING won Best Musical), there have been 32 Best Musical nominees based on properties that either originated as films, or had been adapted to film before coming to Broadway.
With 85 total nominees during that time period, movie-to-musical adaptations account for over 38% of nominees in the category during that time period.
---
This season, 25 of the 39 acting nominees are receiving their first Tony nomination, and there are only two 2018 acting nominees who were also nominated in 2017. A DOLLS HOUSE, PART 2 co-stars Laurie Metcalf (THREE TALL WOMEN) and Condola Rashad (SAINT JOAN).
With her 2016 nomination for MISERY, Metcalf has now been nominated three years in a row. She won her first Tony last year. She was also nominated in 2008 (NOVEMBER) and 2013 (THE OTHER PLACE).
---
In 2013, BRING IT ON: THE MUSICAL secured a Tony nomination for Best Musical, despite having been closed for five months. Since then, many of the stars have gone on to find even more success in their careers.
In fact, today, three of the show's performers were nominated for Tony Awards; Taylor Louderman (MEAN GIRLS), Ariana DeBose (SUMMER: THE Donna Summer MUSICAL), and Joshua Henry (CAROUSEL).
Henry sang the recorded vocals on the song "Cross the Line" in the musical; his second of three appearances in a Lin-Manuel Miranda musical.
---
Speaking about co-stars receiving nominations, three of the four featured acting categories feature multiple performers from the same show.
Featured Actor in a Play: Michael Cera and Brian Tyree Henry from LOBBY HERO
Featured Actress in a Play: Susan Brown and Denise Gough from ANGELS IN AMERICA
Featured Actress in a Play: Renee Fleming and Lindsay Mendez from CAROUSEL
None of the lead acting categories contained multiple nominees from the same show.
---
Have more Tony fun facts? Let me know on Twitter@BWWMatt. You can listen to me on BroadwayRadio or on BroadwayWorld's pop culture podcast Some Like it Pop.
Nominee graphics credit: @TheTonyAwards
Related Articles
Matt is a Senior Editor and Administrator at BroadwayWorld, regularly writing about Broadway real estate, TV, and film. He is a proud graduate of The (read more...)