Click Here for More Articles on Debut of the Month Features
Debut of the Month: Courtenay Collins Arrives at THE PROM In Style
Courtenay Collins makes her Broadway debut as conservative, small-town mother Mrs. Greene, in the new, original musical The Prom. The comedy tells the story of an Indiana high school student who is barred from bringing her girlfriend to The Prom. When a group of egocentric Broadway actors decide to descend on the town in an attempt to fight the injustice (and regain the favor of the New York critics), they wind up turning a small-town controversy into a national headline-making story. Today the talented actress speaks to BroadwayWorld and explains why making her Broadway debut as THE PROM's Mrs. Greene has truly been a blessing.
[NOTE: BroadwayWorld's fabulous photographer Walter McBride captures images of the Broadway stars profiled in our monthly column in a special photo shoot. Check out the pics of Ms. Collins throughout the feature!]
Congratulations on the THE PROM! You've been a part of this project almost from the beginning.
Yes, it's been an incredible ride, from soup to nuts. I started in Atlanta, which is where I first met everyone, and now it's like doing a show with a family that I've had for years.
Your character, Mrs. Greene is perhaps the most controversial character in the story. Are you able to relate to her any way?
Well you know I'm such a good southern girl. I hate conflict and I don't like to make a scene. And I would never take the other side of an argument in front of other people, in front of a crowd. So to play someone like her who has very staunch beliefs and stands up for them and is not afraid to go into the fray and mix it up, is very exciting for me, because I am such a pleaser and Mrs. Green is definitely not. But you know she is desperate. She's a single mom, and I have also been a single mom, so I do understand that part of her that wants to protect her child to the nth degree.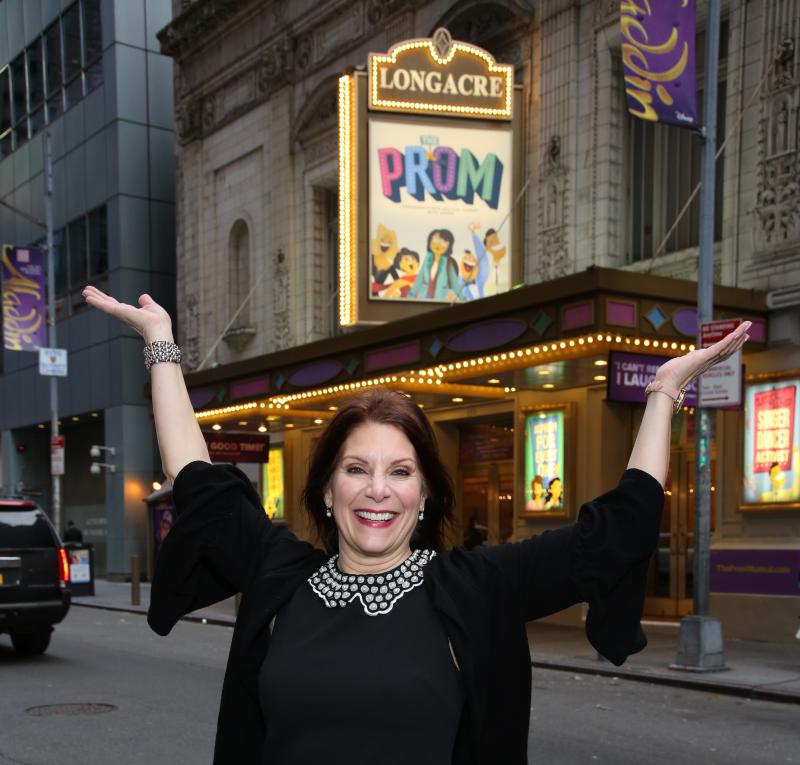 So while many may consider her the villain, you are able to find the good in her?
Sure, I think you have to. And that was my struggle when I first read the part in Atlanta, I didn't quite understand her. I didn't know what her motives were. But since then, the writers have really sculpted her into a three dimensional person. They added scenes, and they added dialogue, they added all of those wonderful scenes with her daughter that show us that she's not homophobic in the true sense of the word. She just doesn't understand what she doesn't understand. And she's afraid of it, she's driven by fear. And I think that in general, people who exhibit prejudice to such extremes are guided by fear - fear of what they can't understand because they have no relevance to the situation in their own world. And when we're all backed into a corner by circumstances, we tend to lash out out of desperation.
Which really makes this story so relevant to what we're seeing in our world today.
Oh definitely. It really, really does. This piece is so timely. And if we have to tell this story and if I have to play this part in order for the story to be told, I'm happy to do it.
Do you think by the end of Mrs. Greene's journey, she has transformed in some respects?
Yes, I think she is heading to the crest, because there's really nothing else left for her. I think when Brooks Ashmanskas' character tells her, "you're going to lose your daughter," that really resonates with her and she finally sees him for the broken person that he is because he hasn't had a relationship with his own mother. And I think that that's the worst thing that can happen to any mother - to lose a relationship with their child.
What kinds of reactions have you been hearing from audiences after they've seen the show?
You know it really has been a blessing to play this character because many people have shared their stories with me about coming out to their parents. And some of the stories have a happy ending, but most do not. And these men and women are scarred of course because they have not been accepted by the people that they love the most. It makes me tear up just talking about it. They're still hurting because their parents have not accepted who they truly are. And people tell me that this was the exact conversation they had with their own mom, or with their own dad. It's like I'm able to be some sort of confessor because they know that I understand what they have gone through and that I remind them of their own parents. So I treasure those stories and I carry those stories with me on stage every night.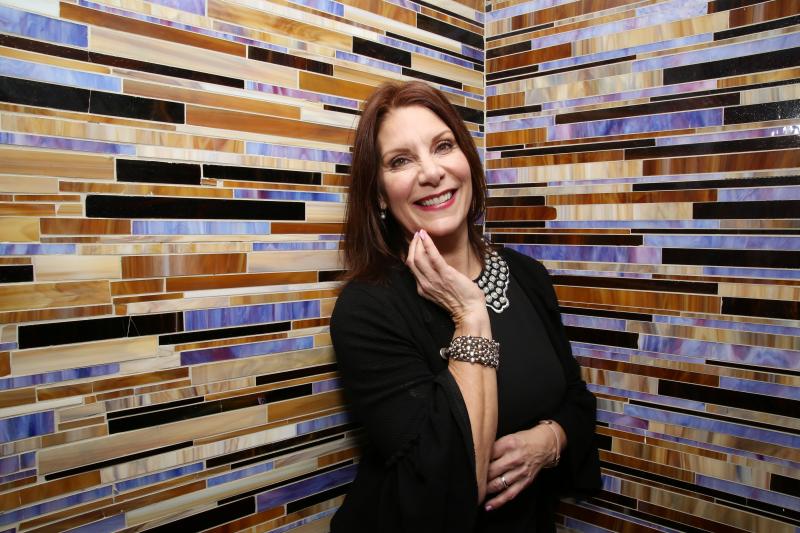 In many ways, this show sneaks up on you in the sense that you think it's going to be a light fish-out-of-water romp at first, but then you come to realize that it really has a powerful message at its core.
Yes, and I think that is what will make it stand out hopefully in this year of craziness in our world. The audience is cracking up laughing and then all of a sudden they have tears running down their face, and it does kind of take your legs out from under you. When we go out and meet people at the stage door, many will say they had no idea what they were getting into. They thought this was going to be a happy, funny musical and then they get this whole underbelly of love and this parable of opening hearts and minds. And I love that.
The score is very unusual in that it reflects two very different voices, those of the over-the-top Broadway folks, but also the contemporary voice of today's teenagers.
Yes, the score and I would say the humor as well. I teach a lot of high school and college-aged kids in Atlanta, and several of them were at the show the other night and they were like, oh my God, the humor is so funny and it's so current. They were impressed that the jokes were so relevant to their generation. And I think the writers worked very hard on that, as well as the lyricist, Chad Beguelin and Matthew Sklar, the composer. They worked really hard at showing the two very different worlds and then combining them. And it was hard to mix them, but [director] Casey Nicholaw found that avenue in showing the two worlds interweaving together at the same time, and really showing them overlapping. So yes, that has kind of been the Catch 22, to show both of those worlds at once so that we can really understand what's going on.
It looks like your castmates are having so much fun on stage. I would imagine you must be a little envious that you can't jump in and join them in their shenanigans.
Oh my God, totally! I used to be so despondent that I didn't get to participate in the number "Build a Prom." I would be in the back and learning the dance by myself and telling myself, 'come on Courtenay, you can be a part of this.' But the creatives were very adamant that we couldn't tie my story up in a neat little package. They really wanted it to remain real and of course I understood that. But we are also having a lot of fun off stage as well, so they do let me into the fun every now and then! It's truly a loving group of people and I think everyone is so invested in the story and with Casey, he is such a teddy bear of a person, I think his love for the show and his genuine love for each of us made us just love each other even more.
And it's so refreshing to see an original piece of work come to Broadway.
It is, it's great to see that these musical theater writers are alive and well, and we are bringing up these young kids who love musical theater. And that's another thing that I have enjoyed very much when I walk out the stage door - to see these groups of kids who love musical theater and are inspired by it. And when the young actresses, Caitlin [Kinnunen] and Izzy [McCalla] go out there, it's almost like a rock concert, they just scream for them and for the dancers as well. All of the adults in the cast, we call ourselves "the olds" and they are called "the youngs." And it's wonderful to work with "the olds", these incredible Broadway talents and icons that I have admired all these years. And to make my Broadway debut at my age is very exciting. I had a wonderful, creative life in Atlanta and I raised two kids and I have a very fulfilling life there, but to be able to come here and check this Broadway box off is absolutely thrilling and really completes a circle that I began a long time ago.
Speaking of your Broadway initiation, what was it like to make your debut on Opening Night?
You know the whole night, from the unexpected, impromptu snowstorm that hit New York City, to my whole family being here, my son, my husband, my mother, we had three generations, all circling the wagons here, my two best friends and then to have that incredible house, to be telling this story, to go to the opening night party, which was at The Copacabana, the whole thing to me was like a movie of what a Broadway debut and Opening Night party should be. It was just perfect. It was joyous, just joyous!
BroadwayWorld congratulates Courtenay Collins on her Broadway debut in The Prom. In addition to starring in Off-Broadway's Eating Raoul, her theater credits include Beauty and the Beast (Toronto), Ken Hill's Phantom of the Opera (national tour), Atlanta Alliance Theatre's The Prom, Courtenay's Holiday Cabaret, Jacques Brel, Geller Girls, Into the Woods and Managing Maxine.