David Yazbek, Bob Martin & Rick Elice Join Writing Team for Disney's THE PRINCESS BRIDE Musical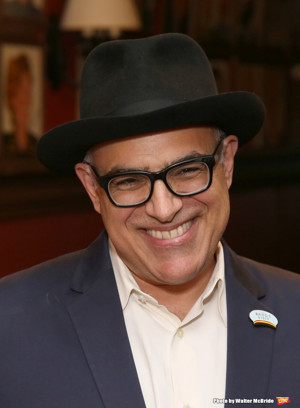 BroadwayWorld has just learned that three Broadway favorites are set to bring The Princess Bride to life onstage. A Disney Theatrical spokesperson has confirmed that that David Yazbek (Tootsie, The Band's Visit) will write the score, and Bob Martin (The Prom) and Rick Elice (The Cher Show) will co-write the book for the new musical.
No further information about production timetable or additional creative team is available at this time.
The romantic comedy fantasy adventure film was directed and co-produced by Reiner and was based on the 1973 novel of the same name by William Goldman. In the movie, the story unfolds as a book being read by a grandfather (Peter Falk) to his sick grandson, played by Fred Savage. Cary Elwes and Robin Wright also starred as the romantic leads, as did the late André the Giant, Mandy Patinkin and Billy Crystal.
Plans to bring the movie to the stage have been in development since the early 2000's. More recently, in November 2013, Disney announced plans to partner with Goldman on the musical adaptation.
---
David Yazbek has become one of Broadway's preeminent composer/lyricists. Three of his shows, The Full Monty, Dirty Rotten Scoundrels, and Women on the Verge of a Nervous Breakdown have been nominated for Best Score Tony Awards. He is a Tony Award winner for his most recent musical, The Band's Visit, which opened on Broadway to rave reviews and has been named to every Best of the Year list for 2017. The show also received 10 Tony Awards, as well as the Lucille Lortel Award, the Outer Critics Circle Award, and the New York Drama Critics' Circle Award for Best Musical. He's also received three Grammy nominations and a Drama Desk Award. Yazbek won an Outstanding Writing Emmy Award for his stint on "Late Night with David Letterman." He scored the last season of HBO's "Boardwalk Empire," wrote the theme song to "Where in the World is Carmen Sandiego," and has written hundreds of songs, scripts, scores and jingles for adult and children's TV. As a recording artist, Yazbek is responsible for five albums-The Laughing Man, Tock, Damascus, Tape Recorder, and Evil Monkey Man. He has written and/or produced for such acts as XTC, Ruben Blades, The Persuasions, Joe Jackson, Tito Puente and many others. As a performer, he and his band are engaged in an ongoing series of monthly shows at NYC's 54 Below club.
Bob Martin has been working as an actor and writer for over three decades. He has received many awards in both Canada and the U.S., including a Tony for The Drowsy Chaperone. Recent TV projects include "Slings & Arrows" I, II & III (TMN, Sundance), "Michael: Tuesdays and Thursdays" (CBC), "Michael: Everyday" (CBC), "Sensitive Skin" I & II (HBO) and "Elf: Buddy's Musical Christmas" (NBC). Recent theatre projects include Encores! Hey, Look Me Over (NY); The Sting (Paper Mill); Half Time (Chicago, Paper Mill); The Prom (Atlanta); Elf (Broadway, Dublin, London); The Drowsy Chaperone (Toronto, Broadway, London); and Second City Toronto (Performer, Director, Artistic Director). In development: Millions (Platt/Rudin), A Night at the Museum (Fox) and The Princess Bride (Disney).
Rick Elice's Broadway credits include: The Cher Show, Jersey Boys (Tony, Grammy and Olivier Awards, Best Musical), The Addams Family, Peter and the Starcatcher (winner, five Tony Awards). His book Finding Roger, An Improbably Theatrical Love Story is published by Kingswell.