Daniel Robert Sullivan's CONVICTION (An Irish Pub Song Musical: 1942) Will Have an Industry Reading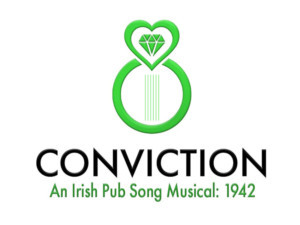 A new musical with traditional tunes and a historical spin will receive a developmental reading on July 25th, 2018 at the Dramatists Guild Foundation Music Hall on 40th St. in Manhattan.
"It's New Year's Day in 1942, and Father Daniel is hosting an ol' fashioned Irish sing-along in honor of his grandparents' golden wedding anniversary. You're invited for whiskey, revelry, and revelations!"
This first reading will star Annie McGreevey (original company of The Magic Show, original productions of Annie, Company, and Sweet Charity), Nathan Scherich (Jersey Boys, Beautiful), Jillian Louis (It Shoulda Been You, Cheers Live on Stage), and Roger Preston Smith (Peter Pan, Me and My Girl, Hello, Dolly!).
Says Daniel, "CONVICTION is a new musical that is anti-war, pro-love, and fits the best Irish melodies into an original story about how our belief systems can be challenged in times of extreme strife. Set in a church reception hall in Brooklyn at the precipice of United States involvement in World War Two, this four-actor musical takes on Catholic faith, the birth of Planned Parenthood, sexism, Irish immigration, and family itself while raising the roof with rollicking great music! I cannot wait to continue working to bring this musical to life, especially now when we could all use a little dose of music and whiskey."
Daniel Robert Sullivan's other works include Prospect High: Brooklyn, a play developed at Roundabout Theatre Company that has had more than 30 productions worldwide, and Places, Please! (Becoming A Jersey Boy), a theatrical memoir about his more than 1000 performances as Tommy DeVito in Jersey Boys. Daniel has a documentary narrative in the works that tells of his more than one hundred in-person interviews with devoted Trump supporters in thirty cities across America.
For further information or to request an invitation, please write to the playwright directly at DanielRobertSullivan@gmail.com.