Constance Zaytoun And Marc Stuart Weitz Serve-Up Laughs With CONSTANCE COOKS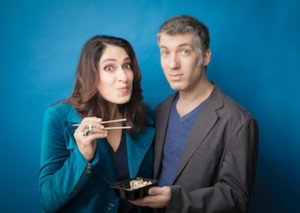 Theater veterans turned co-creators Constance Zaytoun and Marc Stuart Weitz serve-up plenty of laughs with their new comedy-meets-cooking series, CONSTANCE COOKS, premiering as 'Best Pilot' award nominee at the 2018 NYC Web Fest on November 8th.
Loosely based on her real life, this single camera comedy crossed with a cooking show follows Constance (Zaytoun), a 40-year old professor with a problem. Rather than use her PhD to pay off her crippling student loans, she slings cocktails and dreams of hosting a cooking show featuring New York artists in her tiny Chelsea apartment. Will Constance's culinary quest lead to a recipe for life, or will she fall flat on her face like a bad soufflé?
At the end of each narrative episode, Constance demonstrates - using time-lapse filming - an actual recipe that gives a surprise twist to her original plan. Her classic taste and old-school techniques provide an antidote to the humiliations she endures on her quest.
"The show is inspired by the women I know. The crazy choices we've made - the loans we've taken - to stay in New York City and make art. We're stuck in a generational place filled with anxiety, irony, passion, and lots and lots of laughter," shares Zaytoun.
To get CONSTANCE COOKS out of her head and onto the screen, Zaytoun teamed up with her real-life partner Weitz. "The character of Constance is a little out-of-step with what's hip and current, and it leads to some hilarious results," Weitz explains. "She wonders if she's too old to accomplish what she wants, but it's a hopeful story about perseverance and the power of staying true to yourself."
To sweeten the recipe, this creative duo brought in award-winning indie director Rosalie Tenseth (After; Failure Groupies), Emmy-winning producer and culinary producer David Domedion (Food Network's Frontier Woman), 2014 Zeiss Precision Image Award winning director of photography Jamal Solomon (HBO's Flowers), award-winning line producer Richard Kim (Moko Jumbie) and Swiss singer/songwriter Eliane Amherd to contribute her original music.
The on-screen flavor comes not only from Zaytoun and Weitz, but also thanks to a well-seasoned cast, including Marylouise Burke (The Mist), Lynne Marie Rosenberg (High Maintenance), Matthew Lawler (ABC's The Family) and veteran actor Isiah Whitlock, Jr. (The Wire, The Good Cop).
CONSTANCE COOKS is not the first outing for this creative couple. Together with their theatre company, Purpleman, Zaytoun and Weitz have presented new works by Carson Kreitzer, Jon Marans, Deb Margolin, Moby Pomerance and others.
Originally from North Carolina, Zaytoun is a graduate of UNC-Chapel Hill (BA), New York University (MA), and CUNY Graduate Center, where she earned her Ph.D. A powerhouse actress, the New York Times touted, "Ms. Zaytoun indulges in a comic tour de force!" for her recent performance in the Off-Broadway production of Paula Vogel's And Baby Makes Seven.
Weitz is currently the Producing Director for the Obie Award-winning New Ohio Theatre and founder of the NY Indie Theatre Film Festival. He graduated from the University of Pennsylvania, before earning an MFA in Acting at the American Conservatory Theater.
'CONSTANCE COOKS' - Premieres at 2018 NYC WEB FEST
Date/Time: Thursday, November 8, 2018 - 12:00PM
Venue: Peoples Improv Theater, 123 E. 24th Street, NY, NY 10010
Tickets/Info: nycwebfest.com
For more about CONSTANCE COOKS visit:
www.ConstanceCooks.com
Related Articles
More Hot Stories For You
Confirmed: Billy Porter Will Play the Fairy Godmother in Upcoming CINDERELLA Film
BroadwayWorld recently reported on a rumor that Billy Porter would be joining the cast of the upcoming Cinderella film from Sony, starring Camila Cabe... (read more)

DVR Alert: Lin-Manuel Miranda Will Appear on Tonight's SATURDAY NIGHT LIVE
This just in! Lin-Manuel Miranda will appear on tonight's episode of Saturday Night Live!... (read more)

HAMILTON's Miguel Cervantes and Family Mourn Passing of Three Year-Old Daughter, Adelaide
BroadwayWorld is saddened to report that Miguel Cervantes, who plays Alexander Hamilton in Chicago's Hamilton, and his wife, Kelly,  have confirmed th... (read more)

Ben Platt Reveals Further Details About Upcoming MERRILY WE ROLL ALONG Film
Further details have been revealed for the upcoming Merrily We Roll Along film, starring Ben Platt and Beanie Feldstein.... (read more)

Photo Flash: First Look at Renee Fleming, Dove Cameron, Brian Stokes Mitchell, and More in THE LIGHT IN THE PIAZZA
L.A. Opera presents The Light in the Piazza! Get a first look at the production in the photos!... (read more)

Photo Flash: First Look at Jonathan Groff & More in LITTLE SHOP OF HORRORS
LITTLE SHOP OF HORRORS, starring Jonathan Groff, Tammy Blanchard and Christian Borle, opens October 17 at The Westside Theatre (407 W. 43rd St, NYC), ... (read more)