Complete Calendar Announced For 6th Annual IN SCENA! ITALIAN THEATER FESTIVAL NY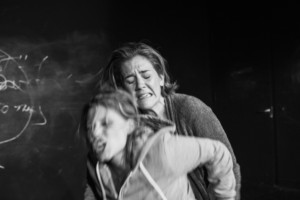 Kairos Italy Theater, New York's preeminent Italian Theater Company, and KIT Italia present the 6th Edition of In Scena! Italian Theater Festival NY, which will feature a record 12 shows, brought over from Italy to NYC, including a Special Opening Night Event, We are Not Alone starring Dario D'Ambrosi. The 15-day, 5-borough Festival, founded by KIT Artistic Director Laura Caparrotti and KIT Italia Artistic Director Donatella Codonesu, will close with the 5th annual Mario Fratti Awards, created especially for In Scena! to honor excellence in Italian playwriting. This year's winners are Chiara Boscaro & Marco Di Stefano for The City Rises (La citta' che sale).
This year's Fest celebrates women with 7 female authors represented as well as 6 female directors. Also spotlighted are two LGBTQ-themed works. The Fest also boasts many special events (listed below) and continues its tradition of showcasing work in all 5 NYC boroughs at 8 separate venues (also below).
The Festival runs May 7th-21st. All shows/events are free to the public (suggested donations accepted).
The full schedule of shows and events are below, followed by a calendar with dates, times and locations.
RSVP via www.inscenany.com or for more info call 212-254-4025.
Made in the U.S. Shows-Italians Making Theater in the U.S. (in English)
A Mother's Heart by Daniela Dellavalle, dissects the complex relationship between Mary and her mother. Mary has just murdered her father and attempted to kill her mother. A female psychiatrist is tasked with verifying Mary's mental state and holds the girl's future in her hands. Adapted and directed by Tania Kass. With Alice Lussiana Parente, Selamawit Worku and Marianne Goodell.
Federica Cellini's Dhana and the Rosebuds is a dreamlike odyssey involving a young Syrian woman, living in NYC, who sees her estranged grandmother on TV and journeys to find her. Directed by Federica Cellini. With Carolyn Burke, Ali Evarts, Valerie Fenton, Lauren Kieler and Sue Struve. Music composed and improvised by Irene Jalenti.
Official Selections-Italians Making Theater in Italy (in Italian with English Supertitles, unless noted)
The thriller Echoes, written by Lorenzo De Liberato, brings to mind Orwell's 1984 as it delves into a dystopia where one man interviews the person responsible for the murder of a million people. Directed by Stefano Patti. With Marco Quaglia & Stefano Patti. In English.
In Happy Mary, by Lorenza Pieri, an actress plays the role of the Virgin Mary in an Easter procession and begins a quest to discover who she really was, not only a mother full of sorrow, but a surprisingly human, strong and happy woman. Directed by Roberta Lena. With Laura Magni.
The Mejerchold Twins features two distinctly different siblings who continue an eternal struggle for domination on the cabaret stage and in real life. A comedy-musical blend rooted in Vaudeville, variety shows and revues. Directed by Davide Schinaia. With Francesca Airaudo and Giorgia Penzo. Live music by Tiziano Paganelli.
This is My House is Alessandro Blasioli's tragic story of a powerful friendship destroyed in the ruins of the Abruzzo earthquake of 2009. Directed and starring Mr. Blasioli.
Claudia Donadoni's Stria, is inspired by the true story of a Northern Italian girl accused of witchcraft and burned at the stake, in the late middle ages, her punishment for trying to exact revenge after a childhood friend is brutally raped. Translated by Fred Gardaphe. Directed by Sergio Stefini in collaboration with Marco Baliani. With Claudia Donadoni. Live music by Giovanni Bataloni.
My Last Night-Mia Martini, A Life, by Aldo Nove, tells the story of the great singer Mia Martini, whose life was marred by rumors that she brought bad luck. Directed by Michele De Vita Conti. With Erika Urban.
F.M. and His Double, by Fabio Marceddu, challenges notions of sexual identity through the gaze of a restless teenager in love with theatre. This is Teatro dallarmadio's latest non-theatrical theatrical piece. Directed and performed by Mr. Marceddu. Translated by Matteo Luoni.
Another LGBTQ-themed work is Francesca Falchi's Degen(d)eration-The Ghost of the Tribade, which traces the gradual restrictions of autonomous spaces for women-including sexual--under fascism. Directed and performed by Ms. Falchi.
Angela's Wars, written and performed by Giuseppina Facco, examines the lives of four Italian women during World War I, all named Angela. Directed by Annapaola Bardeloni. WWI Historical consultant Andrea Bavecchi.
Special Events
Opening Night: We are Not Alone, written, directed by and starring Dario D'Ambrosi. The piece was first presented at La MaMa in 1980 and is about a psychiatric inmate victimized by neglect in the outside world. The seminal play was written as a reaction to the Italian Mental Health Act of 1978, which was the first law to reform the psychiatric system. In Italian and English.
Conference: On Theater's Changing Relationships with Critics, Artists and Audiences. In partnership with Casa Italiana Zerilli-Marimo' and the League of Independent Theater, In Scena! is convening a conference on theater's changing relationships, with critics and artists from Italy and the U.S.
Free Verse Meets In Scena! Led by Dave Johnson. A cultural exchange between In Scena! Italian artists and emerging writers from the South Bronx, Queens and Staten Island. In English, Spanish and Italian.
Infosessions: Four Informational sessions on theater practices. Meet the experts from the US and Italy.
Shakespeare on the Rock: A screening of the film by Alessandro Fabrizi and Enrico Parenti about a performance created by the Eco Logical Theater in Stromboli, Sicily. In Italian with English subtitles.
Mario Fratti Award Ceremony and Closing Night: Reading of the winner of the 2018 Mario Fratti Award, The City Rises, by Chiara Boscaro and Marco Di Stefano. In English.
Readings (in English)
In Vino, by Leo Foti. A stage adaptation of the feature film which starred Edward Asner & Sean Young.
The Neighbors by Fausto Paravidino. Part of the Italian Playwrights Project.
Celebrating 5 years of the Mario Fratti Award: Readings of scenes from the winners of the Mario Fratti Award 2014-2017 on the occasion of the English publication of the plays.
Related Articles
More Hot Stories For You
Confirmed: Billy Porter Will Play the Fairy Godmother in Upcoming CINDERELLA Film
BroadwayWorld recently reported on a rumor that Billy Porter would be joining the cast of the upcoming Cinderella film from Sony, starring Camila Cabe... (read more)

DVR Alert: Lin-Manuel Miranda Will Appear on Tonight's SATURDAY NIGHT LIVE
This just in! Lin-Manuel Miranda will appear on tonight's episode of Saturday Night Live!... (read more)

HAMILTON's Miguel Cervantes and Family Mourn Passing of Three Year-Old Daughter, Adelaide
BroadwayWorld is saddened to report that Miguel Cervantes, who plays Alexander Hamilton in Chicago's Hamilton, and his wife, Kelly,  have confirmed th... (read more)

Ben Platt Reveals Further Details About Upcoming MERRILY WE ROLL ALONG Film
Further details have been revealed for the upcoming Merrily We Roll Along film, starring Ben Platt and Beanie Feldstein.... (read more)

Photo Flash: First Look at Renee Fleming, Dove Cameron, Brian Stokes Mitchell, and More in THE LIGHT IN THE PIAZZA
L.A. Opera presents The Light in the Piazza! Get a first look at the production in the photos!... (read more)

Disney+ Announces Featured Content, Including MARY POPPINS, THE LITTLE MERMAID & More!
Today, The Walt Disney Company announced its full slate of movies and television series that will be featured on its new streaming service, Disney+.... (read more)