City Announces Over $40 Million For Local Arts And Cultural Organizations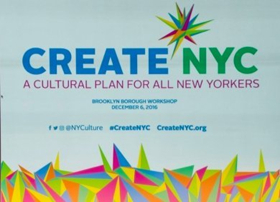 Mayor de Blasio, Speaker Mark-Viverito, Cultural Affairs Commissioner Tom Finkelpearl, and City Council Majority Leader and Cultural Affairs Committee Chair Jimmy Van Bramer today announced more than $40 million in grants to support public programming at nearly 950 cultural organizations across all five boroughs, including support for priorities in the City's CreateNYC cultural plan. This represents the largest ever allotment for the Department of Cultural Affairs' Cultural Development Fund (CDF), which distributes funding for cultural programming to hundreds of nonprofit cultural groups every year.
"As an epicenter of culture, New York City is naturally one of the largest funders of the arts in the country," said Mayor Bill de Blasio. "Together with our partners in City Council, we're taking steps to ensure New Yorkers in every corner of the city are able to participate in our unrivaled cultural life. CreateNYC gave New Yorkers the opportunity to speak up and be heard; and now we're building on our long history of supporting the arts while directing new funding to communities where it can do the most good."
"New York City is home to the most vibrant and artistic cultural community in the world," said Speaker Melissa Mark-Viverito. "Our museums and theaters are world-renowned and are the reason that millions of tourists visit this city every year. As Speaker I have consistently backed measures that support the City's cultural institutions and recognize their fundamental importance to the cultural fabric of the City. I'm proud that we were able to invest over $10 million in our city's arts and cultural institutions through the Cultural Development Fund. I want to thank Commissioner Finkelpearl for his continued commitment to the arts and investing in the opportunity for positive self -expression and arts education."
"We believe that every New Yorker deserves access to the benefits that art and culture bring to our communities," said Cultural Affairs Commissioner Tom Finkelpearl. "Thanks to our partners throughout the de Blasio Administration and in City Council, we can make this major investment in the extraordinary work being done by hundreds of cultural nonprofits, supporting an enormous range of programming in every neighborhood. From increased support for smaller organizations, to programming in underserved communities, to direct support for artists, this funding is guided by the tens of thousands of New Yorkers who contributed their voices to the CreateNYC cultural plan."
"During my 8 years as Chair of the Committee on Cultural Affairs, I have fought to make access to culture and the arts for all New Yorkers a top priority," said City Council Majority Leader and Chair of the Cultural Affairs Committee Jimmy Van Bramer. "Today's $40 million announcement represents the largest annual CDF program in the City's history. This money will support smaller arts and cultural groups which are an essential part of New York City's arts community. This investment fulfills the principles of Create NYC, which were guided by the input of tens of thousands of New Yorkers in every borough who participated in community town halls and panels last year, by bringing crucial financial support to historically underserved communities and organizations and by directly supporting individual artists. I am proud to have fought alongside Commissioner Finkelpearl for this funding to bring art and culture to all New Yorkers."
"Art and culture are part of the fabric of New York City," said Council Member Stephen Levin. "This increase in funding demonstrates that we are committed to ensuring a diverse and vibrant cultural experience for both native New Yorkers, and visitors. I applaud Mayor De Blasio, Commissioner Finkelpearl, and Majority Leader Jimmy Van Bramer for their leadership on this issue and I look forward to working with them on implementing the CreateNYC cultural plan recommendations."
The $40 million allocated to the CDF includes $6.45 million added in Fiscal Year 2018 specifically to support the strategies, goals, and objectives of the CreateNYC cultural plan. The City's first-ever comprehensive cultural plan was released by DCLA and the Mayor's Office in July 2017, pursuant to legislation sponsored by Majority Leader Van Bramer and Council Member Steve Levin. This new funding includes:
· $4 million allocated by the City Council to support cultural groups through CDF, with a greater increase for smaller organizations;
· $1.45 million allocated by the Mayor to support culture in neighborhoods based on the Social Impact of the Arts report (see below);
· $1 million allocated by City Council for the five borough arts councils to support re-grant programs for individual artists which they administer on behalf of DCLA.
CreateNYC integrated the findings of the Social Impact of the Art Project (SIAP), which identified communities across New York City - mostly low income - where cultural investments could make the greatest impact. SIAP's 2017 report "Culture and Social Wellbeing in New York City," which initiated a study of New York City neighborhoods at the invitation of Commissioner Finkelpearl, revealed a number of new insights into the relationship between New York City's cultural assets, and overall wellbeing of residents. It found that cultural assets correlate with a range of improvements in wellbeing indicators including positive outcomes in health, education, and even crime; and that these benefits are associated with culture to a greater degree in low income communities than in wealthy communities. The report also identified several underserved New York City neighborhoods that would benefit from increased cultural support. 260 groups located or providing services in these areas received $1.45 million in increased support.
"The NYC Department of Cultural Affairs has been a champion for the arts stretching back decades, providing millions of dollars every year to support creative programming in all five boroughs," said Chair of the CreateNYC Citizens Advisory Committee Ben Rodriguez-Cubeñas. "The CreateNYC cultural plan outlined new priorities for cultural funding, and demonstrated a clear interest in seeing more equitable funding for smaller organizations and those in underserved communities. Today's announcement marks a step in the right direction, and we look forward to working with DCLA in years to come to make even greater strides toward supporting a cultural sector that serves all New Yorkers."
DCLA's FY18 budget is currently $188.1 million, including operating and energy funding for the Cultural Institutions Group, City Council initiatives, program support, and funding for other programs and initiatives. It also includes $1 million in funding for energy costs at cultural organizations on City-owned property, which was first added to DCLA's budget in FY17.
Viviana Bianchi, Executive Director of the Bronx Council on the Arts, said, "The additional support distributed by the Department of Cultural Affairs for our re-granting program allowed us to fund 22% more applications to the Arts Funds than last year, and to more fully fund all proposals. The increased funding also means we will be able to provide higher awards for Bronx Recognizes its Own (BRIO), which honors Bronx artists for their artistic excellence and is a well-known brand in the Bronx and beyond. We appreciate all of our City representatives' support of arts and culture in the Bronx."
"In a moment when the importance of access to arts and culture in every community is gaining recognition, Brooklyn Arts Council is grateful to receive increased funding to distribute to individual artists through our re-grant program. The ability to provide more resources to support art making is critical. Many of our grantees are at the forefront of addressing pervasive and systemic cultural issues, seeking to improve and refine their core artistic and cultural competencies within a changing environment. We are excited to be able to support the work of more artists. This vital step not only aligns with the City's goal to ensure arts and culture is supported at the grassroots level, which is in BAC's DNA, it also advances our vision to inspire, build, and support artists, cultural activities, and innovative art making that transcends barriers, elevates free expression, and promotes equity of access to resources that foster the vibrancy of all Brooklyn communities," said Charlotte A. Cohen, Executive Director of the Brooklyn Arts Council.
"Lower Manhattan Cultural Council is thrilled to be the recipient of additional support this year through DCLA's Cultural Development Fund, which in conjunction with our other government partners allows us to regrant more than $1,000,000 directly to artists and arts organizations across Manhattan. Our DCLA funding has long been a core resource for individual artists, and LMCC is earmarking a portion of these funds to ensure that they receive a much-needed increase to their awards. At this time of uncertainty for many of our constituents, this funding provides artists vital support to create lasting impact and enliven their communities in new and exciting ways," said Diego S. Segalini, Interim Executive Director of Lower Manhattan Cultural Council.
"The demand for programming in Mexican arts and culture grows year to year. The additional funding received through the City's CreateNYC cultural plan will enable Mano a Mano: Mexican Culture Without Borders to complement our services in one of the identified underserved communities by providing additional programming hours to New Yorkers of all walks of life. We believe arts and culture are essential to the identities of our communities and this plan embraces the diversity of our city," said Juan Carlos Aguirre, Executive Director, Mano a Mano: Mexican Culture Without Borders.
"The Jacques Marchais Museum of Tibetan Art is pleased to receive increased DCLA funding from the Mayor and the City Council as part of the Cultural Development Fund," said Meg Ventrudo, Executive Director of the Jacques Marchais Museum of Tibetan Art. "This funding will enable us to present additional Tibetan cultural programs including musicians, dancers, and artists, as well as add additional objects and interpretive materials to our permanent exhibition. We appreciate the City's increased support of arts and culture."
"Increased funding provided from CreateNYC and the DCLA will make it possible to engage more children in Harlem in African dance, music, and folklore. For more than 25 years, we have connected youth to their heritage and fostered creative and social development through dance-and we have done this on a meager budget and within a caring community of talented artists and volunteers. Every dollar we raise makes an impact in the lives of Harlem youth," said Julio Leitao, Founder & Artistic Director, Batoto Yetu.
"Now in our 10th Anniversary Season, The Harlem Chamber Players have been presenting affordable and accessible live music for people in the Harlem community on a minuscule budget. Increased funding allows us to continue to build upon this mission, which is important to us because while we attract classical music aficionados, many others who attend our concert have never or rarely attended classical music concerts in the past. A Harlem resident, Novella Ford, once stated that 'this music filled spaces inside me I didn't know were empty,'" said Liz Player, Executive Director, Harlem Chamber Players.
"We were thrilled to hear of our increased CDF funding for our residency programs. This increase helps to secure and sustain our programs, which match NYC-based choreographers and composers with available workspace in cultural facilities. The additional funding also frees up staff time for outreach and marketing," said David Johnston, Executive Director, Exploring the Metropolis.
"Community arts organizations are so often driven by high energy, but also affected by high burnout due to lack of resources. Having institutional support from municipal agencies such as DCLA, the Mayor, and the City Council makes us at the Bangladesh Institute of Performing Arts (BIPA) feel that our work and energy are valued. It helps us sustain our energy and continue to be one of many examples for the NYC Bengali community that our efforts and voices matter," said Nadia Ahmad, Board Member of the Bangladesh Institute of Performing Arts (BIPA).
The New York City Department of Cultural Affairs (DCLA) is dedicated to supporting and strengthening New York City's vibrant cultural life. DCLA works to promote and advocate for quality arts programming and to articulate the contribution made by the cultural community to the City's vitality. The Department represents and serves nonprofit cultural organizations involved in the visual, literary, and performing arts; public-oriented science and humanities institutions including zoos, botanical gardens, and historic and preservation societies; and creative artists at all skill levels who live and work within the City's five boroughs. DCLA also provides donated materials for arts programs offered by the public schools and cultural and social service groups, and commissions permanent works of public art at City-funded construction projects throughout the five boroughs.
The Committee on Cultural Affairs, Libraries, and International Intergroup Relations has jurisdiction over New York City's Art Commission, museums, branch libraries, the New York City Commission for the United Nations, the Consular Corps and Protocol, the Department of Cultural Affairs, and the Mayor's Office of Special Projects and Community Events, as well as local efforts to promote the City's community harmony, cultural legacy, and international exchange.
Over the past 8 years, the Committee on Cultural Affairs, Libraries, and International Intergroup Relations has invested over $1 Billion towards cultural institutions and programs throughout the city, baselined 6-day library service throughout New York City, and has brought the city's annual capital investment in its 3 public library systems to record highs. This year saw the release of CreateNYC, which had been created through legislation passed by the council. CreateNYC is the first ever cultural plan for New York City to ensure that all New Yorkers, no matter their borough or neighborhood, have access to culture.
Related Articles
More Hot Stories For You
VIDEO: Josh Gad Recaps AVENGERS: ENDGAME as Olaf
After promising his followers to recap the latest Avenger film as Olaf once 1500 registered to vote or verify their registration, Josh Gad has deliver...

Times Square New Year's Eve Celebration Goes Virtual for 2021; Live Elements Still to be Determined
With January 1, 2021 now 100 days away, the organizers of the New Year's Eve celebration in Times Square provided a preliminary teaser of how the even...

Broadway Performers, Ballet Dancers, Industry Vets & More Discuss the Impact of the Shutdown of Live Entertainment
Broadway performers, industry veterans and more are discussing the ways in which the extended shutdown of live entertainment is going to affect Broadw...

Tommy DeVito, One of the Founding Members of The Four Seasons, Passes Away From COVID-19
Tommy DeVito, one of the founding members of The Four Seasons has died from COVID-19 at 92 years old. ...

Marc Kudisch and More Will Lead SOMETHING'S COMING, New Play on the Making of WEST SIDE STORY, Kicking Off The New Works Virtual Festival
The New Works Virtual Festival, now scheduled to take place from Sunday October 25th to Saturday the 31st, will stream video readings of 20 new script...

VIDEO: Original Tour Cast of SOMETHING ROTTEN! Reunites for Reimagined 'To Thine Own Self Be True'
The Something Rotten! 1st National Tour cast has reunited for a performance of the reimagined song, 'To Thine Own Self Be True'. The song was rewritte...