Chicago International Latino Theater Festival Forced to Cancel U.S. Debut of Cuba's Ludi Teatro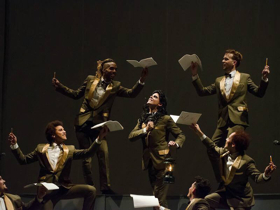 Chicago Latino Theater Alliance (CLATA)'s DESTINOS (des-stee-noce), the first Chicago International Latino Theater Festival, has been forced to cancel the U.S. premiere of the Cuban theater company Ludi Teatro.
Myrna Salazar, CLATA co-founder and Executive Director, said in a statement: "Due to logistical changes required by the Trump administration and the resulting current state of diplomatic relations between the United States and Cuba, the process for obtaining U.S. visas for our Cuban actors has become more challenging. These changes were unexpected and have made it impossible for us to ensure entry into the country for Ludi Teatro. Because CLATA strives to engage in a global artistic exchange to break down barriers that separate our cultures and communities, it is with great regret that we must cancel the performances by Ludi Teatro in this year's Destinos Chicago International Theatre Festival."
Ludi Teatro was to present The Mirror, October 19-22, 2017, at Steppenwolf's 1700 Theatre. Ticket holders will be refunded.
Every effort was made by the organization to secure visas for Ludi Teatro's creative team. As a result of the unfortunate cancellation, Steppenwolf's 1700 Theatre will go dark from October 19-22.
The Chicago Latino Theater Alliance was co-founded in 2016 by the three most prominent Latino cultural organizations: International Latino Cultural Center, the National Museum of Mexican Art, and the Puerto Rican Arts Alliance, joined by co-founder veteran arts executive, Myrna Salazar.
The Chicago Latino Theater Alliance, wishes to thank its funders without whom its mission would not be possible to foster and showcase thought provoking works of Latino theater artists, to inspire a cross-cultural audience: The John D. and Catherine T. MacArthur Foundation, Allstate Insurance and the Department of Cultural Affairs and Special Events.