Chazz Palminteri Honored at Bronx Children's Museum Gala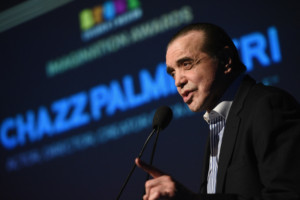 "Building Our Future Together" was the focus of Bronx Children's Museum's second Annual Gala at an evening of star-studded excitement for close to 400 eventgoers at the Edison Ballroom in New York City raising $465,000.
Friends and supporters joined Event Co-Chairs Bronx-born Kerry Washington, actress, producer, activist, and daughter of Museum Board Member Valerie Washington; Richard Abrons, playwright, activist; and Bronx native Rafael Collado, entrepreneur. Everyone came together to honor Sonia Manzano, "Maria" from Sesame Street, author, activist, who grew up in the Bronx; Chazz Palminteri, Bronx-born actor, director, creator of "A Bronx Tale; and Kerry Malawista and Alan Heilbron, donors of the "Museum On The Go!" Bus (which was parked outside the Edison Ballroom). Bronx Children's Museum Imagination Awards were presented for outstanding generosity and commitment to the Bronx Children's Museum.
Bronx-born Museum Board Member Sunny Hostin, Co-Host of ABC Daytime's Morning Show The View, Senior Legal Correspondent and Analyst for ABC News, was the extraordinary Master of Ceremonies. Entertainment was provided by renowned Bronx-born Jazz Pianist and Educator Dr. Valerie Capers. The evening began with a cocktail reception, followed by a live auction and dinner.
"Our museum is at a crossroads in many ways," emphasized Carla Precht, Bronx Children's Museum Executive Director. "Although we have been 'building-less' for more than 12 years, we have made the streets of the Bronx our home through our outreach programs. Now, as we grow from being a virtual museum with no physical space to one with a building, we expect to serve four times the number of people we already see. Our budget is about to double as we expand far beyond what we currently do. We are about to make history as the first children's museum - with and without walls - in the Bronx. Having a Gala to raise operating funds is essential to our long-term sustainability."
Leslie Wright, NYC Regional Director for New York State Park, Recreation & Historic Preservation, took to the stage to share work being done at Roberto Clemente State Park as part of the Little Friends of the Museum program. She introduced 2nd grader Cerenity Blanding, who said, "I love to learn about nature and explore more about the art in the Bronx. I want people to aspire to go outside, explore trees, bugs and flowers located all around."
Said Co-Chair Kerry Washington: "It is such a shame that the Bronx is the only borough without a children's museum facility, because the message that it sends to our children is that our expectations of them are less than the expectations of other kids in other boroughs, as if somehow, they are less deserving of joy and intelligence and aspiration and the ability to exceed our expectations. That has to become a belief of the past. That paradigm has to shift. I want the Bronx Children's Museum to be part of a resurrection in the Bronx. I want this Museum to be an emblem of who we really are. I want people to know that the people in the Bronx are smart, powerful, courageous and strong, and there is no limit to who we can be."
Ms. Washington introduced Charles Antin, a passionate auctioneer, who presented a series of live auction items. Mr. Antin then conducted a Fund-A-Need auction, meeting the Museum's goal of $100,000. The funds will provide vital support for the opening of the Museum's building and its programs currently offered throughout the Bronx.
A dedicated champion of the Museum, Bronx Borough President Ruben Diaz Jr. took to the stage to present an Imagination Award to Sonia Manzano, a first-generation American who was instrumental in bringing a Latino face to television. A long-time advocate for the Bronx Children's Museum, Ms. Manzano received a Lifetime Achievement Award at the 43rd Annual Daytime Emmy Awards. She is the author of children's books, a novel, and the memoir, Becoming Maria: Love and Chaos in the South Bronx. Ms. Manzano said, "In our current culture of dismantling institutions, it warms my heart to be part of something positive being built. The Bronx Children's Museum is a shining example of positivity, good will and hope for the future."
Vanessa Gibson, NYC Council Member, 16th District, who has advocated on behalf of the Museum since its conception, introduced honorees Kerry Malawista and Alan Heilbron. Several years ago, they gifted a redesigned former school bus entitled Sarah's "Got Art?" Bus to the Museum in loving memory of their daughter, Sarah, who imagined bringing art to underserved city children. After redesigning and renaming the bus "Museum On the Go!", Bronx Children's Museum has operated for more than seven years "without walls" with this bus as its heart and soul. The bus has traveled to schools, parks, festivals, shelters, hospitals and community events throughout the borough. Kerry Leddy Malawista, Ph.D., is a psychoanalyst and writer. Alan Heilbron is a retired businessman and entrepreneur. Together they have raised four children, Sarah, David, Anna and Peter, in Potomac, Maryland.
Hope Harley, President of the Bronx Children's Museum Board of Directors, presented an Award to Chazz Palminteri. His show, A Bronx Tale, now on Broadway, is adapted from the 1993 film of the same name, which was in turn adapted from his groundbreaking, autobiographical one-man show. Palminteri has more than 50 movies to his credit, and is a member of The Actors Studio in NYC. "Kids need a place to help them follow their dreams," says Chazz Palminteri. "So every time you give money to a great cause like the Bronx Children's Museum, you're not just helping a child, you're helping a universe. It's a ripple effect."
Also in attendance at the event were Linda Celeste Sims, who grew up in the Bronx, and Glenn Allen Sim of the Alvin Ailey American Dance Theater.
The Gala was sponsored by GetMyBoat, Richard and Iris Abrons, the Lostand Foundation, Lois and Arthur Stainman, The Boston Consulting Group, Gotham Stadium Tennis Center, Alice Gottesman, Kimelman & Baird LLC, The Perry Foundation, and Type A Projects/BronxPoint/L-M Development Partners.
The Auction prizes were provided by: ABC/Disney, Blue Hill at Stone Barns, Bronx Beer Hall, Amanda Collado, Rafael Collado, GetMyBoat, Sunny Hostin, The Late Show with Stephen Colbert, Samuel Lopez, Kerry Malawista and Alan Heilbron, The Medina Group, Susan Mills Birnbaum, New York Botanical Garden, Gianna and Chazz Palminteri, Ocho Platos, Paul Ramirez, The Roots, Shondaland, SusanSez NYC Walkabouts, The Tonight Show starring Jimmy Fallon, Upright Citizens Brigade, The View, and Kerry Washington.
Founded in 2005, the Museum currently serves almost 16,000 Bronx residents, primarily children, annually through innovative mobile programming and in-school, after-school and summer programming at 70 sites. Construction of the Bronx Children's Museum building will be completed by Spring 2019, and doors will open by early 2020! When the museum "with and without" walls opens, the number of people served will increase by 60,000 with a total of about 75,000 visitors annually.
Bronx Children's Museum seeks to inspire children from infancy to nine years of age and their families/caregivers to learn about themselves within the diversity and richness of their surroundings and the world beyond and to become caregivers of the planet. Construction on the Museum's facility, which will provide Bronx children with an interactive place to learn and play, is underway on the Museum facility under the auspices of the NYC Departments of Design & Construction and Parks & Recreation through a private public partnership. The renovation of 13,000 square feet of a NYC Parks-owned former powerhouse is taking place steps away from Yankee Stadium in the South Bronx. Once opened, children will experience interactive exhibits and multi-cultural programming. Museum outreach programming will continue after the building opening.
To date, the Museum has secured $11 million in New York City funding and $4 million from the State Assembly for bricks-and-mortar funding to develop and open the facility. It has an interactive exhibit activity budget of $4 million. Approximately $1.75 million remains to be raised for the exhibits, Furniture Fixtures and Equipment, and an opening/reserve fund. In total, the Museum has approximately 94% of the funds and in-kind support to open its doors.
Bronx Children's Museum is one of a few cultural institutions in the Bronx geared toward families with children, especially those who cannot afford-or would not normally visit-a museum. Watch the video shown to all gala attendees. For more information, please visit www.bronxchildrensmuseum.org.