Casting Complete for 'BUBBLY BLACK GIRL' and REALLY ROSIE at Encores! Off-Center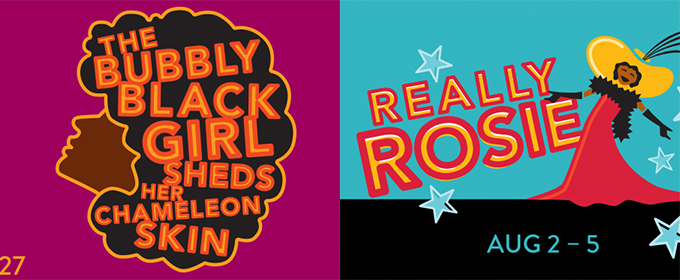 Following the success of Assassins, Encores! Off-Center Artistic Director Michael Friedman today announced casting for the next two productions of his first season at the helm of the popular summer musical theater series at New York City Center.
Tony Award-winner Nikki M. James (The Book of Mormon), previously announced in the role of Viveca, will be joined by Penelope Armstead-Williams, Tanya Birl, Kaitlyn Davidson, Josh Davis (Director Bob), Yurel Echezarreta (Modern Teacher), Lauren E.J. Hamilton, Korey Jackson (Gregory), Kingsley Leggs (Daddy), Jo'Nathan Michael, Kenita R. Miller, Julius Thomas III (Ballet Teacher), Shelley Thomas (Mommy), and Alex Wong (Jazz Teacher) in Kirsten Childs' delightful, provocative, and poignant 2000 musical, The Bubbly Black Girl Sheds Her Chameleon Skin. Following a young African-American dancer, Viveca, from West Coast suburbia to Broadway, all the while navigating the politics of race and gender in an attempt to uncover her own identity, The Bubbly Black Girl Sheds Her Chameleon Skin will be directed byRobert O'Hara with choreography by Byron Easley and music direction by Annastasia Victory.
The little girl with the big imagination from Avenue P at the center of Maurice Sendak and Carole King's Really Rosie will be played by Taylor Caldwell (Runaways, School of Rock), as previously announced. Additional characters drawn from Sendak's Nutshell Library will be played by Swayam Bhatia, Kenneth Cabral (Runaways), Ayodele Casel (Off-Center Jamboree, Fall for Dance), Jaiya Chetram, Eduardo Hernandez (On Your Feet), Nanyellin Liriano, Chris Lopes, Zell Steele Morrow (Fun Home), Charlie Pollock (The Wild Party), Ruth Righi (School of Rock), Anthony Rosenthal (Falsettos), and Nicole Wildy. Directed by Leigh Silverman, with music direction by Carmel Dean and Mary-Mitchell Campbell, and choreography by Ayodele Casel, this sweet, sad, wonderful family-friendly musical for the dreamer in all of us is inspired in part by the stories in Sendak's Nutshell Library and features King's irresistible songs like "Pierre," "Alligators All Around," and "Chicken Soup with Rice."
In addition to The Lobby Project, a series of free pre-performance events presented in conjunction withEncores! Off-Center, the lobby will be open one hour before each performance of Really Rosie for families to enjoy additional activities including a photo booth complete with accessories that Rosie herself would love. Kids are also encouraged to attend dressed as their favorite Sendak character. Visit NYCityCenter.org for additional information.
Led by Artistic Director Michael Friedman, the popular Encores! Off-Center series returns for its fifth season of landmark Off-Broadway musicals including Assassins, directed by Anne Kauffman (July 12-15); Kirsten Childs' The Bubbly Black Girl Sheds Her Chameleon Skin, directed by Robert O'Hara (July 26 & 27); and Carole King and Maurice Sendak's family musical Really Rosie, directed by Leigh Silverman (August 2-5).
Encores! Off-Center was founded in 2013 with the mission of presenting Off-Broadway musicals that pushed creative boundaries when they were first produced. Filtered through the lens of today's artists, these shows are presented not as historical documents but as living, vital works that continue to resonate with audiences. The New York Times has called Encores! Off?Center "a summer theater highlight," with past productions including Violet with Sutton Foster; tick, tick...BOOM! with Lin?Manuel Miranda; A New Brain with Jonathan Groff; Little Shop of Horrors with Ellen Greene and Jake Gyllenhaal; and Runaways with a cast of 25 young performers. The series also features The Lobby Project, a series of free pre?performance events that place each musical in context of its legacy and provide insights into the work the audience is about to experience.
---
The Bubbly Black Girl Sheds Her Chameleon Skin
July 26 & 27
Wed & Thu at 7:30pm
By Kirsten Childs
Choreography by Byron Easley
Music Director Annastasia Victory
Directed by Robert O'Hara
Really Rosie
August 2-5
Wed-Fri at 7pm and Sat at 2 pm & 7pm
Book and Lyrics by Maurice Sendak
Music by Carole King
Choreography by Ayodele Casel
Music Directors Carmel Dean and Mary-Mitchell Campbell
Directed by Leigh Silverman
---
New York City Center (Arlene Shuler, President & CEO) has played a defining role in the cultural life of the city since 1943. For nearly 25 years, City Center's Tony-honored Encores! series has been "an essential New York institution" (The New York Times). In 2013, City Center launched the Encores! Off-Center series, which features seminal Off-Broadway musicals filtered through the lens of today's innovative artists. Dance has also been integral to the theater's mission from the start and programs like the annual Fall for Dance Festival remain central to City Center's identity. Home to a roster of renowned national and international companies including Alvin Ailey American Dance Theater (City Center's Principal Dance Company) and Manhattan Theatre Club, New York City Center was Manhattan's first performing arts center, founded with the mission of making the best in music, theater, and dance accessible to all audiences. That mission continues today through robust education and community engagement programs which bring the performing arts to over 9,000 New York City students each year and the expansion of the theatrical experience to include pre-show talks, master classes, and art exhibitions that offer an up-close look at the work of the great theater and dance artists of our time.