Cast Announced For Reading Of Kevin Ray Johnson's Newest Play A (FUNNY) IMAGINATION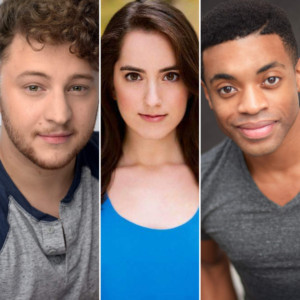 KEVIN Ray Johnson's (The Unpredictable Times) will be presenting his newest play, A Parody titled A (Funny) Imagination! On Tuesday, March 6th, 7:30 pm at the Dixon Place Lounge.
"This One-Act Drama follows Dee as he reunites ten years after graduating highschool with Tricia and EmVee to discuss unresolved issues from the past that completely altered their relationship for the rest of their lives. Dee recalls the events that led him to the point of where he now is physically, socially and mentally. A (Funny) Imagination is an Unauthorized Parody based on characters from the cartoon 'Doug' as adults."
Johnson will direct the free reading. The cast will feature Michael Coale Grey (Annie at Paper Mill Playhouse) as Dee, Remy Zaken (OBC Spring Awakening, Dear Evan Hansen) as Tricia and DeShawn Bowens (Newsies, and Honeymoon in Vegas at The Marriott) as EmVee.
About the Cast -
Michael Coale Grey (Dee): Could never have IMAGINED something as cool as this and is very relieved to have a good reason to binge watch cartoons. Recent Credits: Annie @ Paper Mill Playhouse, Guys and Dolls @ Asolo Repertory Theatre, Theory of Relativity (OCR) @ Goodspeed Musicals. Big thanks to Kevin for yet another chance to create some cool stuff. @MichaelCGrey
Remy Zaken (Tricia): was last seen in Spelling Bee at Cape Playhouse. Broadway: Dear Evan Hansen (Virtual Community Voice), Spring Awakening (OBC Thea). Off-Broadway: One Flea Spare, Dear Evan Hansen, Brooklynite, The Anthem, Freckleface Strawberry (title role), Spring Awakening, Radiant Baby. Regional: The Diary of Anne Frank (title role), A Tree Grows In Brooklyn (Connecticut Critics Circle Award for Best Debut). TV: "Bull," "Gossip Girl," "Law and Order," "It Could Be Worse." Columbia University: BA in psychology.
DeShawn Bowens (EmVee): Recent credits Newsies and the regional premiere of Honeymoon in Vegas as The Marriott. Orlan in Reginald (Formerly Reginald: from Baltimore to Billionaire) an original play by KEVIN Ray Johnson, Mamma Mia at Westchester Broadway Theatre, Guys and Dolls at Asolo Repertory Theatre, Legally Blonde on Norwegian Cruise Lines. The Little Mermaid at Virginia Musical Theatre, Mary Poppins and Peter Pan at Artpark, Dreamgirls, Les Miserables at Interlakes Summer Theatre! Music Theatre graduate of Elon University! Proud member of AEA. This is for you Mom!
About the Playwright -
KEVIN Ray Johnson is a writer and actor that currently resides in Brooklyn. His writing credits include - The Unpredictable Times (The last presentation featured Tony Award Nominee Alex Brightman), Reginald! (Formerly known as Reginald: From Baltimore to Billionaire. The Industry reading in May, 2017 featured Olivier Nominee Kyle Scatliffe), The Next Day, Life Inside an Open Kaije, and A Week in the Life of Norah Andrew. His work has also been presented Off Broadway (Davenport Theatre), NY Theater Festival, Manhattan Rep, Dixon Place, Timberlake Playhouse (IL), Artist Bloc (DC), DC Fringe Festival and the Pier One Theatre in Alaska. Kevin has also been a guest writer for OnStage Blog. www.kevinrayjohnson.com
The Dixon Place Lounge is located at 161A Chrystie St, New York NY 10002. This reading is free. For more information please visit - www.dixonplace.org
For more information about A (Funny) Imagination! please visit - www.facebook.com/AFunnyImagination