Click Here for More Articles on NEW YORK CITY
Camp Broadway Teams with Broadway Green Alliance to Show Theatre Kids How to Be Green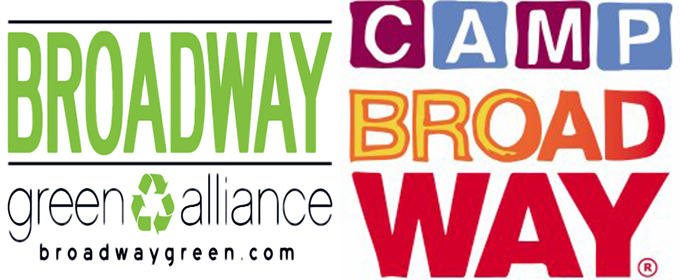 Camp Broadway LLC, Broadway's original summer camp, has partnered with The Broadway Green Alliance to promote easy ways to be green to theatre-loving kids across the country. The Broadway Green Alliance is a theatre industry-wide initiative that educates, motivates, and inspires professional practitioners and performing arts patrons to adopt environmentally friendlier practices.
Camp Broadway LLC has been employing green practices for many years, including providing refillable water bottles to kids, ordering lunches in recyclable packaging, car-pooling staff, using paperless registration software, printing double-sided materials, and drop-shipping supplies. The company also participates in BGA's binder project, as well as its semiannual electronic and textile recycling drives.
"BGA is happy to team up with Camp Broadway LLC to help get our pro-green message to children," says co-founder Susan Sampliner. "Camp Broadway connects kids to Broadway and we believe their campers will be our most effective ambassadors to their friends, parents, and classmates who we hope will all join us in taking pro-active steps to Reduce, Reuse, and Recycle."
In addition to promoting green practices off-stage and through social media, Camp Broadway is featuring two popular, literally green, musicals on-stage at Mainstage with the presentation of Shrek The Musical JR. based on the Dreamworks Animation Motion Picture and Peter Pan JR. a musical based on the play by Sir J.M. Barrie.
Proclaimed "The Camp of Dreams," Camp Broadway Mainstage is designed for theatre-loving kids, ages 10-17, to develop their confidence, character and presentation skills through ensemble performance. This 5-day (40 hours) of instruction in singing, acting, and dancing is taught by trained Broadway professionals. The program culminates in the Family Finale, a musical showcase presented on stage at our partner performing arts centers for friends and family.
Camp Broadway's Mainstage camp will be held at premier performing arts centers across America including: ASU Gammage, Tempe, AZ (June 19-23), The Rialto Center for the Arts, Atlanta, GA (July 5-9); Shea's Performing Arts Center, Buffalo, NY (July 31-August 4); The Peace Center, Greenville, SC (July 10-14); Florida State College: The Artist Series, Jacksonville, FL (June 12-16); The Smith Center, Las Vegas, NV (July 10-14); Camp Broadway Mainstage, New York City (July 17-21); Adrienne Arsht Center for the Performing Arts, Miami, FL (August 7-11); Las Casas Foundation/Majestic Theatre, San Antonio, TX (July 31-August 1); Westhampton Beach Performing Arts Center, Westhampton Beach, NY (July 31 - August 1).
Enrollment in Mainstage is open in all cities to children ages 10-17. Camp Broadway's Shining Stars program for ages 6-9 is currently offered in New York City and Las Vegas. The Next Step, for teens ages 14-17, is offered in New York City and Buffalo. All programs are open to all children, regardless of previous performing experience. Space is limited in all cities. For more information, visit www.campbroadway.com.
CAMP BROADWAY LLC was founded in 1995 and is recognized as Broadway's "original" summer camp. The company's mission is to make theatre arts an accessible and relevant way for creative children to build confidence, hone presentation skills and discover their unique talents at every stage of their lives. Camp Broadway is now a respected industry leader in audience engagement and a trusted source for parents or teachers seeking quality year-round enrichment programs, experiential events and educational workshops. Every year, thousands of children and students from around the world travel to New York City to attend Camp Broadway's annual musical theatre camp on Broadway and participate in its pre-show workshops offered to enhance their theatregoing at many Broadway shows. Camp Broadway's touring camp is presented by partner theatres in Atlanta, Buffalo, Greenville, Jacksonville, Las Vegas, Miami, Pittsburgh, San Antonio, Tempe and Westhampton Beach. The Camp Broadway Kids are featured frequently in special appearances at Carnegie Hall, Madison Square Garden, the Macy's Thanksgiving Day Parade and other premier entertainment venues. In 2016, Camp Broadway was honored with a Special Drama Desk Award for "introducing young people to the magic of theatre and for playing a crucial role in creating tomorrow's audiences for over 20 years."
The Broadway Green Alliance (BGA) educates, motivates, and inspires the entire theatre community and its patrons to implement environmentally friendlier practices. The BGA (formerly Broadway Goes Green) was launched in 2008 as an ad hoc committee of The Broadway League and has become a fiscal program of Broadway Cares/Equity Fights AIDS. The BGA brings together all segments of the theatre community, including producers, Broadway and Off-Broadway theatres in New York and around the country, college drama programs, theatrical unions and their members, and related businesses. Working closely with the Natural Resources Defense Council (NRDC), the BGA identifies and disseminates better practices for theatre professionals and reaches out to theatre fans throughout the country, and through alliances, internationally. To learn more, visit www.broadwaygreen.com.