Click Here for More Articles on NEW YORK CITY
Camille O'Sullivan to Return to Irish Arts Center to Sing the Songs of Jacques Brel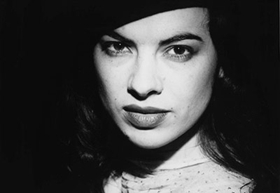 Having played sold out runs in 2014 and 2016, the acclaimed Irish/French singer/actress Camille O'Sullivan returns to Irish Arts Center with an intimate five-show residency, October 18-22, where she'll perform the songs of Jacques Brel.
With her longtime collaborator pianist Feargal Murray and her band - Paul Byrne (drums), Andrew Zinsmeister (guitar) and Charlotte Glasson (flute/violin/sax/musical saw) - Camille performs from her latest album, Camille O'Sullivan Sings Brel Live at Wilton's Music Hall, and summons the haunting Parisian soul within Brel's repertoire.
In a glowing review of her 2016 residency, The New York Times described Camille as an artist who inhabits the works of those she covers with a ferocious commitment to unearthing their truths. Time Out New York has called the show a "triumph," and this run promises to be just as outstanding. Camille says, "Brel is the reason I'm a singer today-I essentially ended my career as an architect to become a performer after falling in love with singing his music."
Camille O'Sullivan Sings Jacques Brel will run nightly at 8pm at Irish Arts Center (553 West 51st St.) Wednesday, October 18th through Sunday, October 22nd. Tickets start at $28 and are available via irishartscenter.org or by calling 866-811-4111.
The internationally acclaimed singer enjoys a formidable reputation for passionate live shows. She's won awards and fans around the world by stunning audiences with her dazzling vocals and unique approach to alternative music. Camille's staggering list of accolades includes several "Best of" awards at the Dublin Fringe, Brighton Fringe and Melbourne Festival. She's been named "Queen of the Fringe" by BBC at Edinburgh Festival, enjoying 10 years of sold-out performances at the legendary festival, and recently received a prestigious Australian Helpmann Award 2015 for Best Music Performer for her sold out run at the Sydney Festival.
Recently chosen by Yoko Ono to perform Double Fantasy live with Patti Smith and Siouxie Sioux in the Royal Festival Hall, London, the multi-talented Camille has headlined at the Sydney Opera House, The Roundhouse, Apollo West End, Royal Festival Hall. She's supported Jools Holland and his Rhythm and Blues Orchestra at the Royal Albert Hall and appeared on the Squeeze founder's seminal BBC television program, Later...with Jools Holland. Camille has sang with Martha Wainwright and Blur's Graham Coxon at the Barbican's Nick Drake concerts, and is one of the original performers of La Soiree. As an actress, one of Camille's recent highlights was her one-woman show with the Royal Shakespeare Company, for which she and Feargal Murray adapted and created original music from Shakespeare's epic poem The Rape of Lucrece. The production has since toured internationally and won her the prestigious Herald Angel Award at the Edinburgh International Festival for Outstanding Performance. She recently appeared this year on Irish TV as Countess Markiviez in Rebellion. Camille's high profile in the UK doesn't end there; she has also been featured on the cover of Time Out London.
Founded in 1972, Irish Arts Center is a New York-based arts and cultural center dedicated to projecting a dynamic image of Ireland and Irish America for the 21st century, building community with artists and audiences of all backgrounds, forging and strengthening cross-cultural partnerships, and preserving the evolving stories and traditions of Irish culture for generations to come. Our multi-disciplinary programming is centered around three core areas: performance, including live music, dance, theatre, film, literature, and the humanities; exhibitions, including visual arts presentations and cultural exhibitions that tell the evolving Irish story; and education, with dozens of classes per week in Irish language, history, music, and dance.
Located in New York City, a global capital of arts and culture, Irish Arts Center serves as a dynamic platform for top emerging and established artists. Irish Arts Center will soon begin construction on a new facility to serve our multi-disciplinary program. The New Irish Arts Center will provide the strongest possible gateway for artists to reach into our cultural community and nourish their work; to connect with our partner institution, who help them innovate; and to become visible in The New York City, which enhances their ability to achieve further success elsewhere in the U.S and internationally..
The New Irish Arts Center-a state-of-the-art fusion of their existing tenement in Hell's Kitchen and the repurposed Cybert Tire auto repair shop (founded in 1916) next door-will maintain the original façade of the latter and incorporate it into the dynamic new center in an inviting, community-oriented confluence of the old and new, honoring the architectural and historical life built into the neighborhood. The new center will feature a contemporary, flexible performance space for music, dance, and theatre seating up to 200 (and more for standing events), which will allow for the IAC to bring in a wider range and scale of work; industry-standard back of house and support facilities, such as a suite of four dressing rooms that can connect to studio spaces, to allow artists to seamlessly achieve their vision; a second, intimate performance space-the renovated historic Irish Arts Center theatre-optimized for live music, literature, film, talks, large classes and special events that will embody the organization's multidisciplinary vision; classrooms and studio spaces for community education programs in Irish music, dance, language, history, and the humanities, and for master classes and workshops by visiting and resident artists; technology capability to project the Irish Arts Center experience on the digital platform; a spacious avenue-facing café lobby that will be a hub for artistic, social, and neighborhood engagement, providing a vibrant setting for conversation and interaction between artists and audiences; and a beautiful new courtyard entrance on 51st Street where the historic Irish Arts Center building and the new facility meet. Together, these parts will create a global cultural home for contemporary Ireland and Irish America.