CRACKS OF LIGHT: Performances Created On the Journey from Struggle to Survival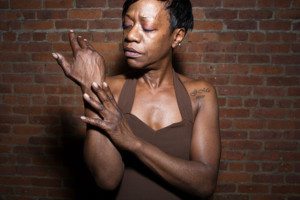 Cracks of Light, part of Gibney Dance's observance of Domestic Violence Awareness Month, bears witness to survivors of intimate partner and gender-based violence in a series of performance works created during the journey from struggle to survival. Bringing forward stories once held in silence, the series gives voice to the power of art and community. Cracks of Light provides an opportunity for reflection, connects with our community of advocates, and looks ahead to our future.
This year Cracks of Light presents a new work by Kimberleigh Costanzo, 2016 Gibney Dance Work Up artist and Cracks of Light choreographer, titled dissecting a baby bird; excerpts from an upcoming anthology of letters from trans and non-binary survivors directed to their body parts by Lexie Bean and other writers; and a piece created by Amy Miller with a group of survivors from the Sanctuary for Families Mentors program, utilizing the Mentors' stories of rebuilding their lives as a way to raise awareness of intimate partner violence.
Domestic Violence Awareness Month 2017
Domestic Violence Awareness Month is an internationally recognized time to spread knowledge about the issue of domestic violence and support survivors on their journeys towards healthier futures. Gibney Dance will offer a series of events this October to raise awareness of this important issue, support survivors, and encourage the dance community to take a stand against violence.
Community Action Workshop with Gibney Dance Company
Oct. 10 from 4:00 - 6:00 pm
280 Broadway / $8
Led by Gibney Dance Company, this event will give participants a chance to experience the movement workshops the Company regularly conducts in domestic violence shelters throughout New York City. No dance experience necessary.

Pop-Up Performance: Take a Stand!
Event: Oct. 12 / 1 - 2 pm
Fountain Plaza, City Hall Park Rehearsal: Oct. 11 / 4 - 6 pm
280 Broadway
Mayor's Office to Combat Domestic Violence and Gibney Dance are partnering during Domestic Violence Awareness Month for a Pop-up Performance to promote intimate partner violence awareness. Take a stand against violence with us! Participants receive one free class at Gibney Dance.

Arts & Social Justice Breakfast: Eliminating Gender-Based Violence
Oct. 17 / 8:30 - 10:30 am / $100
280 Broadway
This event will offer diverse perspectives around the use of arts to address intimate partner violence, why arts are important in this context, what role change-makers in the field can play, and what next steps must be taken to decrease the rate of intimate partner violence in our community.

Go Purple Day
Thursday, October 19
Volunteer Slot 1: 7:00 - 9:00 am
Volunteer Slot 2: 4:00 - 6:00 pm
Location TBA
Gibney Dance is mobilizing the dance community for Go Purple Day, in partnership with the Mayor's Office to Combat Domestic Violence. Part of Domestic Violence Awareness Month, Go Purple Day is a citywide outreach and awareness event organized by Council Member Laurie A. Cumbo. Join us to raise awareness about domestic violence and to stand in solidarity with survivors.

Strength in Motion
Oct. 28 from 9:00 am - 5:30 pm
New York Health & Racquet Club
39 Whitehall Street / $20 Per Class
New York Health and Racquet Club hosts a full day of open-to-the-public exercise classes at their Whitehall Street location featuring their most popular instructors?offering the opportunity to work out at the club while combatting domestic violence! 100% of the proceeds will support Gibney Dance Community Action.
Gibney Dance Company
Gina Gibney's Drafting Foresight
Shannon Gillen's PASTORAL
Oct. 26 - 28 at 8:00 pm
Oct. 28 at 4:00 pm

Related Articles
More Hot Stories For You