Click Here for More Articles on THE BOYS IN THE BAND
Broadway's THE BOYS IN THE BAND Recoups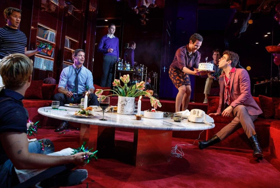 Producers David Stone, Scott Rudin, Patrick Catullo, Aaron Glick, and Ryan Murphy have announced that the hit Broadway production of Mart Crowley's groundbreaking play, The Boys in the Band, has recouped its $3.5 million investment in just 11 weeks, with four weeks still remaining in the show's 15-week limited run.
THE BOYS IN THE BAND is the first show of the 2018-19 season to open, and it is the first show of the season to recoup.
Directed by two-time Tony Award winner Joe Mantello, this 50th Anniversary production of The Boys in the Band has been playing to sold out houses since it began previews on April 30th at Broadway's Booth Theater (222 West 45th Street). The limited engagement officially opened on May 31st and will run through August 11th.
THE BOYS IN THE BAND stars Jim Parsons, Zachary Quinto, Matt Bomer, and Andrew Rannells, as well as Charlie Carver, Robin de Jesús, Brian Hutchison, Michael Benjamin Washington, and Tuc Watkins.
Mart Crowley's groundbreaking 1968 play, The Boys in the Band, centers on a group of gay men who gather in a NYC apartment for a friend's birthday party. After the drinks are poured and the music turned up, the evening slowly exposes the fault-lines beneath their friendships and the self-inflicted heartache that threatens their solidarity. A true theatrical game-changer, The Boys in the Band helped spark a revolution by putting gay men's lives onstage -- unapologetically and without judgement - in a world that was not yet willing to fully accept them.
A sensation when it premiered in April 1968, The Boys in the Band was originally scheduled to run for five performances at the Playwrights' Unit, a small off-Broadway venue. Overnight, the show became the talk of the town for its unflinchingly honest depiction of gay life, and transferred to Theater Four on West 55th Street, drawing the likes of Jackie Kennedy, Marlene Dietrich, Groucho Marx, and Rudolf Nureyev, among many others. The play went on to run for over 1,000 performances. The entire original company performed the show to great acclaim in London and also appeared in William Friedkin's landmark 1970 film version.
The design team for The Boys in the Band is David Zinn (set and costume design), Hugh Vanstone (lighting design), and Leon Rothenberg (sound design).
Tickets are available at www.BoysInTheBand.com or www.Telecharge.com (212.239.6200).
Photo Credit: Joan Marcus