Broadway's Nicolas Womack Joins Songwriters Of New Hip-Hop Musical BUMP IT!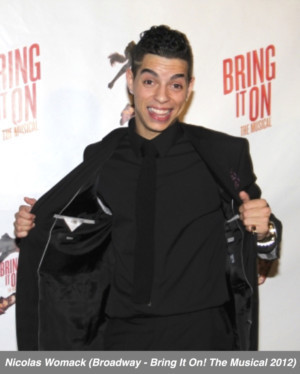 Broadway actor Nicolas Womack, also known as Nick Womack (Bring It On! The Musical) excitingly joins the songwriters of new original Hip-Hop musical 'Bump It!' as the team continues developing the project's material in preparation for the series of five workshops being held in Orlando, FL and New York, NY beginning March 2018 thru August 2018.
Womack attended the American Musical and Dramatic Academy (AMDA) in Los Angeles, CA. He also originated the role of 'Twig' for the 2011 First National Tour and 2012 Broadway production of 'Bring It On!'.
Womack also performed at the 2012 Macy's Thanksgiving Parade and was the second person ever to rap on stage at the Annual Tony Awards. Aside from his time as a performer on stage, he is an independent composer and lyricist who goes by the name of "Humble" with a number of two recent music releases (Moments - EP and Alcoholic Wisdom feat. Humble) with more new music to come.
The creative team of songwriters includes all newcomers producing impressive scores bound for giving future theatergoers and hip-hop lovers one thrilling theatrical experience! The list of songwriters includes Daniel Padillo (Music, Lyrics), Ashley Page (Music), Nicolas Womack (Music, Lyrics), Mexeita Rodney (Lyrics), Ismael Castillo (Lyrics, Script Supervisor) and Christopher Robinson (Book, Story, Music, Lyrics). TONY, GRAMMY and EMMY winner Andrés Forero of Broadway's 'In the Heights', 'Bring It On!', and 'Hamilton' as Producer and Music Supervisor along with Producer/CEO of Magna Verum Productions Hector Sanchez, Jr.