Bring It On: The Musical - 2012 - Broadway
BRING IT ON: THE MUSICAL is the new musical comedy that raises the stakes on over-the-top team rivalries. Set against the world of competitive cheerleading, this powerhouse new show hilariously proves that winning isn't everything when it means losing something - or someone - you really care about.
BRING IT ON: THE MUSICAL combines an exciting fresh sound, gravity-defying choreography, and a thrilling story to create a total theatrical event worth cheering for.
Tickets go on sale to the general public on Monday, May 21, 2012
Video preview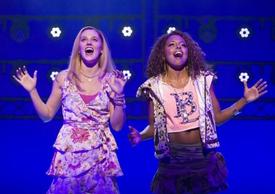 Featured Reviews For Bring It On: The Musical
Theater review: 'Bring It On: The Musical' - NY Daily News
"Bring It On" doesn't break new ground, but it kept me smiling. Sometimes pretty silly — and very acrobatic — is enough.
Theater Review: 'Bring It On: The Musical' -- 3.5 stars - amNY
This new musical inspired by the 2000 Kirsten Dunst film about competitive high school cheerleaders...is obviously more likely to appeal to teens weaned on "High School Musical" and "Glee" than the majority of adult theatergoers. As you'd expect, it features unbelievable displays of acrobatics and gymnastic abilities, including but not limited to young girls being flipped high in the air. But it also proves to be a surprisingly well-crafted, highly enjoyable, feel-good musical with appealing characters, catchy R&B and rap songs, fierce hip-hop choreography and very funny dialogue packed with social media jokes.
Bring It On: The Musical Broadway Cast