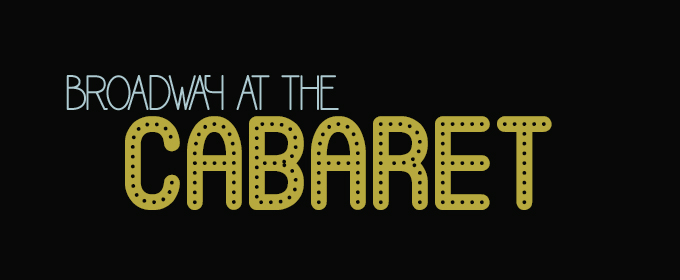 Click Here for More Articles on Broadway at the Cabaret
Broadway at the Cabaret: Laura Osnes, Broadway Sings Beyoncé & More
What good is sitting alone in your room this week? If you don't already have plans to see a Broadway show, come out to see your favorite Broadway stars in a cabaret act instead. After Broadway orchestras begin their overtures, ensemble members take their dance breaks, and performers belt out their eleven o'clock numbers, the party continues at various cabaret venues throughout New York City.
Below, BroadwayWorld brings you our top Broadway acts that can't be missed this week, March 24 - March 31, 2019. Come hear the music play!
---
Got Rhythm. The Gershwin Brothers
March 24 at Feinstein's/54 Below - BUY TICKETS
George and Ira are one of songwriting's most successful sibling partnerships. They wrote at their kitchen table into the wee hours of the dawning Jazz Age, and their home was the hub for Broadway glitterati. George and Fred Astaire met as hustling showbiz teenagers. Ethel Merman-a secretary in Queens-joined the family when the brothers gave her her first Broadway job. Harold Arlen, Yip Harburg and other pals all came a-calling. For Broadway, Hollywood and Tin Pan Alley, the Gershwin songbook is among the most recorded in history. From "Fascinatin' Rhythm" to "Embraceable You" and "Someone to Watch Over Me," this show takes a joyful look at what happens when families are hotbeds of harmony. Featuring Klea Blackhurst, George Dvorsky, Nicolas King, and Rebecca Luker.
---
54 Sings Andrew Lloyd Webber
March 25 at Feinstein's/54 Below - BUY TICKETS
Since the 1960s, Andrew Lloyd Webber has added songs and stories to the musical theater lexicon that have changed the landscape of Broadway, the West End, and performance art indefinitely. With masterfully penned melodies and poignant adaptations, Webber's shows have become legends unto themselves. In 54 Sings Andrew Lloyd Webber, performers from Broadway shows, touring companies, and beyond will unite to showcase some of the most beloved of this composer's hits (The Phantom of the Opera, Jesus Christ Superstar) alongside some of his lesser-known works (Starlight Express, The Likes of Us). Performers include Zach Adkins (Anastasia), Michael Campayno (The Cher Show, Wicked), Olivia Chun (School of Rock), Quentin Earl Darrington (Once on This Island, CATS), Ali Ewoldt (The Phantom of the Opera), Heath Saunders (Alice by Heart, NBC's "Jesus Christ Superstar Live in Concert"), Trent Saunders (Aladdin), and more.
---
Broadway Sings Unplugged: Beyoncé
March 25 at Green Room 42 - BUY TICKETS
The team behind the acclaimed Broadway Sings concert series is thrilled to bring the second concert of their year-long residency to The Green Room 42! The series will feature acoustic, "unplugged" versions of the brand new arrangements that were written for the original series at the Highline Ballroom, which was dubbed "sheer brilliance" by the New York Times. Broadway Sings Beyonce will feature Alex Boniello (Dear Evan Hansen), Phoenix Best (Dear Evan Hansen), Alyssa Fox (Frozen), Taylor Iman Jones (Head Over Heels), Alysha Deslorieux (Hamilton), Corey Mach (Kinky Boots), Kyle Taylor Parker (Kinky Boots), and Alysha Umphress (On the Town).
---
Laura Osnes: Repertoire Roulette
March 27-30 at Birdland - BUY TICKETS
Two-time Tony nominee, Laura Osnes will make her debut on Birdland's new stage with "Repertoire Roulette," a special concert in which the audience will literally draw song titles from a hat for Laura to perform on the spot! Perhaps the audience will hear snippets from Laura's beloved Broadway performances as Cinderella, Bonnie Parker, or Nellie Forbush! Or maybe, she will take the audience on a journey through her audition book...or hear songs from her dream roles! Laura will be joined by her talented, trusty music director Fred Lassen in this casual yet thrilling evening, as YOU choose your concert adventure in an entertaining game of "Repertoire Roulette!"
---
Broadway Celebrates Women's History Month
March 28 at Feinstein's/54 Below - BUY TICKETS
Join us in celebrating of Women's History Month with FOR THE GIRLS; an hour featuring some of Broadway's powerhouse women performing the contemporary hits written and performed by the female artist's we all know and love. A show truly by the girls, with an all female creative team, band, and stellar cast including Stephanie Torns (Waitress), Mary Kate Morrissey (Wicked), Tiffany Mann (Be More Chill), Tee Boyich (Mean Girls), Jessica Rush (Summer), and many more.