Breaking News: Laurie Metcalf and Eddie Izzard to Star in WHO'S AFRAID OF VIRGINIA WOOLF? Revival
Russell Tovey and 2019 Olivier Award Winner Patsy Ferran to Co-Star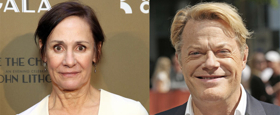 Producer Scott Rudin announced this morning that two-time Tony Award and three-time Emmy Award winner Laurie Metcalf and two-time Emmy Award winner Eddie Izzard will star on Broadway next season in Edward Albee's drama Who's Afraid of Virginia Woolf?. Directed by two-time Tony Award winner Joe Mantello and also starring Russell Tovey and 2019 Olivier Award winner Patsy Ferran, the production will begin its strictly limited engagement on Monday, March 3, 2020, with an official opening night set for Thursday, April 9, 2020.
With Who's Afraid of Virginia Woolf?, Ms. Metcalf will have the rare distinction of performing major starring roles on Broadway in four contiguous seasons, following A Doll's House, Part 2; Three Tall Women; and, currently, Hillary and Clinton. Mr. Izzard will be making a rare return to Broadway, his first in ten years, after a brilliant Broadway debut in A Day in the Death of Joe Egg in 2002.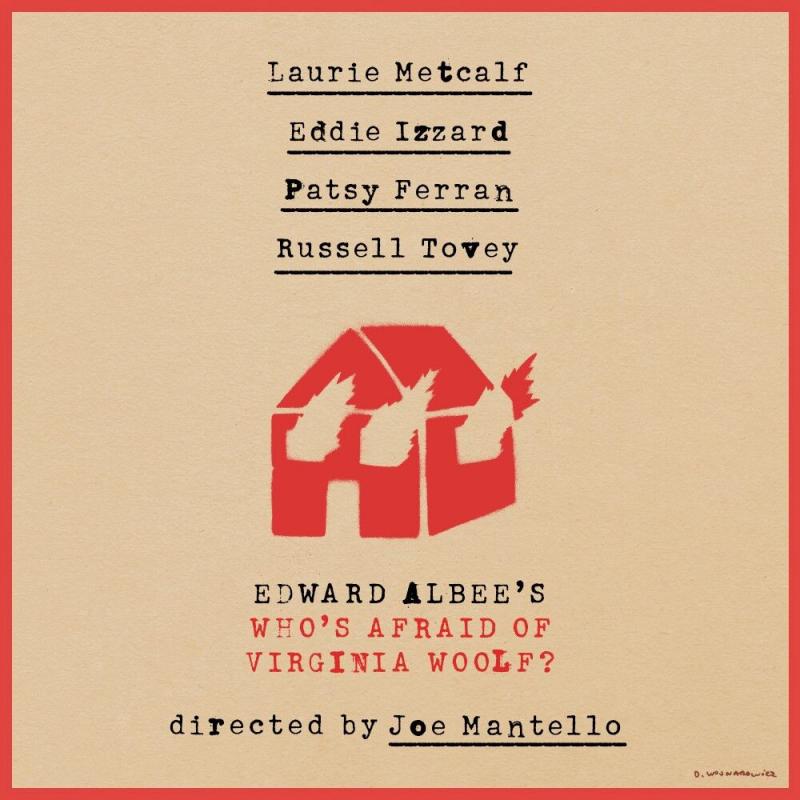 In 1962, when Who's Afraid of Virginia Woolf? stunned its very first Broadway audiences with its radical, provocative, and unflinching portrait of a marriage, Edward Albee instantly became the most important American playwright of his generation. The New York Times exclaimed that the new work "towers over the common run of contemporary plays." At that season's Tony Awards ceremony, the production racked up five wins, including Best Play and lead acting prizes for its two stars: Uta Hagen and Arthur Hill.
Just four years later, the iconic film adaptation, directed by Mike Nichols and starring Elizabeth Taylor and Richard Burton, made Academy Award history as the first film to be nominated in every single category it was eligible for (winning for Best Actress, Best Supporting Actress, Best Art Direction, and Best Costume Design). Nichols' insistence that the film adhere to Albee's heavy use of profanity created a legendary standoff between the studio and the MPAA. Even the Catholic Church weighed in via its censorship group, deeming it "morally unobjectionable for adults." It ended up being the first film Warner Bros. ever released "for adults only," meaning no one under the age of 18 could see the film without being accompanied by an adult. The film's monumental success, in spite of the controversy, helped establish the modern film rating system, though it created a backlash that restricted creative freedom in Hollywood in its immediate aftermath. The film also cemented Albee's masterpiece forever in the public consciousness. Next spring, a new company of theatrical powerhouses takes on this landmark drama, nearly sixty years after its legendary Broadway premiere.
CREATIVE TEAM
Who's Afraid of Virginia Woolf? will feature set design by Miriam Buether (currently represented on Broadway by To Kill a Mockingbird and King Lear), lighting design by nine-time Tony Award winner Jules Fisher & three-time Tony Award winner Peggy Eisenhauer, and costumes by Tony and Academy Award winner Ann Roth.
BIOGRAPHIES
Edward Albee (Playwright) was born on March 12,1928 and began writing plays 30 years later. His plays include The Zoo Story(1958); The Death of Bessie Smith (1959); The Sandbox (1959); The American Dream (1960); Who's Afraid of Virginia Woolf? (1961-62, Tony Award); Tiny Alice (1964); A Delicate Balance (1966, Pulitzer Prize; Tony), All Over (1971); Seascape (1974, Pulitzer);Listening (1975); Counting the Ways (1975); The Lady from Dubuque (1977-78); The Man Who Had Three Arms (1981); Finding the Sun (1982); Marriage Play (1986-87); Three Tall Women (1991, Pulitzer); Fragments (1993); The Play About the Baby (1997); The Goat Or, Who Is Sylvia? (2000, Tony); Occupant (2001); At Home at the Zoo: (Act 1, Homelife. Act 2, The Zoo Story.) (2004); andMe, Myself & I (2008). He was a member of the Dramatists Guild Council and President of The Edward F. Albee Foundation. Mr. Albee was awarded the Gold Medal in Drama from the American Academy and Institute of Arts and Letters in 1980. In 1996, Albee received the Kennedy Center Honor and the National Medal of Arts. In 2005, he was awarded a special Tony Award for Lifetime Achievement.
Joe Mantello (Director) is currently represented on Broadway by Hillary and Clinton, also starring Laurie Metcalf. A two-time Tony Award-winning director, Mantello's additional credits include The Boys in the Band, Three Tall Women (Tony nomination), The Humans (Tony nomination), Blackbird, An Act of God, Airline Highway, The Last Ship, Casa Valentina, I'll Eat You Last..., The Other Place, Dogfight, Other Desert Cities, The Pride, Pal Joey, 9 to 5, November, The Receptionist, The Ritz, Three Days of Rain, The Odd Couple, Glengarry Glen Ross (Tony nomination), Laugh Whore, Assassins (Tony Award), Wicked, Take Me Out (Tony Award),Frankie and Johnny in the Clair de Lune, A Man of No Importance, Design for Living, The Vagina Monologues, Bash, Love! Valour! Compassion! (Tony nomination), Proposals, The Mineola Twins, and Corpus Christi. Acting credits: The Glass Menagerie, The Normal Heart (Tony nomination), Angels in America (Tony nomination), The Baltimore Waltz. Mantello was nominated for Emmy and Critics' Choice Awards for his performance in HBO's "The Normal Heart." He is a member of Naked Angels and an Associate Artist at the Roundabout Theatre Company and has received Outer Critics Circle, Drama Desk, Lucille Lortel, Helen Hayes, Clarence Derwent, Obie, and Joe A. Callaway Awards.
Laurie Metcalf (Martha) is currently starring on Broadway in Hillary and Clinton. She received the 2018 Tony Award for Best Performance by a Featured Actress in a Play for Three Tall Women and a 2017 Tony Award for Best Performance by a Leading Actress in a Play for A Doll's House, Part 2. She has also received Tony nominations for Misery, The Other Place, and November. Metcalf received three Emmy Awards for her work on the television series "Roseanne," and Emmy nominations for "3rd Rock From the Sun," "Monk," "Desperate Housewives," "The Big Bang Theory," "Getting On," and "Horace and Pete." She was last seen on the television series, "The Conners." Films include Lady Bird (National Board of Review Award for Best Supporting Actress, National Society of Film Critics Award for Best Supporting Actress, Academy Award nomination for Best Supporting Actress, Golden Globe Award nomination for Best Supporting Actress in a Motion Picture), Desperately Seeking Susan, Leaving Las Vegas, Uncle Buck, JFK, Internal Affairs, and the Toy Story series. She is an original member of Steppenwolf Theatre Company in Chicago.
Eddie Izzard (George). One of the most celebrated comics and political activists of his generation, Izzard has developed an equally stellar reputation as a film, television, and stage star. He made his West End stage debut in 1993 with his one-man show, Live at the Ambassadors, for which he received an Olivier Award nomination for Outstanding Achievement. Live at the Ambassadors was followed by a succession of critically acclaimed productions including, Unrepeatable, Definite Article, Glorious, and Dress to Kill, which earned him a Drama Desk Award and two Emmy Awards. His solo shows Circle, Sexie, Stripped and Force Majeurefollowed, with the latter being the most extensive comedy tour Izzard had ever played - 45 countries on five continents. He currently performs his show in four languages: English, French, German and Spanish. His television credits include the crime noir series "Powers," Bryan Fuller's "Hannibal," "Castles in the Sky," "Treasure Island," and "Lost Christmas." Izzard also starred in and served as a producer on the critically acclaimed FX series, "The Riches." Highlights from Izzard's film career include Boychoir, Valkyrie, Ocean's Thirteen, Ocean's Twelve, Across the Universe, Mystery Men, Shadow of the Vampire, The Cat's Meow, and Victoria and Abdul, alongside Judi Dench as Queen Victoria. His dramatic stage appearances include David Mamet's Race and The Cryptogram; the title role in Marlowe's Edward II; 900 Oneonta; and A Day in the Death of Joe Egg in London and on Broadway, which garnered him a Tony Award nomination for Best Actor. In 2010, the autobiographical documentary Believe: The Eddie Izzard Story received an Emmy Award nomination, and his companion-piece autobiography, Believe Me, entered the Top Ten in the Sunday Times' and theNew York Times' Best Sellers Lists.
Russell Tovey (Nick) was most recently seen in the National Theatre's acclaimed revival of Angels in America with Nathan Lane and Andrew Garfield. He last appeared on Broadway in the critically acclaimed Tony Award-winning revival of A View From the Bridge, directed by Ivo van Hove. Additional theatre credits include Howard Katz, Henry V, His Girl Friday, His Dark Materials (National Theatre); Pasticine, A Miracle, The Pass (Royal Court Theatre); A Respectable Wedding (Young Vic); The History Boys (Broadway). Film credits include Pride, Grabbers, In Passing, and The History Boys. Television credits include "Years & Years," "Legends of Tomorrow," "The Flash," HBO's "Looking," "Being Human," "Banished," "Sherlock," "Doctor Who," and "Little Dorrit."
Patsy Ferran (Honey) just recently won the 2019 Olivier Award for Best Actress for her performance in Summer And Smoke in the West End. Additional theater credits include Speech and Debate; The Merchant of Venice; As You Like It, Treasure Island (National Theatre); and Blithe Spirit (West End). Her film credits include Darkest Hour, God's Own Country, Tulip Fever, and The National.Who's Afraid of Virginia Woolf will mark Ferran's Broadway debut.
Photo Credit: Walter McBride / WM Photos