Billy Crystal's New Play Will Hold a Live Reading and Be Recorded For Audible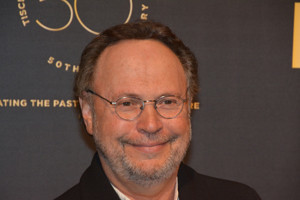 Billy Crystal's new play "Have a Nice Day" will hold a live reading at the Minetta Lane Theater next month, according to The New York Times.
The event will be hosted by Audible, and will be a two night engagement.
Mr. Crystal, Annette Bening and Kevin Kline will star in the reading. Kline will play the leading role of a United States president deciding whether to run for a second term.
Among others starring in the reading are Dick Cavett, Keegan-Michael Key, Darrell Hammond, Auli'i Cravalho, Chris Cafero, Irene Bedard, Robin Thede and Robert King.
The reading, which runs October 7 and 8, will be recorded live, and audio from the performances will be made available on Audible.
Mr. Crystal isn't new to the theatre, or to recording his shows. In 2013, a revival of "700 Sundays," the stage adaptation of Mr. Crystal's autobiography that won a Tony Award in 2005, was filmed by HBO for broadcast in 2014.
Read more at The New York Times.
Billy Crystal gained prominence in the 1970s for playing Jodie Dallas on the ABC sitcom Soap and became a Hollywood film star during the late 1980s and 1990s, appearing in the critical and box office successes When Harry Met Sally... (1989), City Slickers (1991), and Analyze This (1999) and providing the voice of Mike Wazowski in the Monsters, Inc. franchise.
He has hosted the Academy Awards nine times, beginning in 1990 and most recently in 2012.
Crystal won the 2005 Tony Award for Best Special Theatrical Event for 700 Sundays, a two-act, one-man play, which he conceived and wrote about his parents and his childhood growing up on Long Island. He toured throughout the US with the show in 2006 and then Australia in 2007.
Following the initial success of the play, Crystal wrote the book 700 Sundays for Warner Books, which was published on October 31, 2005. In conjunction with the book and the play that also paid tribute to his uncle, Milt Gabler, Crystal produced two CD compilations: Billy Crystal Presents: The Milt Gabler Story, which featured his uncle's most influential recordings from Billie Holiday's "Strange Fruit" to "Rock Around the Clock" by Bill Haley & His Comets; and Billy Remembers Billie featuring Crystal's favorite Holiday recordings.
In the fall of 2013, he brought the show back to Broadway for a two-month run at the Imperial Theatre. HBO filmed the January 3-4, 2014 performances for a special, which debuted on their network on April 19, 2014.