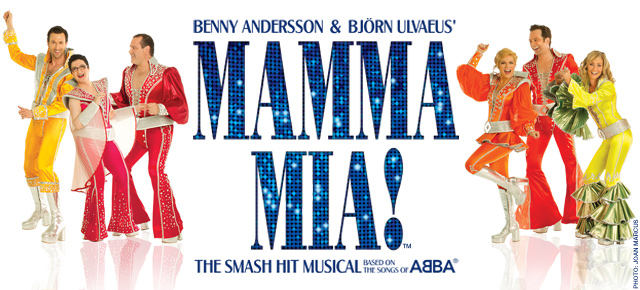 Click Here for More Articles on MAMMA MIA!
BWW TV STAGE TUBE: MAMMA MIA! on MyFox.Com
BWW TV presents - StageTube! Presenting the best in viral, viewer-created videos right here on BroadwayWorld.com.
Benny Andersson and Björn Ulvaeus' Broadway smash hit musical MAMMA MIA! was honored with a Tony's DiNapoli "Broadway Wall of Fame" portrait on Wednesday, March 25th, 2009 at the Times Square restaurant (147 West 43rd Street at Broadway). The Fox News website, MYFOX.COM  has a fun segment on the event that BWW TV is excited to bring you right here on STAGE TUBE.
The unveiling ceremony and party was hosted by restaurateur Bruce Dimpflmaier and emceed by media personality Valerie Smaldone. Prints made from the original oil painting by artist Dan May will be autographed by the cast and auctioned at a future event to benefit Broadway Cares/Equity Fights AIDS. BroadwayWorld.com was there to "take a chance" and have some fun with the talented cast of MAMMA MIA!
MAMMA MIA! joins a gallery of portraits honoring hit Broadway musicals including Jersey Boys,Spring Awakening and Wicked as well as Broadway stars Daniel Radcliffe (Equus); Hugh Jackman (The Boy From Oz); Harry Connick; Jr. (The Pajama Game); Antonio Banderas andChita Rivera (Nine); Patti LuPone, Boyd Gaines and Laura Benanti (Gypsy);Bob Saget (The Drowsy Chaperone) and Cheyenne Jackson (Xanadu) among others.
MAMMA MIA! stars two-time Tony Award® nominee Carolee Carmello ("Donna Sheridan"), Judy McLane ("Tanya"), Gina Ferrall ("Rosie"), Brandi Burkhardt ("Sophie Sheridan"), Chris Peluso("Sky"), Sean Allan Krill ("Sam Carmichael"), Pearce Bunting ("Bill Austin") and Ben Livingston("Harry Bright").
The MAMMA MIA! company features Samantha Eggers, Amina Robinson, Raymond J. Lee, Brent Black, Timothy Booth, Allyson Carr, Lanene Charters, Meghan Dreyfuss, Matthew Farver, Lori Haley Fox, Heidi Godt, Jon-Erik Goldberg, Frankie James Grande, Corey Greenan, Bryan Scott Johnson, Monica Kapoor, Robin Levine, Corinne Melançon, Ian Paget, Courtney Reed, Ryan Sander, Collette Simmons, Traci Victoria and Leah Zepel.
Seen by more than 32 million people around the world, MAMMA MIA!, is celebrating over 3,000 performances in its 8th smash hit year on Broadway at the Winter Garden Theatre (1535 Broadway), the original West End production has played nearly 4,000 performances, an international tour has played in more than 40 foreign cities, and the blockbuster feature film adaptation of MAMMA MIA!, produced by Judy Craymer and Gary Goetzman, is the most successful movie musical of all time and continues to smash box office records around the world.