BWW TV: Brian d'Arcy James, Holley Fain & Emily Bergl Reveal Backstage Secrets of THE FERRYMAN!
Calling All Carneys!
There's a new Carney family in town. Earlier this month, a whopping fourteen new cast members joined the 35-member ensemble of The Ferryman, now performing at the Bernard B. Jacobs Theatre. Amongst them are three-time Tony Award nominee Brian d'Arcy James as Quinn Carney, Holley Fain as Caitlin Carney, and Emily Bergl as Mary Carney.
Have they felt pressure in taking over in a play that has been so well received? "With a play that is so well crafted and so impeccably designed, it is clear to me that the play is the thing. Even if you don't get to the particular emotional quotient you want that you feel is a component that will help the play," explains James. "The structure of the story, the way it's told and the way that these crossbeams have been put together by Jez... it is so much bigger than a particular thing that an individual can achieve. While you want to achieve that because that is the function of your character, I'm learning to release myself from the obligation of getting to a particular place because I know the sum of the parts is way bigger."
The Ferryman is set in rural Northern Ireland in 1981. The Carney farmhouse is a hive of activity with preparations for the annual harvest. A day of hard work on the land and a traditional night of feasting and celebrations lie ahead. But this year they will be interrupted by a visitor.
Included in the Carney clan are four kids, a rabbit, a goose, and a baby. "The most daunting part was rehearsing with the kids because they knew the show," says James. "I'm an old man who should know how to do this and I'm rehearsing with these children and I don't know my lines and they're looking at me like 'What's your problem? Why aren't you saying your lines?' I didn't know them! They're remarkable."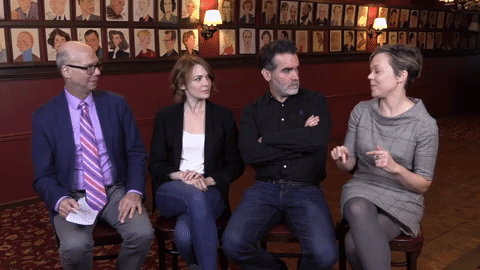 Running at 3 hours and 15 minutes, The Ferryman is currently the second longest play on Broadway (King Lear clocks in at 3 hours and 30 minutes), but Emily Bergl hasn't gotten any complaints. "Some people are a little terrified the play is so long and I've had some friends who are not theatre people come to see the play, they didn't actually know how long it was going to be until they sat down. Everyone single one of them said it could go on longer."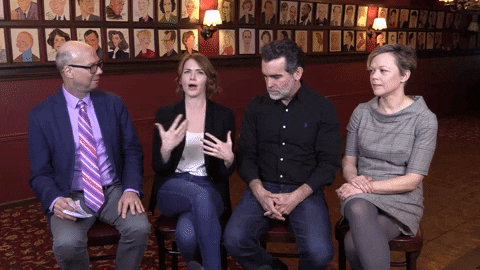 Holley Fain is well aware of how the play effects audiences. " I have never felt more fulfilled in my life doing work like this and that's enough. And the play is so rich and there are so many different currents running through the show and to be part of that big thing is really powerful and important."
Watch below as the trio tells us all about life backstage at the Jacobs, how they landed their roles, and so much more!