BWW Review: York's BERLIN TO BROADWAY WITH KURT WEILL Tells How A Refugee Made Good In America
When Nazis began publicly burning copies of his latest musical theatre piece, composer Kurt Weill took it as a hint that he might be better off sailing to America and writing for Broadway.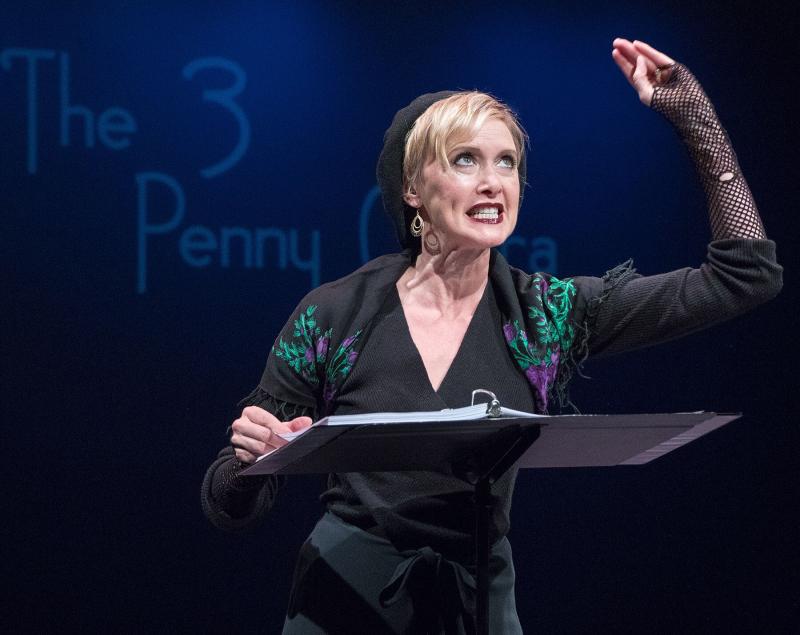 Although he never penned a word for the stage, sung or spoken, Weill was a devout leftist who believed in music's power to benefit the public welfare; a sentiment duly reflected in the projects he composed.
While emerging as a star of Germany's bohemian art scene, he and collaborator Bertolt Brecht challenged government corruption and corporate greed with major works like THE THREEPENNY OPERA, HAPPY END and RISE AND FALL OF THE CITY OF MAHAGONNY.
After a few European detours, he and his muse/soon-to-be-wife, the great stage star Lotte Lenya, arrived in New York, and the composer began collaborating with American writers to address issues of warfare, racism and even psychology, with shows like Johnny Johnson (book & lyrics by Paul Green), LOST IN THE STARS (book and lyrics by Maxwell Anderson) and LADY IN THE DARK (book by Moss Hart, lyrics by Ira Gershwin).
Of course, there was also fluffier fair such as KNICKERBOCKER HOLIDAY (book and lyrics by Anderson) and ONE TOUCH OF VENUS (book by S. J. Perelman and Ogden Nash, lyrics by Nash), but perhaps his finest American creation was the jazz-infused tenement opera STREET SCENE, with lyrics by Langston Hughes and a book by Elmer Rice, based on his Pulitzer Prize winning play. At the first Tony Award ceremony, in 1947, STREET SCENE earned Weill the prize for Best Composer.
In 1972 Gene Lerner's Off-Broadway revue BERLIN TO BROADWAY WITH Kurt Weill chronicled the composer's career at Greenwich Village's Theatre De Lys (now the Lucille Lortel), the same house where a smash 1954 revival of THE THREEPENNY OPERA helped revitalize downtown theatre.
The York Theatre Company's concert production of BERLIN TO BROADWAY, directed by Pamela Hunt, is the latest installment of their Musicals in Mufti series. With a limited amount of rehearsal time, the staging is naturally simple, but the five-member ensemble features a terrific collection of singing actors, accompanied on piano by music director Eric Svejcar.
Weill's musicals are noted for especially biting material for strong and complex women, and Rachel de Benedet tackles some of the juicer moments with wit, sex-appeal and snazzy confidence. He first solo is a viciously delicious presentation of "Barbara Song," about the advantages of staying "perpendicular" when dealing with aggressive men. She exudes striking dramatic textures with the classics "Pirate Jenny" and "Surabaya Johnny" and sizzles up the dark humor of "The Saga of Jenny."
Young soprano Meghan Picerno, who displayed great comic chops as Cunégonde in New York City Opera's recent mounting of CANDIDE, gives a lovely rendition of the wistful ballad "My Ship," and is delightfully giddy describing her Prince Charming in unlikely terms with Nash's unconventional lyric for "That's Him."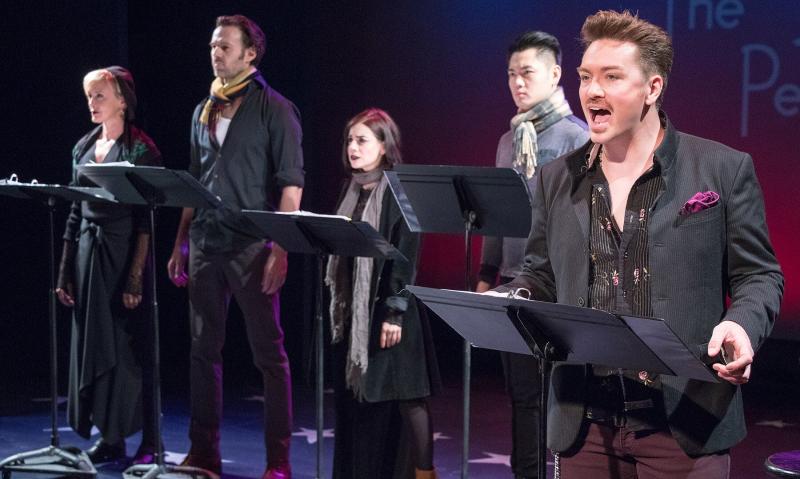 Michael Halling brings beautiful expression to the classic "September Song" and the noble title song of LOST IN THE STARS. On the juvenile side, Karl Josef Co's sweet tenor brings touching tenderness to a pair from Johnny Johnson, "Hymn To Peace" and "Johnny's Song," as well as to STREET SCENE's "Lonely House." The fellows combine for rousing choruses of "The Bilbao Song."
Gluing it all together with biographical info is the stylishly sexy Brian Charles Rooney, whose surprising soprano tones drew cheers from intrigued audiences when he played Lucy Brown in the 2006 Broadway revival of THE THREEPENNY OPERA. His versatile voice remains in a rich baritone range for most of the show - which includes his slithering interpretations of "The Ballad Of Mack The Knife" and "I'm A Stranger Here, Myself" - but he does occasionally treat us to a bit of his upper range.
The story of Kurt Weill is one of a refugee who came to America to escape certain death and contributed significantly to his new country's artistic culture. And though his music began to reflect the influence of the variety of styles to be found on Broadway, there were always traces of the dissonant tones that were so prominent in the works he composed in his nation of birth. In this land of immigrants, what could be more American?