BWW Review: The Mad Ones' MILES FOR MARY Salutes The Understated Heroism of Public School Teachers
With the past year bringing in a new administration with a new Secretary of Education, the national awareness of how overworked, undercompensated and financially burdened America's public school teachers are has fueled debate within discussions of federal budget restructuring and tax reform.
So there's a bit of understated heroism in Miles for Mary, a quiet comedy about a group of high school teachers who volunteer their time every year to organize a telethon honoring a deceased student athlete, the proceeds of which fund a pair of scholarships.
Transferring to Playwrights Horizons after a premiere production at Bushwick Starr, the 100-minute piece is a creation of a company of performer/writers known as The Mad Ones. Direction is by Lila Neugebauer, and what stands out is the same energetic realism of natural conversation that worked so well in her most recent high-profile Off-Broadway transfer, THE WOLVES.
It's the 1988-89 school year in Garrison, Ohio, and the play's series of scenes takes place in designer Amy Rubin's excellent rendering of the Phys Ed department's office/teacher's lounge, with harsh florescent lighting, blandly-painted walls accented by splashes of color and a noisy, hard-working, drip coffee-maker.
The annual event was created by guidance counselor Brenda (Amy Staats), who chairs the planning committee, but is bedridden due to an unexplained injury and participates through speakerphone. Though not physically present, she's determined to insure her presence is regarded and her leadership is respected, contributing to friction between her and history teacher/wrestling coach David (Michael Dalto); a bit overly pragmatic while taking on the physical duties of chairing in her absence.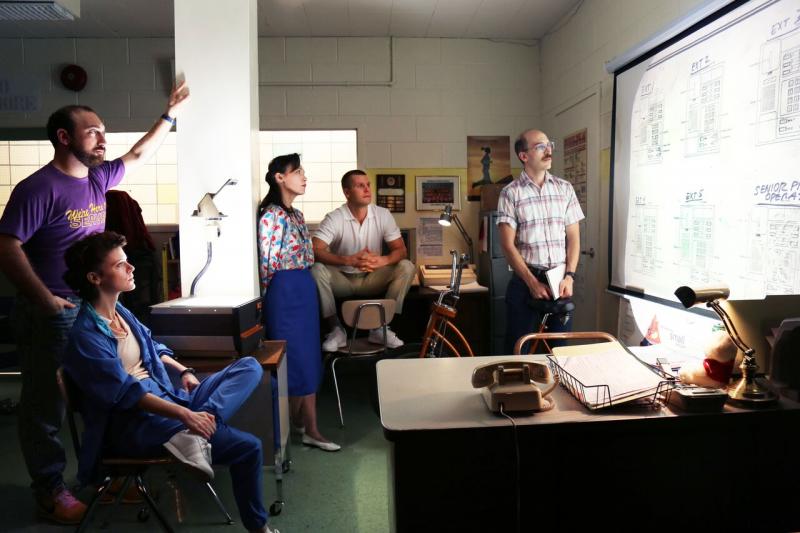 While spirited track coach Sandra (Stephanie Wright Thompson) urges team unity, the more introspective athletic coach and health teacher Rod (Joe Curnutte) seems to resent meetings at his home turf dominated by brainy types like A/V specialist Ken (Marc Bovino) and his English-teaching wife, Julie (Stacey Yen).
Matters of logistics, sponsorship, volunteer training and, most importantly, coming up with a fun theme, are discussed, but subtextual conflicts simmer underneath. Everyone's trying to act like a grownup, but maybe there's something about a high school setting that sustains those traditional adolescent dynamics.
Perhaps it's no surprise that the play ends with silent video footage of a carefree Mary enjoying her teen years before her life was cut short, reminding viewers of the admirable cause for which these everyday people are volunteering their free time. Miles for Mary is a sweet, relatable play depicting unremarkable people doing something incredibly mundane for the right reason.