Review: Rocker Grandmom Clashes With Her Gospel-Singing Daughter in Sweet and Funny Musical UNEXPECTED JOY
Though the characters in bookwriter/lyricist Bill Russell and composer Janet Hood's sweet, funny and very entertaining new musical UNEXPECTED JOY are all women, there's a guy in the mix who still has a lot to say.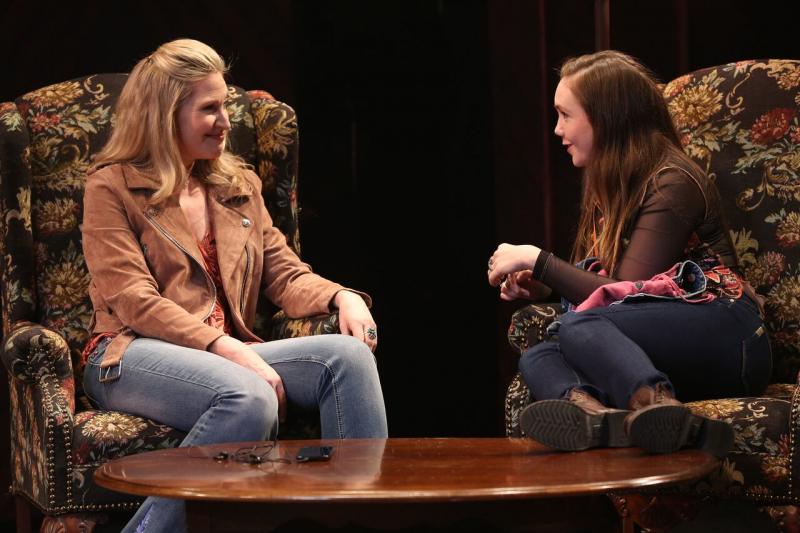 That's because, in the reality of the plot, several of the score's songs were written by a fellow who went by the stage name Jump. Teamed with his romantic and professional partner, Joy, Jump created a popular catalog of folk/rock tunes dating from the 1960s to his death, a year before the story begins.
Played with a fierce combination of warmth and guts by Luba Mason, Joy is a grandmother who gracefully hangs on to the flower child persona of her youth. She's first seen performing on a stage just down the road from her Provincetown home. The song about changing directions in life is called, "How Do We Go On?," and with its author now, as Joy puts it, in "Rock 'n' Roll Paradise where he's making music with so many of his idols," the lyric takes on a new meaning.
In keeping with Jump's wishes, Joy has organized a concert, gathering some of their famous friends together to sing some of his most popular tunes. She's hoping the lineup will include her estranged daughter, who they named Rainbow, but now goes by Rachel (Courtney Balan).
Growing up as the child of unmarried music stars sharing a free-wheeling hippie lifestyle, Rachel longed for structure in her life, and found it through the church. She's married to a popular Oklahoma televangelist and is a featured gospel singer on his program.
Things are off to a bumpy start when Rachel arrives in town with her teenage daughter Tamara (Celeste Rose). Joy missed picking them up at the airport because she was in jail after exposing herself at a Women's March. ("We took off our pants and started chanting 'You ain't grabbing this!'")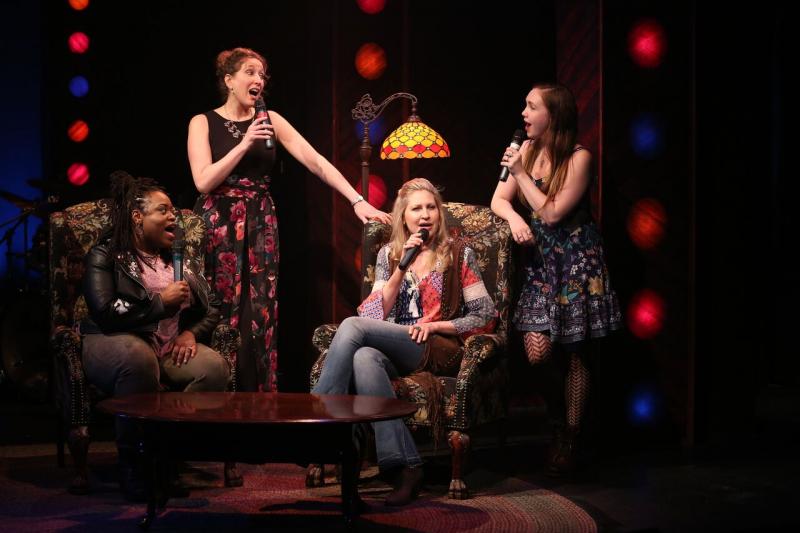 In a moment alone with grandma, Tamara confesses that she's been secretly writing songs and performing them at a local Starbucks (about as close to a coffee house as she can expect to find in Oklahoma). We get a sample of her talent in a hilarious punk rock number where she wildly flaunts her sexuality.
But Joy has a secret of her own, namely her engagement to a woman; belty blues singer Lou (Allyson Kaye Daniel). Interestingly, Lou is first seen singing a number called "She's Got A Mind Of Her Own," which Jump wrote about Joy.
Knowing what her son-in-law preaches about homosexuality, Joy isn't optimistic about Rachel's reaction to acquiring a step-mother.
Sure, the plot can be a little contrived, but Russell's words are filled with wit and sincerity and Hood's music, played by music director Beth Falcone's four-person band, is a catchy blend of pop styles.
Directed by Amy Anders Corcoran, the York Theatre Company's production is swift and light, but the show blasts into high gear when the four talented cast members raise their voices in rousing harmonies.
The story ends with a song introduced as one Jump wrote during the Vietnam War, urging a divided America and its divided families to search for the common ground that would unite them. The issues for the three generations of women in UNEXPECTED JOY are different, but the loving hopefulness and optimism remains.