BWW Review: RED in Cinemas Showcases Geniuses at Work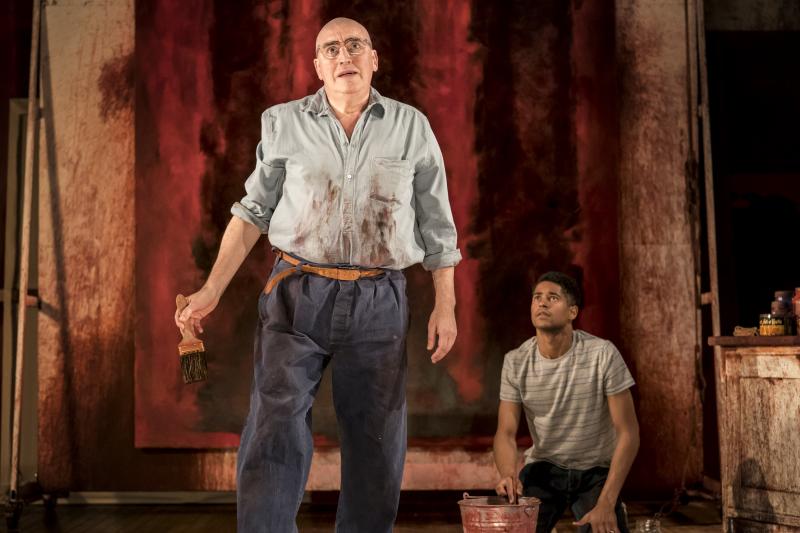 Almost a decade after John Logan's searing, two-person drama RED first held audiences transfixed at The Donmar Warehouse in London, Trafalgar Releasing is bringing it to cinemas across the US and UK tonight. The play won the 2010 Tony Award for Best Play among other accolades. It has had several other large-scale productions over the intervening years as well, including this past summer's limited revival at London's Wyndham's Theatre, which saw Michael Grandage (director) and Alfred Molina (Rothko) reprising their work while welcoming Alfred Enoch (best known for portraying Dean Thomas in the Harry Potter films and Wes Gibbons in How to Get Away with Murder) as Ken. This sold out run was filmed and is now being screened.
The play focuses on a brief period during the late 1950s in the life of Mark Rothko. At the top of the play, the audience meets the artist in his Bowery studio as he is working on a series of murals that have been commissioned for New York City's exclusive Four Seasons restaurant. Ken, Rothko's newly hired assistant, enters the dimly lit studio that serves as Rothko's sanctuary for art while hiding him away from natural light and other things he despises. In the studio, Ken is quickly put through his paces and is lectured by Rothko - who verbalizes that he won't be a teacher but quickly takes on the role of a mentor - about art, its function, and the philosophy of aesthetics. Ken, however, challenges Rothko and the famous painter's theories, giving the script the much-needed contrast that it needs to stay both entertaining and thought-provoking for its roughly 90 minute runtime.
The camera angles for this capture are perfectly composed, letting cinema goers experience the magic of the piece as a play while getting all the benefits of seeing it on film. The wide shots showcase the gorgeously designed and perfectly lit set, while the close-ups allow viewers to see every minutia of the nuanced performances delivered by both actors. While nothing can top seeing theater live, this capture is a study in how to perfectly translate a play being performed live to screen.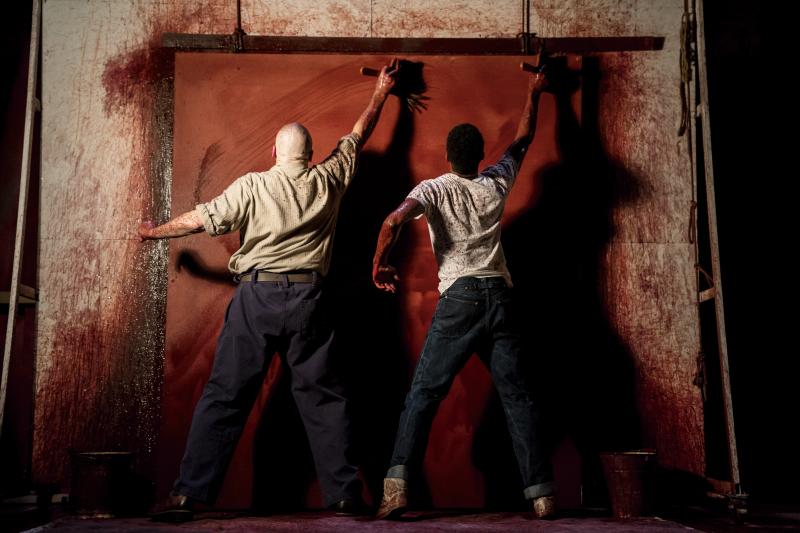 At first, the word nuanced doesn't seem to apply to Molina's bombastic performance as Rothko. His large frame, especially with the lights angled upward, and his booming line delivery create a hulking and haughty character that is anything but subtle. Yet, as the script delves into the psychology of the man behind the veil of fame, Molina deftly delivers subtlety and nuance with captivating skill. Molina's Rothko is brusque and rough around the edges. He never misses an opportunity to denigrate artists like Jackson Pollock or Andy Warhol, making his contempt for pop art viscerally palatable. But, most importantly, he has a well-studied brain that fuels his desires, his wants, and colors how he attains his needs. Blending nuance with bravado, Molina paints a bold character that mixes all the aspects of red - the passion, the energy, the viscera, the life - together to fight off cold and dark emptiness that is represented by black.
Enoch, portraying the fictional Ken, is the constant foil to Molina's Rothko, and in many ways he is a stand-in for the audience. He gets to ask the questions we may have for the artist. He gets to challenge the artist's notion on what art is and what makes art art. He also humanizes the celebrity of the artist, stripping away the pretension and hubris to reveal the soul of the man. Despite Ken having secrets to reveal, the show is truly not about Ken at all. Ken is a plot device, a tool if you will, to allow us to discover the heart and soul of a well-known and very respected abstract expressionist. In understanding his character's purpose, Enoch shines through crafting a multifaceted and interesting character. He rises to Molina's level of performance without ever stealing the spotlight from Molina. In a space where it would be easy to phone in a performance, Enoch utilizes his own skill in presenting nuance to craft a character that can hold his own opposite a performance that is the textbook definition of a tour de force.
Logan's RED, masterfully directed by Grandage, is a gripping drama that allows audiences to get a glimpse of genius at work. The production is only made better by its keen ability to expose audiences to the mesmerizing genius of Molina and Enoch's own burgeoning genius through the examination of Rothko. For tickets and more information about tonight's screenings, please visit https://www.redincinemas.com.
Photo Credit: Johan Persson
Related Articles
David Clarke has had a lifelong love and passion for the performing arts, and has been writing about theatre both locally and nationally for years. (read more...)