BWW Review: Off-Broadway FIORELLO! Features Young Cast in Small-Scale Production
The recent renaissance of appreciation for the musicals of composer Jerry Bock and lyricist Sheldon Harnick, which has included Broadway revivals of FIDDLER ON THE ROOF and SHE LOVES ME, along with an Off-Broadway reworking of THE ROTHSCHILDS retitled as ROTHSCHILD & SONS, continues with a transfer of director Bob Moss' Berkshire Theatre Group production of the team's Pulitzer Prize winner, Fiorello!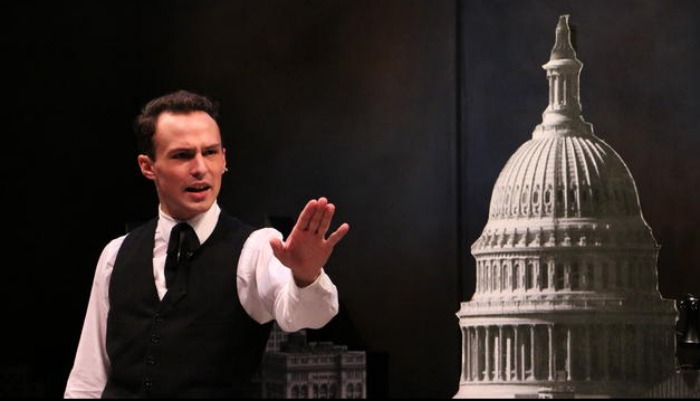 The boisterously fun and heavily New York accented 1959 celebration of the early career of Fiorello LaGuardia, the city's enormously popular 99th mayor, has a muscular, character-driven book by George Abbott and Jerome Weidman that works hard to squeeze two romances, an unrequited love and the back-room story of how a struggling Republican Party helped to bring down the corrupt political machine of New York's Tammany Hall into two-and-a-half song-filled hours.
While Fiorello! received its Pulitzer because the advisory board rejected the drama jury's strong recommendation to give the prize to Lillian Hellman's TOYS IN THE ATTIC, and many eyebrows were raised when it tied with THE SOUND OF MUSIC to win the 1960 Best Musical Tony over GYPSY, the score is undeniably a ravishing example of Golden Age Broadway at its best.
Its most famous song is probably the rousing Bowery waltz, "Politics And Poker," where a distracted group of party officials compare their regular card game with their assignment to find a candidate willing to run for office against an unbeatable opponent: ("Politics and poker / Shuffle up the deck and find the joker.") In a lively Charleston, fans of candidate Jimmy Walker reference the hit song he wrote to voice their support: ("Hey Jim, we promise on voting day / We will love you in November as we did in May.") In a furious march, a chorus of women factory workers strike for a decent living wage: ("Must we sew and sew solely to survive / So some low so-and-so can thrive?")
There's the gorgeous soprano solo "When Did I Fall In Love?," expressing the unusual sentiment of wondering, "When did respect first become affection? / When did affection suddenly soar?" A comical classic, ""I Love A Cop," is specific to an era when the public was aware that many of New York's finest were indeed, on the take. It's sung by a union seamstress who insists "if he'd get an honest job I would marry him."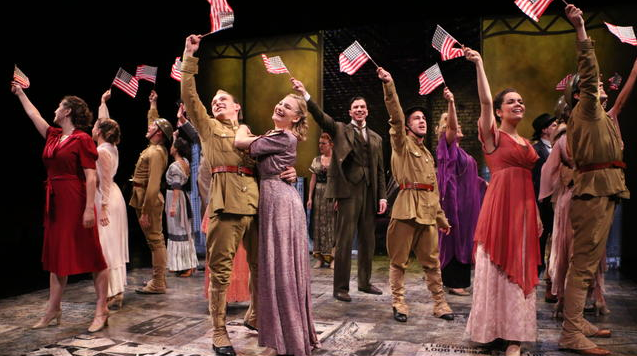 The small-scale Berkshire production, now residing at the intimate East 13th Street home of Off-Broadway's Classic Stage Company, is played by a likable ensemble of actors in their 20s, many of whom are too young to play their meaty character roles. While there's certainly a great deal of enthusiasm to be enjoyed from the performances of Austin Scott Lombardi, who plays the title role, Rebecca Brudner, as the labor activist he marries, and Katie Birenboim, as his romantically frustrated assistant, they and their colleagues are still at the beginnings of their careers and have professional polish to acquire.
There is certainly cleverness in Moss' staging, and set designer Carl Sprague's cut-outs of Manhattan skyscrapers and street signs look great, but not all the actors seem to have adjusted to having audience members on three sides of the playing space.
FIORELLO! is a fine musical deserving of a professional New York staging. While this new mounting isn't a bad one, it's essentially a college-level production charging Off-Broadway prices.