Click Here for More Articles on PLOT POINTS IN OUR SEXUAL DEVELOPMENT
BWW Review: Miranda Rose Hall's PLOT POINTS IN OUR SEXUAL DEVELOPMENT Has a Loving Couple Torn By Sexual Incompatibility
Falling in love is the easy part. Functioning day to day as a couple can take work, especially when sexual incompatibility becomes an issue.
The bedroom struggles of cisgender straight couples have been explored both subtly and blatantly by playwrights for a long, long time, but in this welcomed era where characters of underrepresented gender identities are becoming more visible on major American stages like Lincoln Center's Clara Tow Theater, the production of plays like Miranda Rose Hall's Plot Points In Our Sexual Development helps expand our idea of cultural norms to stories involving types of people who don't regularly have a chance to see dramas involving characters living lives like their own.
Clocking in at about an hour, director Margot Bordelon's appropriately stark and emotionally chilly production begins with Jax Jackson's Theo (30s, genderqueer and transmasculine, white, as described by the playwright) and Marianne Rendon's Cecily (30s, ciswoman, white) sitting on opposite ends of the stage, facing the audience and telling stories of their childhood.
"I went through this phase... of being mystified by private parts," explains Theo. "And so one day, when I was about three, maybe, my mom decided to clear things up, so she sat me down in the kitchen and said, "now listen, here's the deal: boys have penises and girls... don't."
The story ends with a humorous encounter with a stranger that presents mother and child with another angle to consider.
"I had this my-sized Barbie. Stephanie, "Cecily offers, "and my mom made us these matching pioneer outfits, with bonnets, because I was obsessed with pioneer times."
Her favorite unsupervised game to play with Stephanie was something she called Going to Missouri. It was a euphemism.
They alternate with stories of familiar subjects like discovering the pleasant sensation when you ride on a swing just right, playing kissing games in grade school, showing your private part to a classmate and enduring embarrassing school lectures on abstinence.
The territory gradually becomes more dangerous when the storytelling evolves to events like Cecily being admonished for feeling lesbian arousal and Theo being threatened by a guy for looking at his girlfriend. ("If you keep staring, I'm gonna slam your face on the ground, you little dyke.")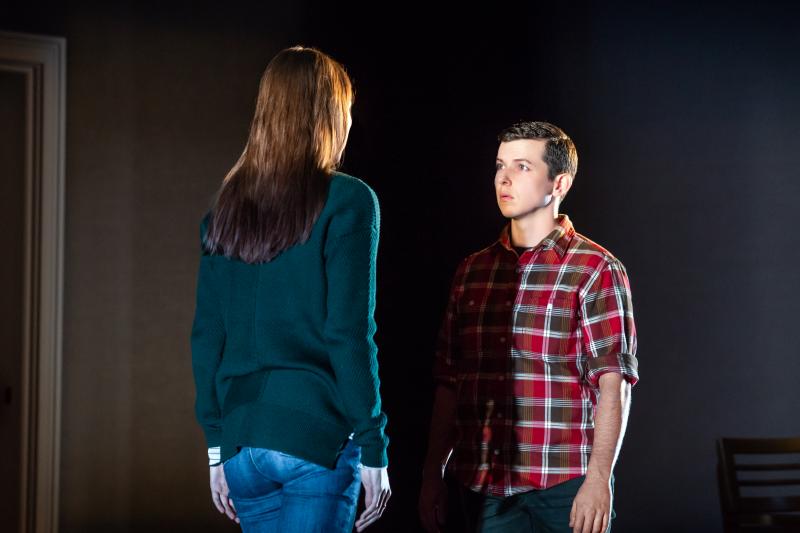 But the danger really begins when the storytelling ends and the two characters get up and encounter each other after an experience where the pair, at Theo's request, have introduced a new aspect to their physical intimacy.
Details are best left for the playwright to explain, but Hall's dialogue, tenderly acted by Jackson and Rendon can be devastating.
"I fell in love with you," says Theo, "and I wanted to show you every piece of myself. I wanted to bring every corner of my life into view."
"Is this what you've 'really wanted' all along?" asks Cecily. "Like everything that I thought of as sex was just some extended foreplay for what you really want?"
Lincoln Center Theater's LCT3 is dedicated to developing works by new playwrights, and although this reviewer could have done with a little less storytelling and a lot more direct interaction between the characters, PLOT POINTS IN OUR SEXUAL DEVELOPMENT is very deserving of this crisp and well-acted premiere production.
Leaving the theatre, I though that in my 40+ years of obsessive theatre-going I've never seen a play on this subject. So thank you to Miranda Rose Hall for a rewarding new experience.