Click Here for More Articles on Lincoln Center Theatre
BWW Review: John Larroquette Takes The Mad Excursion of John Guare's NANTUCKET SLEIGH RIDE
Sturdy, richly-voiced and subtly droll, John Larroquette is one of those actors with a wonderful talent for creating enormously funny moments by taking in the madness surrounding him and cutting it down with a look or an utterance.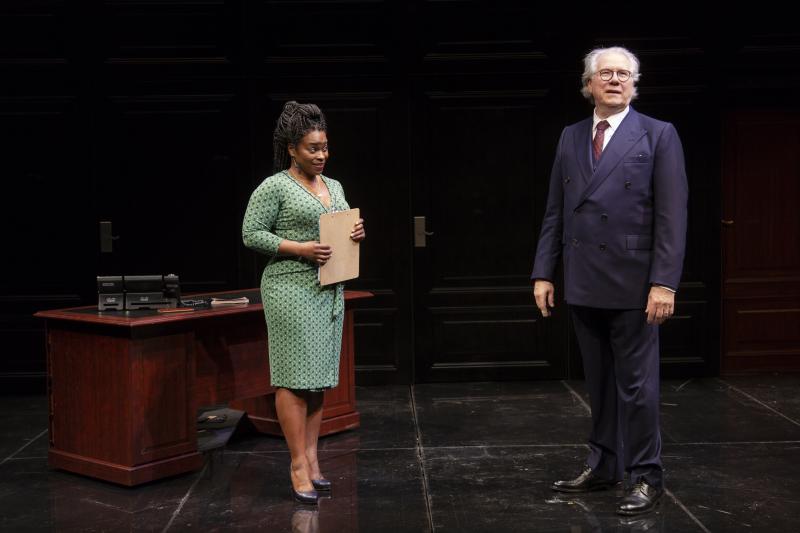 In his absurdist romp, Nantucket Sleigh Ride, playwright John Guare throws plenty of madness his ways. Best known for SIX DEGREES OF SEPERATION, the playwright's newest harkens back to the unpredictably eccentric zaniness of his earlier THE HOUSE OF BLUE LEAVES. Director Jerry Zaks, who helmed the Off-Broadway premieres of both at Lincoln Center's Mitzi E. Newhouse Theater, returns to that intimate playhouse to guide this adventure.
If the title brings to mind merry Currier and Ives depictions of snow drifts and jingle bells, then you are apparently not a New England seafarer. NANTUCKET SLEIGH RIDE gets its name from a term used when a harpooned whale furiously swims across the ocean, dragging the offending ship of sailors though the unforgiving waves for hours, or even days, until either the whale dies or everyone on board has drowned.
Replace the whale with a memory and you'll have an idea where Guare is going with this one.
Larroquette plays venture capitalist Edmund Gowery ("I convince people to sell things they love to buy things they don't want."), whose former life as a one-hit wonder playwright is suddenly back in the public eye via a clue in the New York Times crossword puzzle.
A surprise visit from a pair he hasn't seen since 1975 ("You look like what I read about Brooklyn.") prompts him to remember that summer, when it seemed like the whole country was reading Peter Benchley's "Jaws" and Gowery, on the advice of his lawyer (Jordan Gelber), has used his monetary windfall to buy an investment house on the island that has inspired more limericks than Limerick.
Though he has no intention of ever setting foot in the place, a phone call from a local police officer (Stacey Sargeant) stating he's under suspicion of being involved with a child pornography ring running out of it, prompts a visit, where he finds out that the residents are peeved with him for not attending their community theatre production of his play, "Internal Structure of Stars."
Upon arriving, he finds the place occupied by two weirdly creepy children (Adam Chanler-Berat and Grace Rex) who were abandoned by the community theatre's star actress (Clea Alsip) and director (Douglas Sills), one of which is apparently having an affair with an eccentric fellow (Will Swenson) who is having trouble with his 11-pound lobster.
Meanwhile, Gowery is working on a screenwriting offer from Roman Polanski, though another offer from a power-mad cryonically frozen Walt Disney (Sills, with icicles dripping from him) sounds tempting.
Guare's wit and imagination is certainly attention-grabbing, and comedy master Zaks is working with a terrific ensemble that dives right in. If the parts don't appear to amount to anything substantial, well, this one's more about the ride than the destination.