Review: Janie Dee Makes a Smashing Return To New York as Feminist Fighter LINDA
It's not exactly a spoiler to note that the closing scene of British playwright Penelope Skinner's wonderfully absorbing and issue-oriented dramatic comedy, Linda, has the title character, a successful marketing executive, addressing a group of colleagues in the year 2007, excited about how the anti-aging cream she promotes has been putting out the message that the beauty of all women of all ages is a cause for celebration.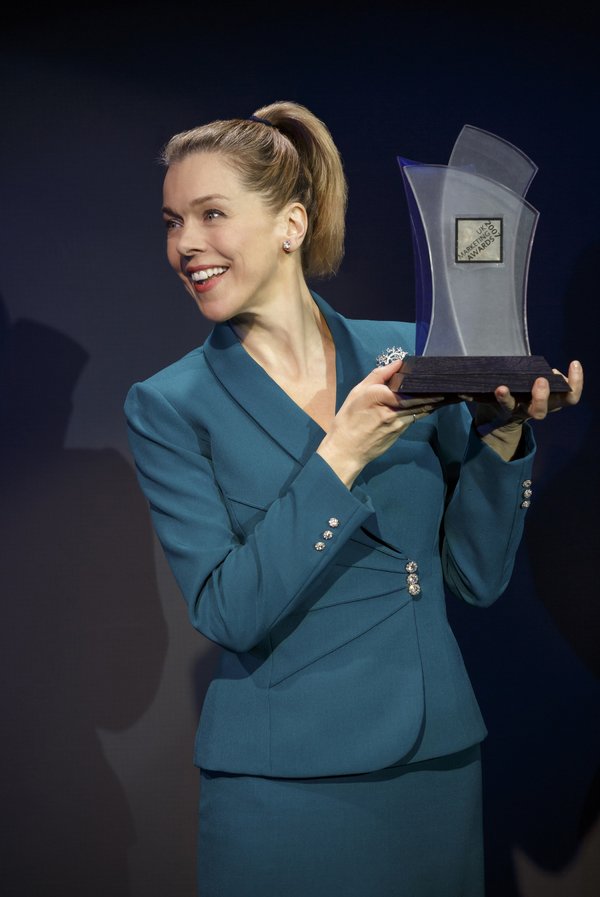 "For us women and for our daughters," she proclaims, "things are finally... finally getting better."
The play that precedes that speech takes place in 2017, and if things had gotten as better as Linda had hoped, Skinner most likely would have written a very different play.
LINDA begins with the present day central character, now 55 years old, pitching a new marketing campaign for the Swan Beauty Corporation. Her pitch is based on data proving that women over 50 feel ignored and invisible. They don't see themselves represented in the media as positive, exciting individuals (She notes Helen Mirren as "the only older woman still allowed to exist.") and they find in their everyday lives that their achievements and opinions are undervalued. Linda intends to dramatically increase sales from this demographic with a campaign that speaks directly to them called "Visibility."
Linda is played by the fabulous British star Janie Dee, who originated the role in London and who hasn't been seen on a New York stage since her 2000 Obie-winning turn in Alan Ayckbourn's COMIC POTENTIAL. A sharp dresser and persuasive speaker who sends out beams of confidence and intelligence, Dee's Linda is a character you want to cheer for, and is in no way invisible.
Beyond dollar signs, Linda passionately believes that her career can play a role in ensuring that young girls have a better world to grow up in, so it's a major disappointment when her bottom-line focused boss (John C. Vennema) passes on her idea and asks her to assist a young hotshot (Molly Griggs) whose campaign "Hi Beautiful," attempts to increase sales by nurturing younger women's fears of not living up to society's standards.
While fighting against her diminished role in the office, Linda attempts to keep the balls she juggles at home from dropping. She admits that her husband Neil (Donald Sage Mackay), a school teacher who moonlights with a rock band, is an average man at best, but with women like her often scaring off higher-achieving men, she's content to settle for someone "loyal and steady and dependable," noting that while she was considered the catch when they were younger, the way society sees them has now reversed. ("Because men get more fuckable as they get older don't they?")
Her teenage daughter, Bridget (Molly Ranson), wants to perform a male character's monologue for her dramatic academy audition, hating the female roles and thinking it will help her stand out. Linda advises that she needs to present herself in a way that she would realistically be cast.
Older daughter Alice (terrifically sardonic Jennifer Ikeda), for reasons that are eventually revealed, stays in her room as a recluse, preferring to hide herself in the baggy skunk onesie she wears night and day.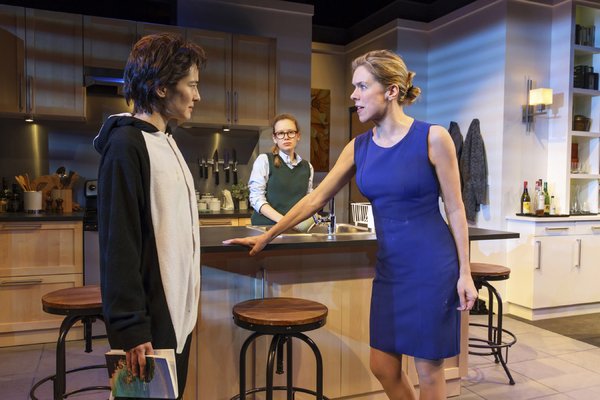 As Meghann Fahy, as the air-headed lead singer of Neil's band, and Maurice Jones, as the intellectually inquisitive office temp, get included into the mix, the plot evolves into issues of slut shaming, social media, infidelity and cutting. Even bits of KING LEAR become relevant as Linda's struggle takes on Shakespearean proportions.
Sometimes it gets a bit didactic, especially when coded sexist language is overstated, but Skinner's characters are very well presented and her dialogue easily glides from witty and entertaining to realistically somber.
Lynne Meadow's slick and energetic production gets an extra boost from the crisp corporate and home-life settings rotating into place on designer Walt Spangler's carousel set.
Following her Off-Broadway productions of THE VILLAGE BIKE and THE RUINS OF CIVILIZATION, Linda solidifies Penelope Skinner's position as an interesting dramatic voice from overseas that needs to be heard more frequently on this shore. And any play that can bring Janie Dee back to New York in a sensationally commanding and clever performance should receive first class passage.