BWW Review: Isabelle Huppert Extraordinary as Depression-Stricken Woman in Florian Zeller's THE MOTHER
It was three seasons ago that French playwright Florian Zeller's Moliere Award winning THE FATHER came to Broadway from London in an English translation by Christopher Hampton. Frank Langella earn a Tony playing an aging dementia-stricken man whose faltering memory causes his perceptions of his past and present to change in every scene.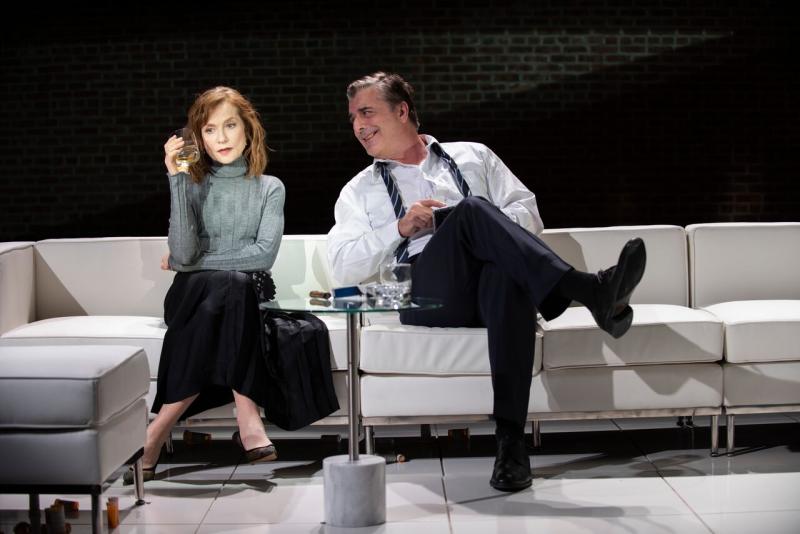 Now Zeller's The Mother, regarding a different family, makes the same trek from London to New York, via another Hampton translation. And while the situations involved are somewhat similar, perhaps the different genders of its title characters, and societal attitudes towards that difference, dictate the amount of sympathy with which the characters are written and observed.
"What was all that for?" agonizes mother (Isabelle Huppert) as she ponders the loss of her roles in life after her two grown children have left home and her husband is so busy at his job that he spends little time with her.
As the audience enters Atlantic Theater Company's Linda Gross Theater, she is on stage with a book in her hand, occasionally perusing it as she sits on one end of the stage-length couch designer Mark Wendland has placed as the major set piece of director Tripp Cullman's tense production.
Sneak a peek under the couch and you may see one of several empty bottles of pills.
The play proper begins when father (Chris Noth's salty-haired boyishness turns to weariness as the play progresses) arrives, seating himself far away on the opposite end of the couch. (It really is the length of the stage.) With her husband about to leave town for a business trip, mother layers her casual small-talk with chilly undertones as she innocently asks how his day was and if he's prepared for his upcoming seminar.
The dialogue is sparse and direct, giving great impact when she accuses him of cheating on her and then expresses anger at their son for his aloofness after moving in with his new girlfriend.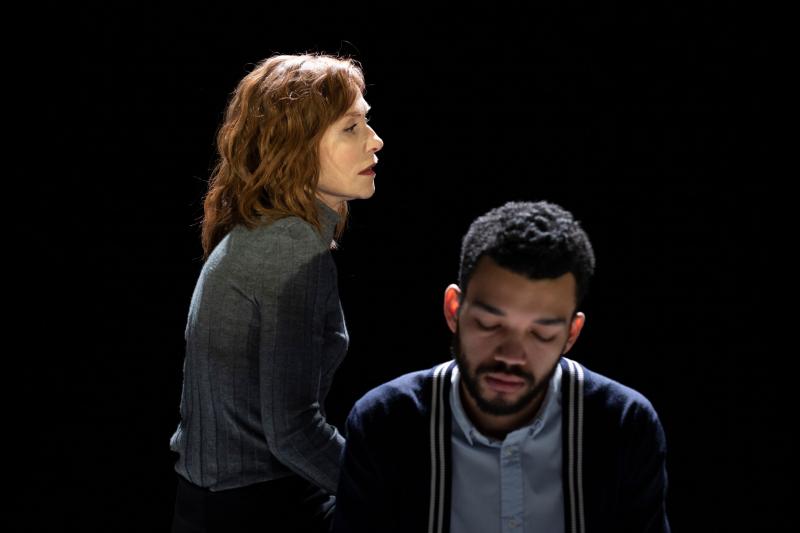 When their son unexpectedly appears during father's absence, needing a place to spend the night after a spat, he is indeed, as played by Justice Smith, quite detached, especially when mother's delighted reception turns creepily possessive and transforms into jealous rage with the arrival of his romantic partner (Odessa Young).
Mother's depression-fueled mood swings are handled with extraordinary finesse by Huppert, who, especially in designer Anita Yavich's costumes, gives the appearance of an empowered woman in the prime of her life. The tragedy of her illness, as depicted in the play, is that her behavior pushes away those who aren't willing to deal with the fact that it's the disease that is making her so cold and needy.
The final piece of the trilogy, Hampton's translation of Zeller's THE SON, recently opened in London, so perhaps New York playgoers will soon be offered a third change to witness family deterioration through this intriguing playwright's words.