Click Here for More Articles on SAKINA'S RESTAURANT
BWW Review: Aasif Mandvi Offers New Yorkers Seconds of His Obie-Winning SAKINA'S RESTAURANT
Savvy New Yorkers will immediately have a clear picture of the work environment when Azgi, the narrating character of playwright/actor Aasif Mandvi's solo piece SAKINA'S RESTAURANT, says he's moving from a village in India to Manhattan to work as a waiter at a restaurant located at 400 E. 6th Street.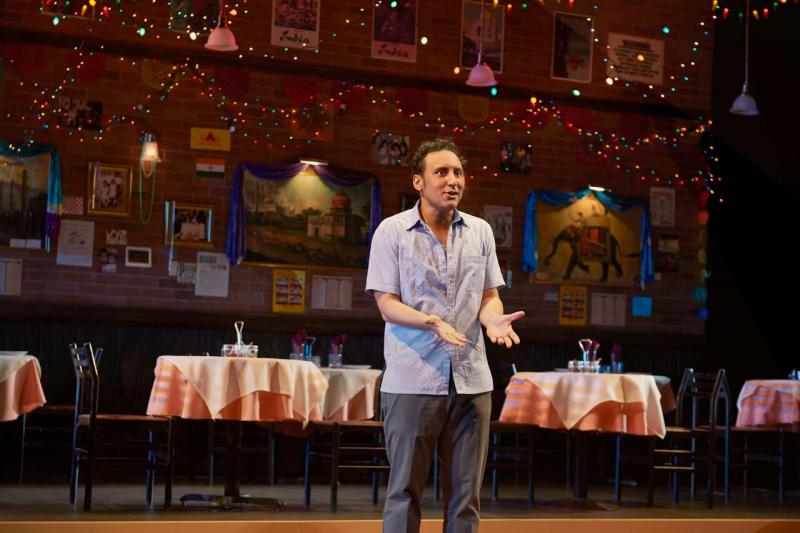 Though some of the cozy mom and pop restaurants that jammed New York's "Curry Row" (technically, the E. 300s block of the street) when Mandvi's funny and charming Obie-winning immigrant story first played Off-Broadway in 1998 have been replaced by sleeker, modern joints, and the corner of 2nd Avenue and 6th Street is no longer frequently occupied by enthusiastic fellows offering passers-by 2 for 1 dinner coupons, set designer Wilson Chin's recreation of a typical restaurant on that block, complete with strings of hanging lights and atmospheric paintings and photos mounted on a brick wall, may have you hankering for some post-theatre korma or vindaloo.
While Mandvi has maintained his theatre presence in the past twenty years, the writer/comedian's television career began receiving national attention in 2006 when he was cast as a contributing correspondent on "The Daily Show," allowing him to now perform the piece, not as an emerging talent, but as a full-blown celebrity.
"Hello, my name is Azgi. I like hamburger, baseball, and Mr. Bob Dylan," he tells the audience at the outset. This is the standard introduction he plans to use to help ingratiate himself with Americans.
Sponsored by restaurant owner named Hakim, who will house him with his family until he gets settled, Azgi is excited to achieve the American dream of working hard and becoming wealthy, but, as with many such stories, he observes not only the stark division of wealth in this land of opportunity, but the culture clashes of families trying to maintain the traditions of their homeland while opening themselves up to new ways of life.
"In America," Hakim explains, "any ordinary idiot can become rich, but not any ordinary idiot can become respected."
Hakim's chosen route in his quest for respect comes as the expense of the happiness of his wife, Farrida, who sacrificed her dreams of being a classical Indian dancer for a life of cooking, cleaning and caring for their children. With her husband working fifteen hours every day, she complains that he only pays attention to her for "hanky-panky."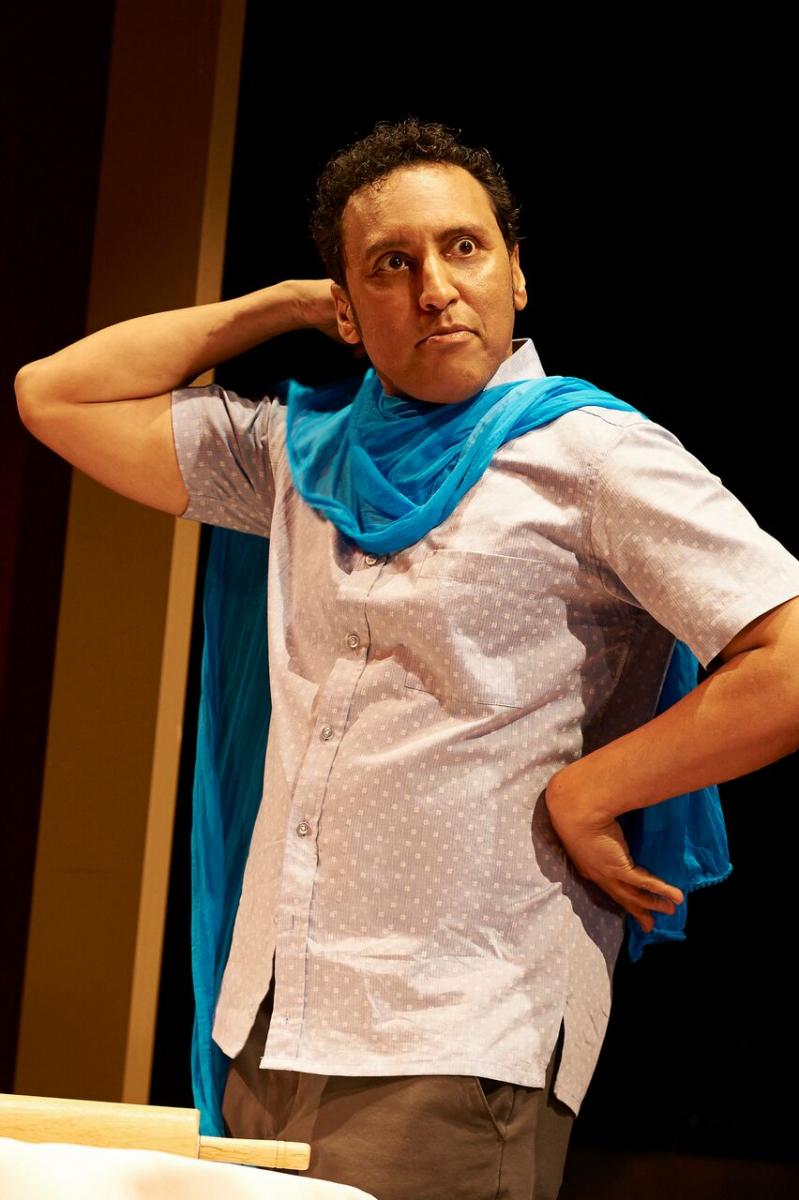 Sakina is the name of their daughter, who, after a fall-out with her culturally insensitive boyfriend, has succumbed to an arranged marriage to Ali, a Muslim med student. Her younger brother, Samir, is the most assimilated into American culture and is showing signs of adolescent privileged greed.
Of course, the hardworking Azgi is making his own adjustments, learning a great deal about Americans just from his dealings with customers, like the fellow who insists that his dish be prepared with the hottest number on the 1 to 5 spiciness scale. ("Even in India nobody asks for number 5! It's not a real thing that you can eat, it's just for show.")
Directed by Kimberly Senior (original director Kimberley Hughes, who developed the piece, also is credited in this production), Mandvi plays all of his characters with respect, affection and warm humor. While those of Indian descent will certainly catch on to more of his details, there's a universal familiarity to be appreciated in SAKINA'S RESTAURANT, particularly for New Yorkers sharing the most culturally diverse spot on the planet.