BWW Review: 120 Variations of Life and Death in Branden Jacobs-Jenkins' EVERYBODY
"We're dealing with some fairly old and ancient material, so maybe let's trust it to be really wise and meaningful, okay?" asks a character acting as a host at the beginning of Branden Jacobs-Jenkins' fun and breezy new play, Everybody.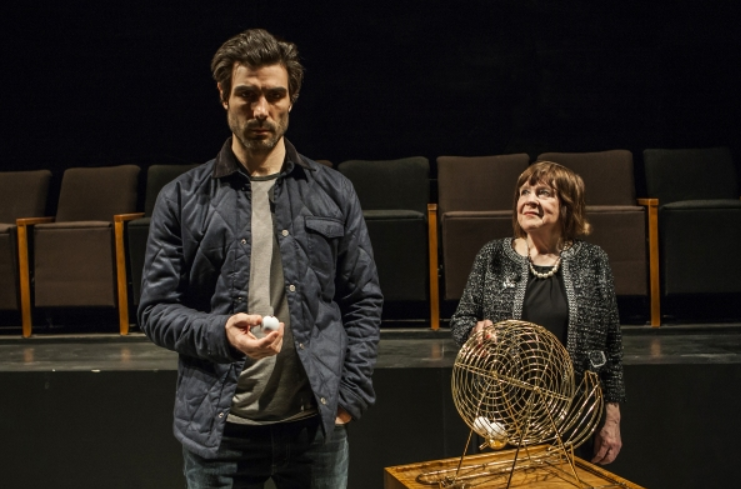 Fun and breezy from Branden Jacobs-Jenkins? The MacArthur Genius Grant recipient, Obie-winner and Pulitzer finalist better known for challenging audiences with explorations of subjects like racial identity and mass killing?
EVERYBODY is the playwright's first new work as member of Signature Theatre's Residency Five program, which guarantees authors three world premieres in five years, giving noted young playwrights a chance to establish a fuller body of work. Perhaps Jacobs-Jenkins is seizing the opportunity as a chance to experiment with something lighter in tone.
Not that this is mindless fluff, but there's a tad of zaniness here and there, involving meta-theatre moments that won't be revealed here.
The text is a contemporary, gender-inclusive adaptation of the 15th Century morality play, EVERYMAN, whose exact authorship is a complicated matter. The gist is that God (flippantly funny Jocelyn Bioh) has tasked Death (delightfully oddball Marylouise Burke) with the assignment of getting a hold of another poor sucker.
The randomness of it all is exemplified by having five actors (Brooke Bloom, Michael Braun, Louis Cancelmi, David PatRick Kelly and Lakisha Michelle May) select ping-pong balls from a cage during each performance to determine who will be playing the title role.
The other four get assigned to play characters with names like Friendship, Beauty, Stuff and All The Shitty Things. The point is that when it's time to go, none of those aspects of life are willing to go with you.
We're guaranteed that all five ensemble members have memorized all of their roles, making each performance one of 120 possible variations.
If Love (Chris Perfetti) doesn't actually save the day at the end, he does provide amusement by showing how he gets his kicks by humiliating people.
In its day, EVERYMAN scared good Catholics onto a righteous path. In director Lila Neugebauer's slick and irreverent production, Jacobs-Jenkins seems more content with riffing on old-time religion by replacing the fear of God with the humorous acceptance of life's disappointments.
But, of course, that may be the point in only one of the production's 120 variations.