Click Here for More Articles on Prompts
BWW Prompts: If [Blank] Was A Tony Award Category, I Would Win!
Today, readers generated their own winning Tony Awards categories!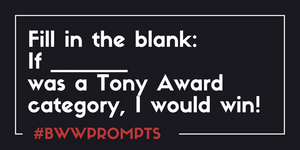 We want to hear from you! Submit your response to our daily #BWWPrompts, where each day we'll be asking our readers on Facebook, Twitter, and Instagram questions to spark some theater conversation.
Read some of our reader's answers below!
---
Twitter
"Being an awesome supportive theatre mom to all my theatre babies." @wdrwomn13
"Bad But Enthusiastic In-Car Sing-Alongs" @janet_patterson
"Worst Dance Performance in the Ensemble" @aball2755
"Ugly crying during overtures!" @pegc4
"Belting when no one is home and scaring the dogs" @annalikesdogs
Instagram
"Crying Over a Plot You Already Know How It Ends" @gahodges4
"Getting my friends to love musicals against their will" @ismey17
"Not being chosen for the BroadwayWorld prompts" @amber.et
"Napping" @colby_daniel228
"Ignoring all my problems" @rosemerri_kin
Facebook
"Never knowing the lyrics but singing anyway..." Eileen DiGiacomo
"Selective memory" Grace DiModugno
"Embarrassing My Kids" Susan Bruce
"Not cleaning the house" Shannon Lunsford Rivoire
"Chronic Procrastination . . . . . . . . . Will work on my acceptance speech tonight. . . . well, maybe tomorrow." Thomas Rees
Related Articles