BWW Morning Brief August 2nd, 2017: REALLY ROSIE at Encores! Off-Center and More!
Good morning, BroadwayWorld! Because we know all our readers eat, sleep and breathe Broadway, what could be better than waking up to it? Scroll down for the latest news, and click HERE to learn more about how we've revamped our morning brief for 2017! Want our morning reports delivered via email? Subscribe here!

1)
Breaking News: Phillip Boykin, Alysha Deslorieux, Kenita R. Miller and More to Set Sail with Broadway's ONCE ON THIS ISLAND
by BWW News Desk - August 01, 2017
Today, producers Ken Davenport and Hunter Arnold announced that Tony Award nominee Phillip Boykin, Alysha Deslorieux, Kenita R. Miller, and Isaac Powell are joining the new Broadway production of Once On This Island, which will play the Circle in the Square Theatre (235 W. 50th street, NYC) this fall.. (more...)
---
2)
Bags Made From Retired Theatre Backdrops Are a Hit Among the Broadway Community
by BWW News Desk - August 01, 2017
Have you ever wondered what happens to retired theatre backdrops? (more...)
---
3)
Leslie Odom Jr, Sutton Foster & More Set for LIVE FROM LINCOLN CENTER on PBS
by BWW News Desk - August 01, 2017
Jonathan Groff (HAMILTON, SPRING AWAKENING) will appear in an upcoming LIVE FROM LINCOLN CENTER special alongside two-time Tony winner Sutton Foster, as part of a group of four shows featuring some of Broadway's biggest stars.. (more...)
---
4)

VIDEO: First Look - Comedy Legend Carol Burnett Returns to Television in New Netflix Series
by TV News Desk - August 01, 2017
Comedy legend Carol Burnett is coming to the world's leading internet TV network with the original unscripted comedy A LITTLE HELP WITH CAROL BURNETT. Featuring pint-sized opinions from a panel of straight-talking 4-8-year-olds, Carol and her guests will reveal how a different generation solves life's biggest dilemmas.. (more...)
---
5)

Alan Cumming, Lea Michele, and Darren Criss to Headline 3rd Annual Elsie Fest
by BWW News Desk - August 01, 2017
Tony Award winning actor and singer Alan Cumming (Cabaret, CBS's The Good Wife), two-time Golden Globe nominated actress and singer Lea Michele (Scream Queens, Glee, Spring Awakening) and Emmy nominated songwriter, musician and actor Darren Criss (The Assassination of Gianni Versace: American Crime Story, Hedwig and the Angry Inch) to headline the third annual Elsie Fest.. (more...)
---
---
Today's Call Sheet:
-REALLY ROSIE begins at Encores! Off-Center!
-Broadway will dim the lights tonight in memory of Sam Shepard.
-A PARALELLOGRAM opens tonight at Second Stage Theater!
-SONGBOOK SUMMIT and A REAL BOY begin performances at 59E59 Theaters!
-Josh Radnor, Gideon Glick, Lilli Cooper and more will sing SONGS FROM ELI BOLIN tonight at Feinstein's/54 Below.
-And Josh Young, Kirsten Scott, Jamie Laverdiere, Darnell Abraham and more will lead RAGTIME at Ogunquit Playhouse starting tonight!
---
BWW Exclusive: The Charlies of the Chocolate Factory take on gummy bears in the latest episode of BACKSTAGE BITE WITH KATIE LYNCH!
---
Set Your DVR... for Darren Criss on NBC's TODAY during the 9-10 am hour!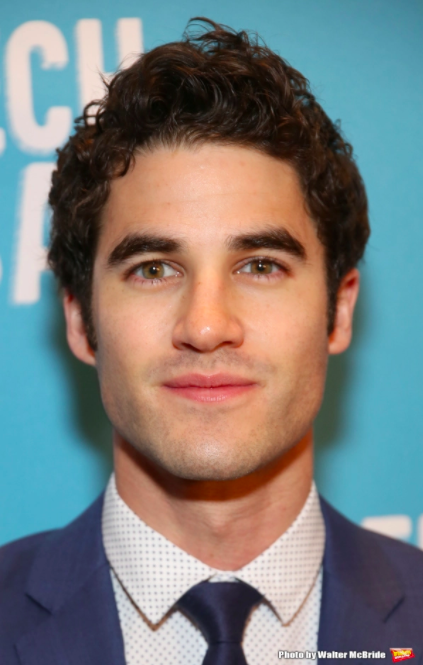 ---
What we're geeking out over: The complete cast for Off-Broadway's A CLOCKWORK ORANGE has been announced, featuring Matt Doyle, Jonno Davies, and more!
---
What we're watching: The trailer for MINDHUNTER starring Jonathan Groff, coming to Netflix on October 13!
---
Social Butterfly: Rodney Hicks shared this heartfelt message on Facebook explaining his reason for exiting COME FROM AWAY.
---
And a Happy Birthday shout-out to Mary-Louise Parker, who turns 53 today!
Mary-Louise Parker will took the stage last fall in HEISENBERG, reprising her role from the show's Off-Broadway run. She has also appeared on Broadway in THE SNOW GEESE, HEDDA GABLER, RECKLESS, PROOF (which won her a Tony in 2001), BUS STOP and PRELUDE TO A KISS. Among her Off-Broadway credits are DEAD MAN'S CELL PHONE, COMMUNICATING DOORS, HOW I LEARNED TO DRIVE, FOUR DOGS AND A BONE, BABYLON GARDENS and THE ART OF SUCCESS. The actress is best known for her Golden Globe-winning portrayal of 'Nancy Botwin' in Showtime's WEEDS. She received a Golden Globe and an Emmy Award for 2003's ANGELS IN AMERICA mini-series and has also appeared on-screen in THE WEST WING, RED, BULLETS OVER BROADWAY, and FRIED GREEN TOMATOES.
---
See you bright and early tomorrow, BroadwayWorld!