Click Here for More Articles on ENCORES!
BWW Exclusive: Karen Olivo Talks TICK, TICK...BOOM!, Her New Life in Wisconsin & More!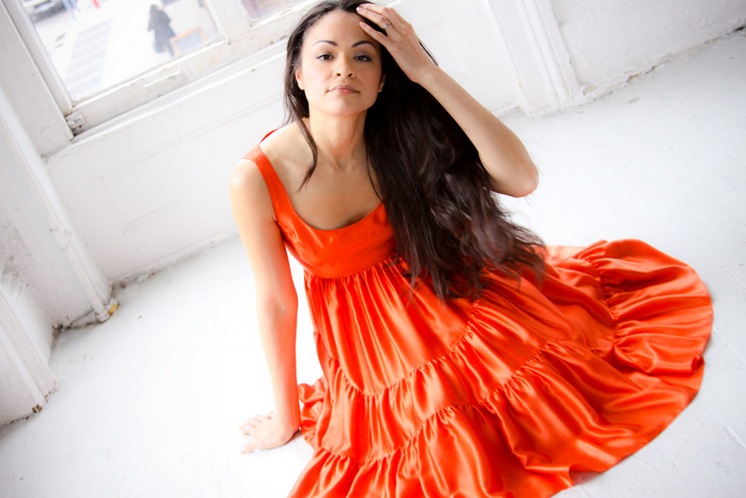 Lin-Manuel Miranda, Karen Olivo and Leslie Odom Jr.will star in the New York City Center Encores! Off-Center production of Jonathan Larson's Tick, Tick... BOOM!, running for five performances, June 25 ­ 28. The opening show of City Center's acclaimed Encores! Off-Center series of landmark Off-Broadway musicals will be directed by Oliver Butler with choreography by Camille A. Brown and music direction by Chris Fenwick. Jeanine Tesoriis Encores! Off-Center Artistic Director.
Tony winner Karen Olivo, who announced last spring that she'd be leaving New York City behind for a quieter life in Wisconsin, will return to the stage in this production. Before rehearsals began, Olivo took the time to update BroadwayWorld about preparing for the show, her new life outside of New York, and so much more. Check out the full interview below!
---
You are coming out of a semi-retirement for this- what was it that made you want to sign on?
Well, there are a couple of things. My first Broadway show was RENT, and I have an affinity for Jonathan Larson and his work. Then on top of that, Lin [Manuel Miranda] is one of my closest friends. One of the things that I miss the most about New York is working and collaborating with my friends. So yeah, it was a no-brainer!
I'm still very active. I'm actually still doing a lot of work theatrically here in Madison, so it's not like I've stopped being a part of the arts community, but as far as coming back, I'm able to pick and choose the things that pull at my heartstrings and this one is obvious.
It's so great that you get to reunite with your In the Heights co-star Lin-Manuel Miranda for this- did you both sign-on at the same time?
It's actually hard to remember because it was a while back, but I think we were texting back and forth randomly and he mentioned that it was possibly coming up and that he would probably do it. Then it was something like: "Well wouldn't it be fun to get to do it together?" I'm pretty sure he was involved first- but he's always involved first [Laughs]. In all things, Lin is usually the first person there!
Has that cast stayed close?
The great thing about In the Heights was that not only was it groundbreaking, but it created bonds between all of us. I'm very proud and happy to say that those people are still a part of my life. Regardless of what we do we will always be there.
One of your first big gigs was doing RENT, does that make this feel like a full-circle moment for you?
It really is! I'm noticing, now that I've moved away from things, that the things that keep knocking at my door or flying through my window are things that are full circle. Last year I did the Kennedy Center Honors for Shirley MacLaine. She awarded me a musical theatre scholarship when I was in high school!
Wow, that's nuts!
Yes, my first reaction was "Wow, they must know!" But I found out when I got there that it had nothing to do with that. I'm realizing though that the things that just show up and happen to fit into my schedule are the things that have to do with my life on a larger level. And if you know anything about TICK, TICK...BOOM!, I'm playing 'Susan' because I am 'Susan' right now. It makes perfect sense!
Everything I've heard about the Encores! rehearsal process is that's it's fast and furious... are you doing any kind of preparation before rehearsals start up?
Yes, I feel like it's an endurance test! It's ridiculously fast! I have lots of friends who have done Encores! before and sometimes they comment: "Yeah, I got there and then we were performing." I think we have maybe a week? Six days?
Yeah, the rehearsal process is so truncated that I've been looking at the script and the score. I already have a whole list of notes and questions for Oliver [Butler]. I've even already picked out a few places where I'll have to switch gears, because it's a three-person show and I play a million women. I'm just trying to prepare myself so that when we get into the room there's not so much guess work and it's more like "How do I fix this?" We don't really have the luxury of finding it organically.
Have you come across any aspects of the show yet that you expect to be a challenge?
You know, you cast people that are either incredibly close to the character or have the life experience to play it. I actually think this is going to be a version of an alternate universe Karen and an alternate universe Lin expressing things that we've thought about...probably incredibly recently. I guess I can't speak for him, but all of these things are very current in our lives. I think that the real challenge will be figuring out how much of ourselves we want to show. For me that's the exciting thing. It's not fun for me to go into something and hide in the material. So I think this will be a good fit.
It's been a while since Broadway has heard from you... how has Wisconsin life been treating you?
I've been teaching at the University of Wisconsin- Madison for the last semester. I'm teaching musical theatre performance, which is like having a really, really long coaching class. I started in January with 22 students and we meet twice a week. I tought them about my process- how I work on pieces, how I pick pieces, how I break them down, how I act through emotion. Then I basically try to fine-tune it on each of them. All actors are different, so it's about trying to find out how to connect the dots for each of them.
Aside from that I've been doing one-on-one coaching. I've also been writing, which is something that I've always wanted to do, but it was never really an option in New York. But I'm writing with this amazing theatre company her called Theatre Lila. It actually started in New York. I'm a contributing writer for them and we'll be putting up our first piece in September. There have been a lot of things! Probably even more than when I was in New York, which is really strange!
In your big blog post from last Spring, you wrote that you needed to "start learning how to be me." Do you think that you've been able to do that yet?
I don't think I'll ever be done with that [Laughs]! I definitely feel like jumping off of the treadmill, taking a look around, and realizing that I could take control of my life artistically has given me something that I didn't have before. I do think that stepping away and not being in the center of entertainment the way that New York makes you operate has re-inspired me. The joy is really there. Also, trying to work on content has given me a different perspective. I know that even in my work with TICK, TICK...BOOM!, all of my notes look like writer notes. I'm looking at things in a different way. When I was in my other shows I just saw things from one perspective. I didn't leave to reinvent myself as an artist. I did it to gain perspective. It's been a win-win.
Do you see yourself ever coming back to New York?
I try not to be against anything. I try to do things from my gut. I don't know...I don't have any plans of coming back; I've made Madison my home. I've created some great relationships with theatres and the college. Now, becoming an educator, I have students! My theatrical community here is getting stronger. I don't see myself abandoning that at any point- it's like a baby and I'm raising my baby- but if the right thing comes, then of course I'd get up and go. When I hear about a project I usually get a feeling in my stomach first. If that happens then I know I'm supposed to do that...and it will happen.
---
Olivo recently starred as Anita in the acclaimed Broadway revival of West Side Story, directed by Arthur Laurents, a role which garnered her the 2009 Tony Award for Best Performance by a Featured Actress in a Musical. Karen also earned Drama Desk, Drama League, and Outer Critics Circle Award nominations for her portrayal of the iconic character. Olivo originated the role of Vanessa in both the Off-Broadway and Broadway productions of the Tony Award-winning musical, In the Heights. Exploring three days in the lives of a group of Dominican-American characters living in Washington Heights, In the Heights was also the recipient of the 2007 Outer Critics Circle Award for Outstanding Off-Broadway Musical, the 2007 Lucille Lortel Award for Outstanding Musical, and the 2007 Drama Desk Award for Outstanding Ensemble.
tick, tick... BOOM!, with book, music and lyrics by Jonathan Larson, script consultant by David Auburnand vocal arrangements and orchestrations by Stephen Oremus, is an autobiographical musical by the Pulitzer Prize­ and Tony Award­-winning composer of Rent. First performed as a solo rock monologue by Larson in 1990, it is the story of an aspiring composer who questions his life choices on the eve of his thirtieth birthday. After Larson¹s untimely death, it was revamped by playwright David Auburn as a three-actor piece and premiered off-Broadway on June 13, 2001 at the Jane Street Theatre, featuring Raúl Esparza as Jon. Its London production in 2005 starred Neil Patrick Harris.
Photo Credit: Laura Marie Duncan